How to Automate Your Pinterest Schedule With SmartLoop
This post may contain affiliate links. That means if you click and buy, I may receive a small commission (at zero cost to you). Please see my full disclosure policy for details.
The trick to using Pinterest is to pin consistently. For some, it means manually pinning or using the internal scheduler on Pinterest. For others, it means using Tailwind.
Tailwind has many excellent tools and features, one of which is SmartLoop. But with the changes we've recently heard from Pinterest about repinning the same content again and again, how can you use this tool and ensure you are following best practices?
When it comes to getting traffic to your site, Pinterest is often the solution. After all, it is free for anyone to use to get the first burst or even recurring clicks to your site.
However, setting aside time every day to add pins to your account, analyzing what works, and does not, and finding new content to share can take a bite out of your schedule. That is why many bloggers opt for approved scheduling tools, such as Tailwind.
Tailwind is one of the few partners with whom Pinterest closely works to ensure their tools and methods follow their best practices. Tailwind, in turn, passes this along to its clients.
There used to be a partner called Boardbooster. It would recycle your pins again and again on autopilot. Bloggers used it because they could pin something once and be hands-off of Pinterest.
As great as that sounds, there was a problem. Boardbooster violated Pinterest's TOS. They were told to use the API Key rather than collect user logins.
They ignored the warnings and eventually were shut down. Not because Tailwind or another partner did not like them. It was because they refused to comply with the terms established by Pinterest.
That feature of being able to add a pin to a schedule and not manually remember to pin it, again and again, was a feature many bloggers wanted (and needed). Tailwind heard this and stepped up.
They interviewed and worked with many bloggers (me included) and developed SmartLoop. Tailwind worked closely with Pinterest to ensure bloggers would not risk the status of their accounts by pinning too frequently (aka being labeled as spam).
If you are new to Tailwind or even SmartLoop, it can be a bit overwhelming to understand how to set it up and how it works. Let's go over that right now!
Pinterest not sending traffic to your site?
Grab my free quick-start guide to set up your account, learn how to add your boards, create images and develop your strategy.
USING TAILWIND'S SMART LOOP FEATURE
WHAT IS LOOPING?
Looping is when your content is cycled through and pinned again and again to the Pinterest boards you have selected. You add one pin to your schedule, and Tailwind does the rest.
How awesome is it to know that you don't have to set a schedule to repin your best work? It gets done for you.
SMART LOOP FROM TAILWIND
The Smart Loop allows users to add their most popular pins to the looping schedule, and Tailwind will continue to repin them over and over until you remove the pin from the list.
But, you need to be smart about making it work, so you comply with Pinterest's best practices while still getting your content shared again and again.
HOW TO USE SMART LOOP
SETTING UP THE LOOP
It is really easy to use this method of pinning. You first, of course, must have a Tailwind account.
Then, navigate to Publisher > SmartLoop.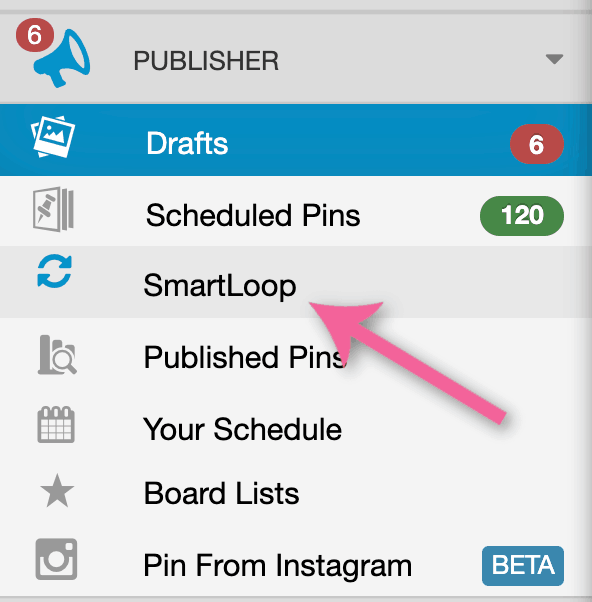 From there, you can set up your first Loop! Click the green CREATE MY FIRST LOOP button. The first thing you will need to do is determine if the pins you will share will be Evergreen or if they will be seasonal. You can use Seasonal to start and stop pins on a set schedule. If the pin works any time of the year, you will select Evergreen.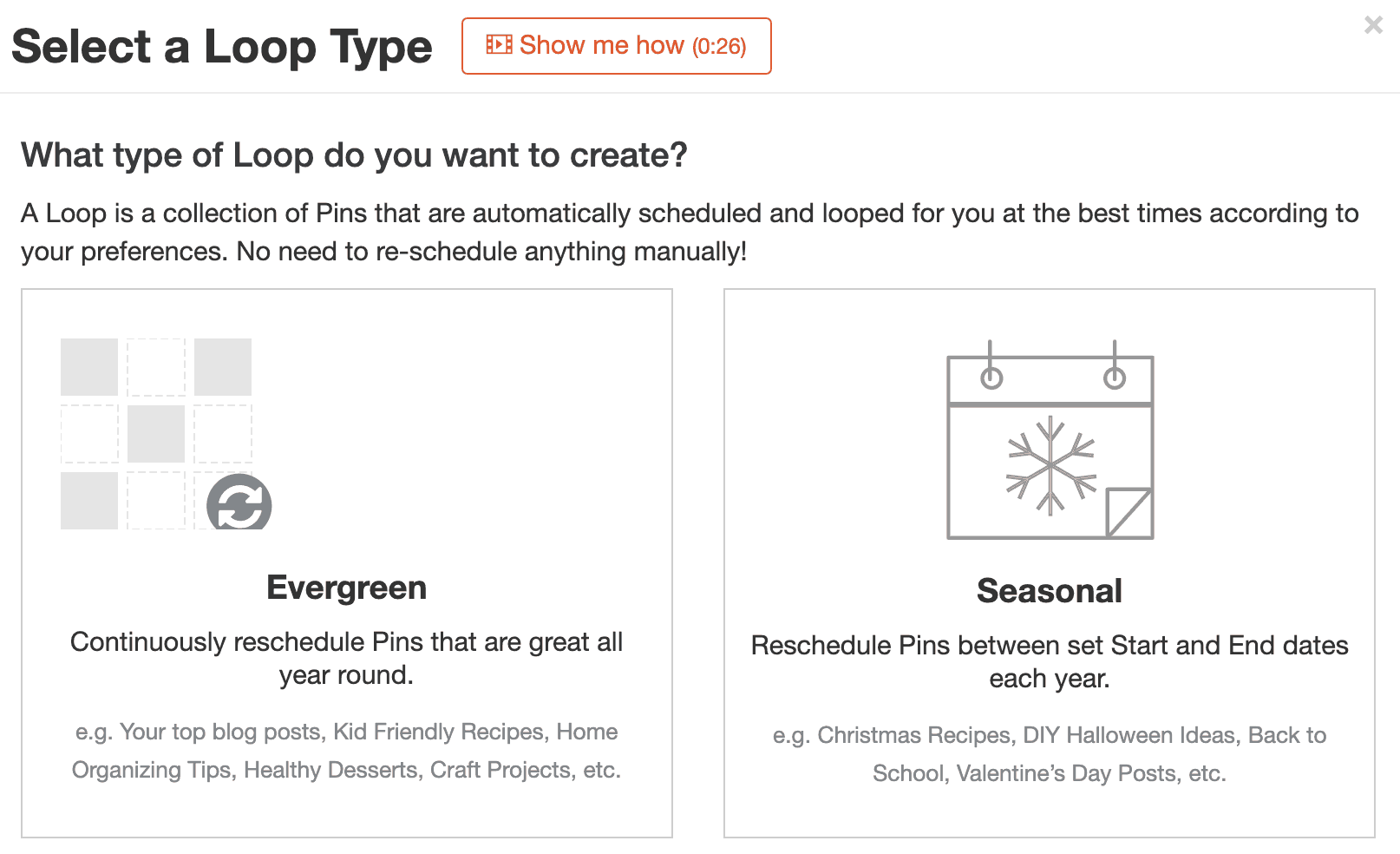 Once you select the type of Loop you want, you will give the Loop a name (that you will recognize). For example, it could be Valentine's Day, Frugal Living, or Summer Travel. Next, select the boards where the pins will work – make sure they are all 100% relevant to the content.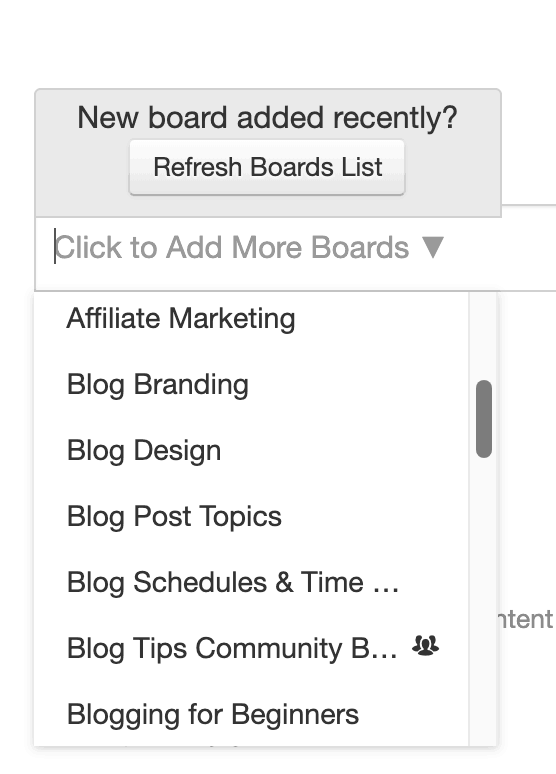 The last thing to do on this page is to indicate if the pin is to be pinned all year long or only for a specified period. For example, you may want a Back to School loop to run from July 15th – September 15th.

Next, you will add pins to the Loop. You will see the pins you have pinned recently — listed in order of most popular to least popular. Add those popular pins first and then find any other pin you want to add. Search your various boards to find the pins you want to add to the Loop you have created.

The next step is to create your schedule. You will see two options: Core and Niche. If you want the Loop to take up more of your pinning schedule, you will select Core. If it should not, then choose Niche. (Watch the video if you need more explanation).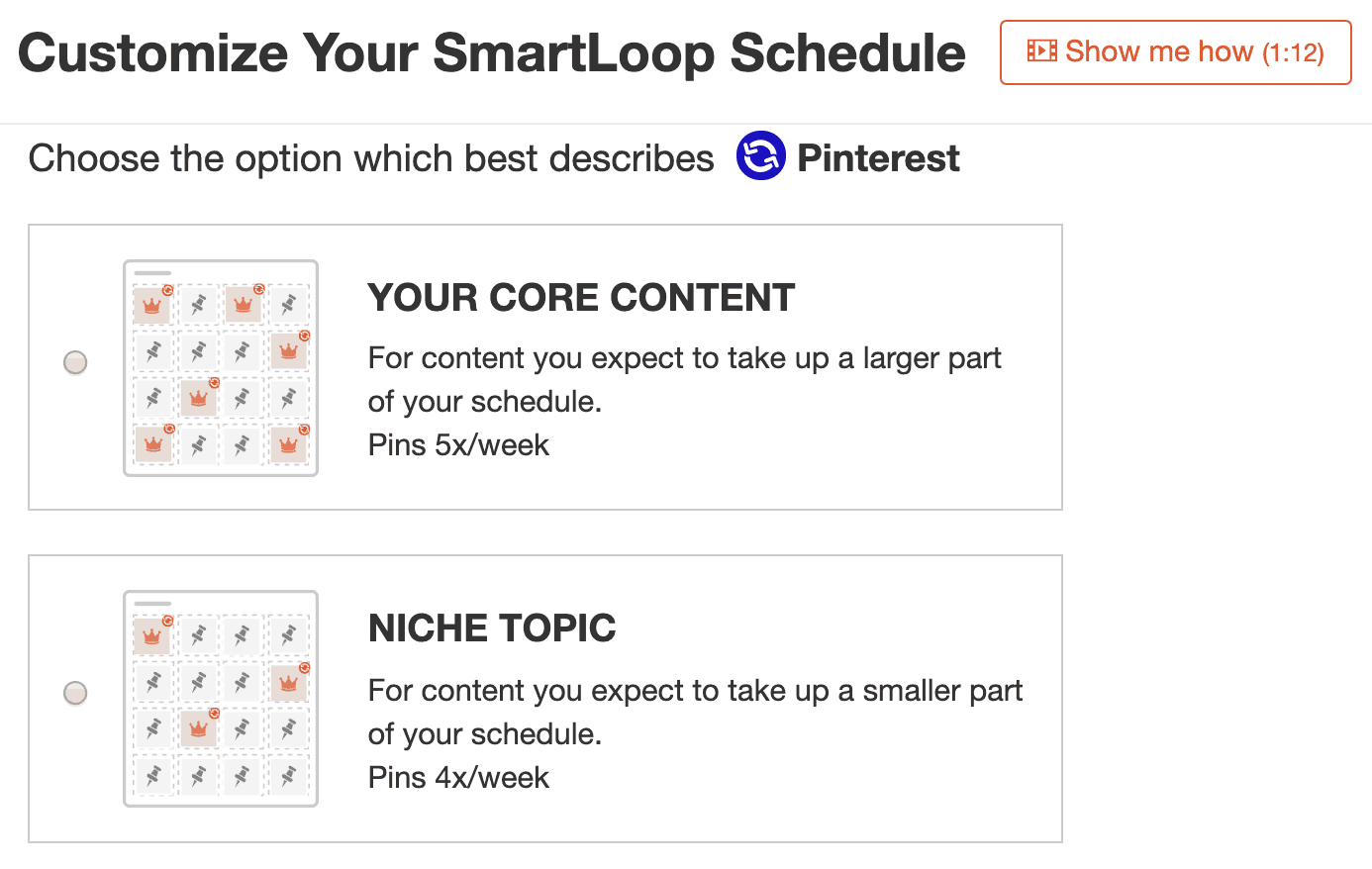 Then, select the schedule. SmartLoop defaults will not allow the same pin to go to the same board more frequently than every five months. That ensures you are not pinning the same image again and again. You can create multiple pins for the same URL and add them to the Loop, so there is more consistent content that you can pin.
It is recommended that you follow the default guide to ensure you follow the best Pinterest practices (as they may change as Pinterest makes adjustments and Tailwind follows suit).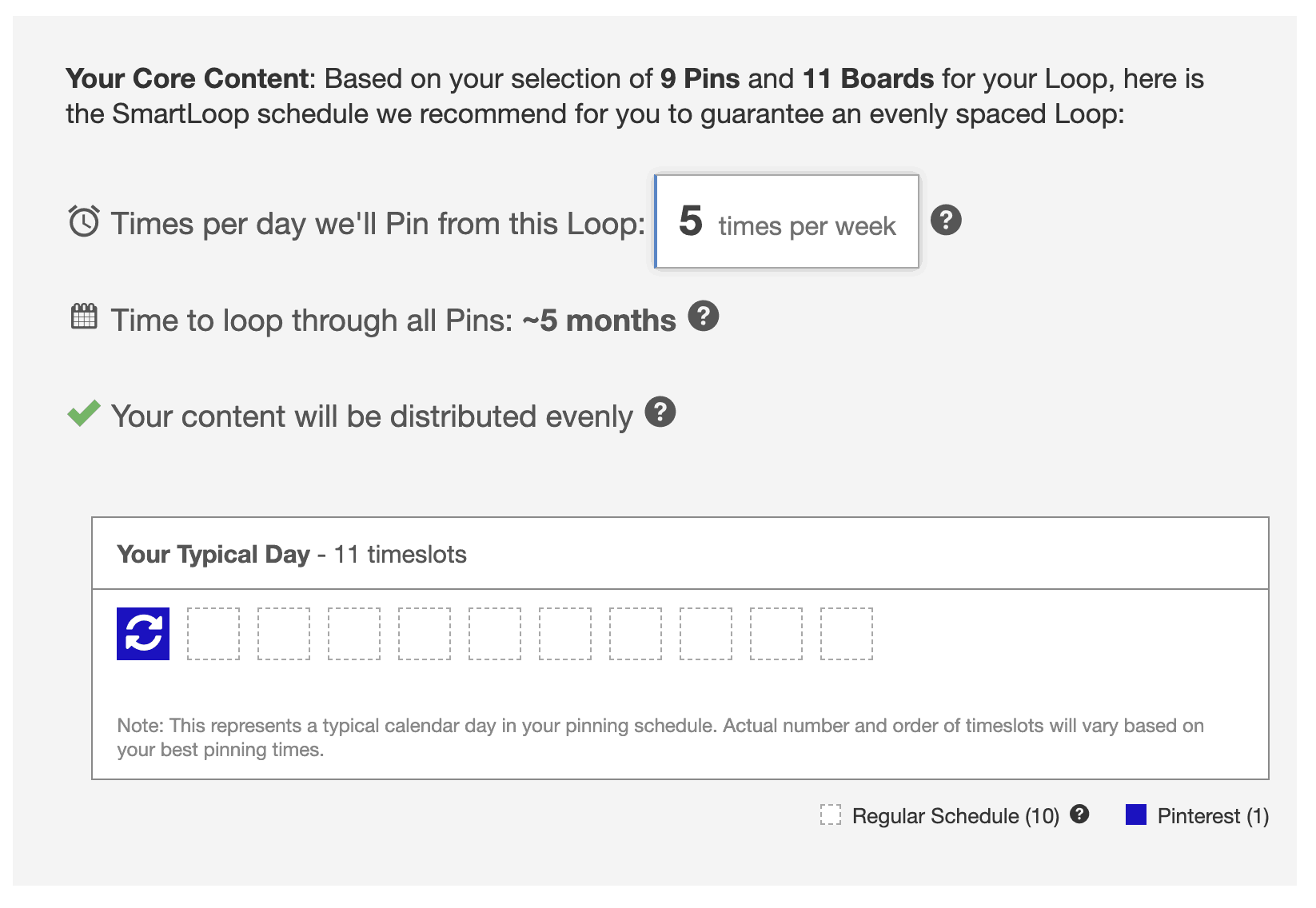 On the next screen, you can set the board rules. Some boards may not allow you to repeat images, or you may not want the same pin to show too frequently. Open each board to set the rules as needed.


Then, select Finish Loop set up, and you've got your Loop!
HOW TO ADD MORE PINS TO YOUR TAILWIND SMART LOOP
Once you have the initial Loop set up, you may want to add pins to your Loop. As you make more pinnable images, you will have more content to add to your Loop. You can add more pins very easily.
ADD PINS THROUGH THE TAILWIND DASHBOARD
Navigate to Publisher > SmartLoop. You will see the loops listed. Select the Loop you want to add a pin to. In this example, the Loop is called Pinterest.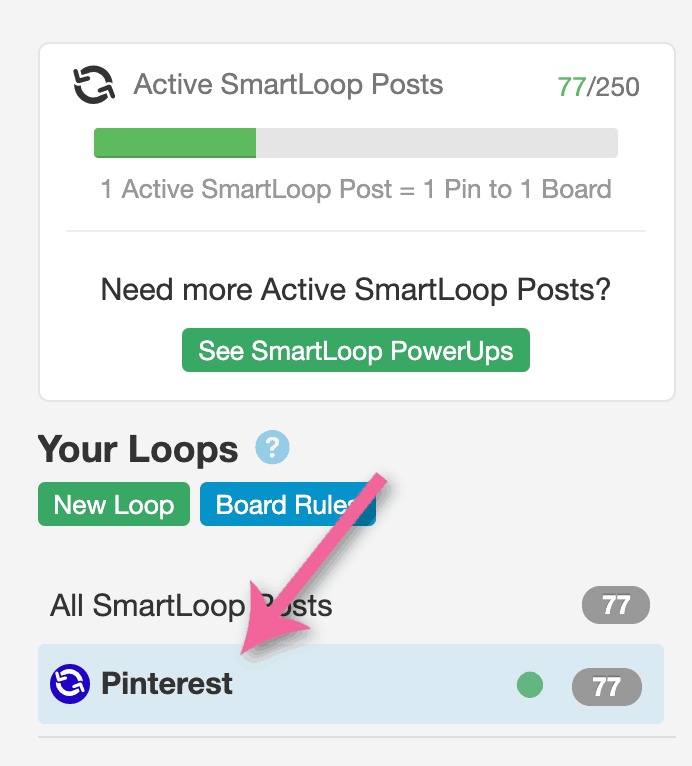 Select the green Add Pins button to add another pin to your Loop.
Follow the steps shown above to find pins on your board to add to your Loop. Save your changes.
ADD TO THE LOOP DIRECTLY FROM YOUR SITE OR THE PINTEREST SMART FEED
You can also add pins to the Loop directly from your website or the Smart Feed. To pin from your site, navigate to your post and click the social sharing icon you usually use to pin onto Pinterest. If you are on Pinterest, click on the pin to expand it.
Then, find and select the Tailwind Schedule button.

One the Tailwind schedule screen, select Add to SmartLoop. Select the Loop you want to add the pin to, and it will be included. You can also add new boards where you want that pin to loop to. Once you are happy with the boards on the list, click Loop, and your pins will be added.
HOW TO DELETE PINS FROM YOUR SMART LOOP
If you add a pin in error or want to remove one for any reason (poor performance, wrong image, etc), you can do so very easily. Navigate to Publisher > SmartLoop and find the Loop that has the pin you do not want to have re-pinned. Hover on the pin you want to remove and select the trash can icon you see in the corner.

Follow the prompts and your pin will be removed from the loop.
CAN YOU USE SMART LOOP NOW THAT PINTEREST WANTS FRESH CONTENT?
Yes – you can! Pinterest wants you to post new pins, but it has never said you cannot post the same image more than once. They simply do not want the same image to be pinned to the same board too many times a year. The best practice is that you pin the same image to the same board no more than 2 – 3 times a year.
Rather than you remember when you last pinned that image to any given board, you can add it to your SmartLoop and let Tailwind do the work for you!
That way, the image you pinned five months ago will be pinned when it is time. You never forget which image you pinned and when it is time to pin it again. SmartLoop remembers for you.
Your focus can be on creating new pins and finding other content to share on your boards as needed. Those awesome images that you need to pin in a couple of months are taken care of for you – letting you better focus your time on the new content.
ANALYZING PINS
Once you loop, it is essential to examine your pins' performance. After all, pinning something that no one engages with does not help your profile.
It is also essential to change the description from time to time to keep the pin fresh. Pinning the same thing over and over again can be deemed a spammy action (even if you are waiting every five months). Even if you are looping, do not just set it and never check it. Continue to make changes to keep it fresh.
Also, check the pin's performance. Maybe it's time to remove the pin from the Loop and add a new one with a different image. It might be time to stop pinning to specific boards. You can see how your looped pins do so you know if you need to make a change or not.
To analyze your pin's performance, log back into Tailwind, and under Publisher, click on SmartLoop. You will see your pin images. Scroll down to see how many times it has been published, repins, repin rates, and how many times it will pin in the next 30 days.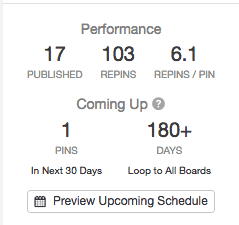 SmartLoop can help bloggers pin consistently without tracking with spreadsheets or other systems to remember what you pinned previously and when it is time to pin it again. It simplifies your pinning schedule so you can focus your time on making new content, products, or other things that can make you money!
So, what do you think? Are you ready to try it out? Sign up for a free trial of Tailwind and get busy scheduling today!
Pinterest not sending traffic to your site?
Grab my free quick-start guide to set up your account, learn how to add your boards, create images and develop your strategy.