Listen up Tailwind fans! There is a hot new feature coming your way, called Smart Loop!  Imagine, if you will, having a simple way to continually share some of those best viral pins again and again, without having to remember to schedule them!  That's the Smart Loop!
Some time ago, I decided to ditch Boardbooster and start using Tailwind to schedule my content.  The main reason I made this change was that Boardbooster is not an approved partner.  I tend to be a rule follower, and when I did not see them on the list, it made me worry.
And, rightfully so.
It turns out that an email was sent out by Pinterest to all Boardbooster users. It said that they (meaning Boardbooster) were not an approved partner.
The reason they are not a partner is that they violated Pinterest's TOS.  They did not have access to the API key, which approved partners use to pin on users' behalf. Instead, they were using the user's login credentials and logging in as if they were the user.  Big no-no!
I know many users are not happy about this because of one of their favorite features is on Boardbooster, but not offered by anyone else.  Looping.
USING TAILWIND'S SMART LOOP FEATURE
WHAT IS LOOPING?
Looping is when your content is cycled through and pinned again and again to the Pinterest boards you have selected.   The way Boardbooster did this was to log into your account and access your board.  It would find a pin and repin it to the top of the same board, thus not only pushing it out again into the feed but also to the top of your board.
Users love this feature because they can loop a board with some of their best content and not have to sit and manually do it again and again.  People are upset they have to lose this feature.
And, I get it.  I really do.  I mean, how awesome is it to know that you don't have to set a schedule to repin your best work? It gets done for you.
INTRODUCING SMARTLOOP FROM TAILWIND
Once I gave up Boardbooster, I used the Tailwind Interval feature to try to loop my content to various boards.  And, it worked.  But, I had to watch those popular pins and remember to reschedule them once the looping period had ended.
I don't have to do that now that Tailwind has the Smart Loop!
The Smart Loop allows users to add their most popular pins to the looping schedule and Tailwind will continue to repin them over and over, until you remove the pin from the list.
HOW TO USE SMART LOOP
SETTING UP THE LOOP
It is really easy to use this method of pinning.  You first, of course, must have a Tailwind account.  (And, as of right now, the Smart Loop is in Beta and only offered to select users, but it will be sitewide shortly).
You will navigate to SmartLoop, which is under the PUBLISHER tab in your dashboard.  It looks something like this:
From there, you can set up your first loop!  Click the green NEW LOOP button.  Then, decide if it is an evergreen or seasonal loop you need to set up.  Evergreen content is good all year long, and seasonal is just for certain times of the year.
Once you select the type of loop you want, you will enter a name at the top and then add the boards where you want your content pinned (if you realize you selected the wrong one, it is OK, you can make a change on the next screen).
Name your loop something you will know.  Do not call it "Loop A" because you may not know what is in it.  Instead, call it something like Dinner Recipes or Desserts (etc.).  Call it something recognizable.
Then, select the boards you where you want to add your pins. You can choose as many or as few as you want here.  Make sure to include all relevant boards though, so you maximize your pin exposure.  When done, this will be your default, but you can always add and remove boards when scheduling a looped pin (more about that below).

The last thing to do on this page is to indicate if the pin is to be pinned all year long or only for a specified period.  For my fall loop, I only want pins to happen between early August and mid-November, so that is the time I set up.
The next step is to customize your schedule.  Your loop schedule number of times each day you want something from the group to be shared.  It also considers how many days you want before the same pin is every shared to another board.
Setting up your SmartLoop schedule is simple.  To start, decide the number of times each day you want pins from your loop to be shared.  Slide the bar back and forth until you reach that number.
Then, you will also decide how many days you want to lapse before the same pin is repeated anywhere, onto any board.  I recommend at least two days minimum before sharing the same pin anywhere on Pinterest.
Then hit CREATE LOOP!  You've just set up your very first loop.  Now, let's add the board rules and get some content added.
SETTING BOARD RULES
If you belong to group boards, there are often rules about the number of times you can pin to their board each day.  If you violate these terms, the owner may remove you. To make sure that doesn't happen, the SmartLoop lets you set up the rules for each board, so you never have to worry about pinning too frequently to them.
Click on the blue BOARD RULES button from the SmartLoop page.  You should see a list.  Click on Add Board Rules and scroll down to find the group board on which you need to set up rules.  Then, enter the number of days between pinning to that board.
If you can pin once a day, every day, then you can set the rule to be Don't Pin more than once every one day. If it is longer than that, then you can set it up that way.
This list allows each pin to be pinned to once a day (as long as there are enough pins and time slots available in the SmartLoop schedule).
ADDING PINS TO THE LOOP
Unlike Boardbooster, Tailwind requires you to add specific pins to the schedule. It will not go into your board and automatically be set up to add every pin.  It initially requires a manual action on your part.  You can do this in one of two ways.
ADD PINS TO THE LOOP THROUGH THE DASHBOARD
When in Tailwind, there is a blue IMPORT PINS button on the SmartLoop page.  When you click on this, you first select all loops where you want the pin to go. Some of your pins may work in different loops so that you can add it to more than one.
You will see the default list of boards you created above.  If you realize you left off a board or decide you don't want to loop to a board, you can make those changes.  Click the 'x' to remove the board and the down arrow to add more, as you may see fit.  Then, click Next: Choose Pins.
You will see all of the pins you recently pinned to your account and can click on those to add them to the list.  You can also filter down by board and show only pins on a specific board.  You can even filter it further by having the list show only your pins.  Finally, you can have it show the list in the order of the most recent or those that are the most popular (so you loop the best possible pins).
Note that you may see a yellow "i" on some of your pins.  These are pins that are already on other loops, so you may or may not want to add it to this one.
Click on all of the pins you want to add to your loop and then select the green ADD PINS TO LOOP button at the bottom of the page.  Your pins are now in your loop!
ADD FROM PINTEREST OR PIN BUTTON
You can also add pins to the loop directly from Pinterest or your website.  Both of them work in the same fashion.
If you pin from your site, click your pin share button.  If a window shows for you to select the pin image you want, do so (you may not see this if you use Social Warfare).  The next screen is where you can update the description and add in any hashtags.  Click the Tailwind Schedule Button.
If you are on Pinterest and see a pin you want to add to your loop, you can click the blue Tailwind icon that shows when you hover.
Once the Tailwind window loads, scroll down to find the Add to SmartLoop button and click to open that window.
Select the Loop (or Loops) where you want this pin to go.  Again, you can add additional boards or remove them as may be needed.  Once you are happy with the boards on the list, click Loop and your pins are added.
ANALYZING PINS
Once you loop, it is essential to analyze your pins' performance.  After all, pinning something that no one engages with does not help your profile.
It is also important to change the description from time to time to keep the pin fresh.  Pinning the same thing over and over again can be deemed a spammy action.  So, even if you are looping do not just set it and never check it.  Continue to make changes to keep it fresh.
In addition, check the pin's performance.  Maybe it's time to remove the pin from the loop and add a new one with a different image.  It might be time to stop pinning to specific boards.  You can see how your looped pins do so you know if you need to make a change or not.
To analyze your pin's performance, log back into Tailwind and under Publisher, click on SmartLoop.  You will see your pin images.  Scroll down to see the how many times it has been published, repins, repin rates and how many times it will pin in the next 30 days.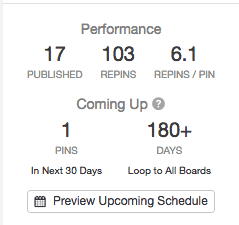 Again, the Tailwind SmartLoop feature is not yet available in all accounts.  If you want to be a beta tester, you can always email Tailwind and ask.
I absolutely love this new feature. It has changed my pinning strategy, so my best content gets shared time and again, sending traffic to my site (which is the ultimate goal).  I can go into my best work and continue to update descriptions so my pins are shared regularly without having to sit down and schedule them.
So, what do you think?  Are you ready to try it out?  Sign up for a free trial of Tailwind and get busy scheduling today!!