How to Find and Remove Stolen Content on Google & Pinterest
This post may contain affiliate links. That means if you click and buy, I may receive a small commission (at zero cost to you). Please see my full disclosure policy for details.
You work hard, creating articles, content, and images that will help your reader. When you find someone stealing your content and using it without your permission, it can be gut-wrenching. Fortunately, there are things you can do.
It happens to all of us. We check our comments to see we received a pingback from another website, just to open it and realize that they've stolen our article! You may also be scrolling Pinterest and see your image and click to find it is now sending users to a different site.
As a blogger or content creator, this can be soul-crushing. It is your hard work, and someone is ripping it off and using it as their own.
The first thing to do when this happens is to get angry and upset. That's expected. Once you've calmed down, it is essential to take steps to get it removed. Learn how to report a website or Pinterest account that has stolen your content and is passing it off as their own.
WHAT IS A STOLEN PIN OR BLOG CONTENT?
It is just as it sounds. It is when someone takes what you have created and passes it off as their own.
When it happens on Pinterest, your image is linked to a site that is not yours. On your blog, they take an article they found on your website and add it to their own.
WHAT DOES IT MEAN WHEN SOMEONE SCRAPES YOUR CONTENT?
A scraper is a person who uses the feed from your site to create content on theirs. They are not physically copying and pasting your article. They are, allowing it to push from your site to theirs.
Below you see a screenshot of an article that was on PennyPinchinMom.com. The article is about how to save money on plane tickets. If you notice the image next to it, you will see the same article is on another site. They do not have the right to use it. They have stolen and are using it as their own.
The exact same article is on both sites. You don't want this as while Google should rank you ahead of the other site, that is not always the case.
HOW CAN YOU FIND OUT IF YOUR CONTENT HAS BEEN STOLEN?
There are several options for tracking down someone who may be trying to pass off your article as their own.
Pingbacks
You can (and should) set up your comments to allow pingbacks. A pingback happens when someone links to an article on your site.
In most cases, it is harmless and welcome. However, it can also be used by content scrapers.
You can see here the pingback showing as a comment that needed approval on the site.
Seeing the link indicated someone had linked to the article. When opened, it was easy to see it was stolen.
While you can enable Pingbacks, you do not need to approve them. Simply use them to watch for anyone who may be using your content illegally.
You can enable pingbacks on your site with a couple of clicks. You should do this right away so you can watch for anyone who may be stealing your content through a scraping system.
Navigate to Settings > Discussion on your site. Make sure that the second box that allows notifications from other blogs and sites is toggled on – then save your settings.
Now, you will get an alert in your comment of anyone who is not only linking to you properly but also those who may be stealing your content directly from your site.
If you find that someone is stealing from you, don't email them. They know what they are doing and will not respond. Not only that, but you do not want them to try to attack you in any way. Skip that and go directly to their host and file a DMCA notice.
Use Google Alerts
You can set up alerts for each article you write, so if anyone else uses the exact wording on their site, you'll be notified. Visit Google Alerts and paste a portion of the post (don't post the entire thing). Then, click to Create Alert.
If anyone happens to use your exact wording on their website, Google will send you an email letting you know.
HOW DO YOU FIND A STOLEN PIN?
Pin theft is rampant on Pinterest. Some bots and thieves sell programs and apps that allow users to use images they do not own and direct them to their spammy sites. Not cool, is it?
Pinterest is trying to do things to combat theft, such as watching for spammy activity and eliminating the ability to edit the URLs on pins. But they've got a long way to go. Until this happens, you will need to report pins that are stolen.
The way you find a stolen pin is that you look at the URL on the image. When you hover on the pin, you will see where the link will take you. If they are different, then you know it is stolen.
Check this pin. The name on the pin is MoneyPantry.com. But, notice when I hover on the pin, a site that is NOT MoneyPantry.com shows. It is a stolen pin.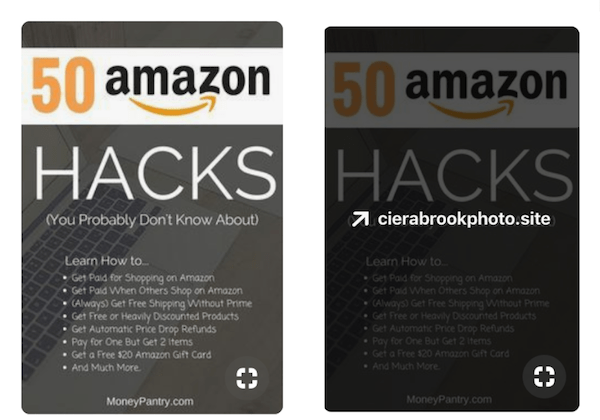 Your content can be stolen in other ways, but these are two ways to identify it before it makes the thief much money.
HOW MUCH TIME SHOULD I SPEND LOOKING FOR STOLEN CONTENT?
None. You should never go searching anywhere to see if they are stealing from you. I know that sounds crazy, but you need to understand why.
When someone steals from you, they take away the time you could be spending writing new content and promoting yourself. That's bad enough. If you spend 30 minutes every day looking for those stealing from you, that is 30 minutes you have wasted worrying about what others are doing.
You can't control what others will do. You can, however, control what you do. Don't go chasing possible theft. Instead, focus on growing your traffic and income.
If you happen to find something, stop and report it, but never spend time looking for it.
HOW TO REPORT A WEBSITE FOR STEALING
You'll hear bloggers and site owners talk about DCMA notices when it comes to stolen content. It is how you claim that you own the property, and the person using it does not have permission.
What does DMCA mean?
DMCA stands for Digital Millennium Copyright Act of 1998. It is a US law that protects all digital copyrights, including that of bloggers and content creators. It came about to stop the illegal use of music but covers all digital mediums.
What is a DMCA Notice?
When you find your content has been stolen, you will be advised to file a DMCA takedown notice. It is not filed with the owner of the site. You make the complaint through the host, and they are advised the content must be removed.
If the hosting company does not take down articles they have were advised it was stolen, they are as guilty as the owner of the site. They, too, can be liable.
How do you find the site's host?
You have to find who hosts the site.  The hosts are companies such as BlueHost, Siteground, and Hostgator, for example. You can use sites such as ICANN Lookup to find out the host for the site.
Type in the name of the site, and they will share the hosting company name with you. Once you know that, you can proceed with filing your DMCA takedown notice.
What if the host name does not come up in search?
Sometimes, domain owners will leave their original host in place but point the nameservers to a different site, such as Cloudflare. That can make it challenging to find out who their host is.

If your hosting search comes up empty, look at the Nameservers. If it shows Cloudflare, or another company, reach out to them to file the DMCA notice as they are the ones who have access to the site (rather than the hosting company).

If you reach out to a company that says they are not the party to contact, they will often let you know who is. Or, you can follow up with them to see if they can provide it to you.
How to file a DMCA takedown notice
Most hosting companies have a form or procedures to complete to file a DMCA takedown notice. The way you do this differs for every site. Many will have a form to complete, while others will require a letter (see the next section for a sample letter).
Sample DMCA Takedown notice
If the hosting company requires you to send them a letter (rather than complete their form), you need to include all of the necessary data. The letter should indicate:
A statement that it is a DMCA notice
That you own the content – and include a link to it including your publish date (if not included on the content)
Page infringing – including any links and screenshots
Your contact information
That you are filing the claim in good faith, and you are doing so under penalty of perjury that you are submitting this accurately, and you are the copyright owner.
Signature (can be electronic)
SAMPLE LETTER
mm/dd/yy
To Whom It May Concern,
This is a written notice of infringement as in § 512(c) of the U.S. Copyright Law under the Digital Millennium Copyright Act (DMCA). I am hereby filing a report of copyright infringement. The infringing material appears on a website that you host.
The material that is copyrighted, that I state legally belongs to me and is illegally on the site you host is:
Type of work — blog post, image, video, etc.
Title — name of work
Date posted — original posting date
Owner — your name
URL — link where the content can be found
The site you host, ________________________, is using this content illegally:
URL — link to where the stolen content can be found.
As the ower of the content, I have not authorized the use of this content by this site. I hereby swear under penalty of perjury that the information above is accurate and that my content has illegally been infringed.
Signature,
Name
Address
Phone
Email
What if they don't take down the site?
In most cases, a report that proves copyright infringement will be removed by the hosting company. But, there are times when that doesn't happen.

It might be a host who does not care that it is stolen and they do nothing. It could be that the hosting registrar resides in another country and therefore ignores these types of requests.

If you find that you cannot get the host to take down the site, you can report it to Google. Google takes it seriously and will not only remove them from the index but ban them from Adsense (so they can't get traffic or make money).

Read more and file your request with Google.
HOW TO REPORT A STOLEN PIN
Once you find a stolen pin, you want to report it. Note that if it is not your content, you can't report it. You can only report pins that you own.
To report a pin, open the pin to get a larger view. At the top of the page, there are three dots. If you click on this, you will see an option to report a pin. Select that.
On the next screen, you will select My Intellectual Property. Because it is your pin, that means it is your content that someone is using illegally.
You will then need to indicate if it infringes upon your trademark or copyright or your trademark. For content, it is your copyright (as everything you write is copyrighted on your site).
You will see the DMCA notice form to complete. Answer each question truthfully and honestly. When it comes to letting Pinterest know about the content, you need to make sure you answer this accurately.
The top section of the form is your personal data, which is easy to answer. The next sections are those that sometimes confuse bloggers, so we want to make sure you fill it out the right way.
You first need to identify YOUR work. That is the original content that is on your site. You first determine what was stolen. If it is a pin image, then you will select An Image from the drop-down.
Next, paste the URL from your site where the original content can be found. That shows Pinterest where it lives so they can see it. Even if it is hidden in the post, it is OK.
The next section is where you tell Pinterest about the person who stole your content. Paste the Pinterest URL that shows the stolen pin. Then you want to select Strike. DO NOT SELECT REMOVE ALL.
If you click Remove All, then it means all instances of that image, including your original, can be removed. You don't want that. By selecting Strike, Pinterest will see it is stolen, and they will know what to do to ensure that the pin is removed.
Report a profile instead
There are cases where profiles on Pinterest are filled with nothing but stolen pins. That can make it time-consuming to report pin after pin. Pinterest makes it very easy to report an entire account.
Navigate to Pinterest Help. Scroll to the very bottom and click on that banner to Sent them A Note.

Then expand Report a Policy Violation and select Report Spam. You should then click on A Spammy Pinterest Account. Complete the form with your personal data. Then fill out the form to share the details for the spammy account.
Note that Pinterest may ask you to confirm this information when they follow up. They are doing that to make sure that the data is accurate, so they take action and remove the right account (after they do their investigation).
HOW CAN YOU PREVENT IT FROM HAPPENING AGAIN?
Sadly, there is nothing you can do to guarantee your content will not be stolen. But, having the proper legal policies in place, such as terms and conditions, outline what people can and cannot do when it comes to the content on your site.