Easy SEO for New Bloggers
This post may contain affiliate links. That means if you click and buy, I may receive a small commission (at zero cost to you). Please see my full disclosure policy for details.
You've got your new blog up and running! YEAH!!!
Now, you need to get traffic. You've heard people mention SEO, but you have no clue what that means or how to make it work.
No worries! Let's go through some easy SEO tips for new bloggers that will help you along your journey.
You blog so people can read your content. That means you need traffic. And, as great as Pinterest traffic is, the truth is that it is not consistent.
Every blogger needs to learn about SEO, and the sooner you can start, the better.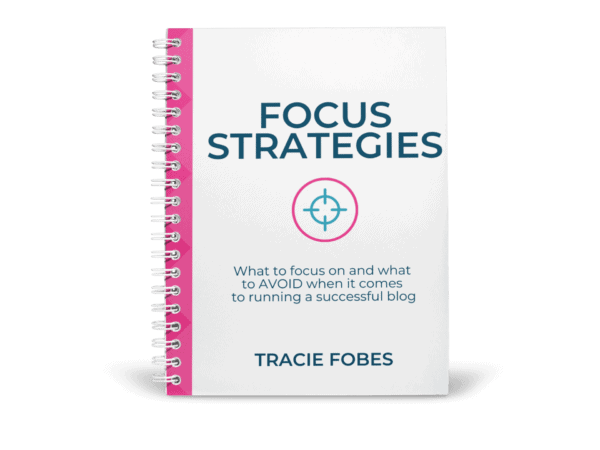 Struggling to know what to focus on with your blog?
What to focus on, and the mistakes to avoid making, to turn your blog from a hobby into a business.
What is SEO?
SEO stands for search engine optimization. In short, it is how your blog articles get found when people type in a search term into Google.
For example, if you search "how to make money with sponsored posts," you will see several blogs on the first page. Those bloggers have learned SEO to come up when that phrase is typed into the search bar.
Why is SEO important for new bloggers?
You want traffic, right? Then you need SEO.
While Pinterest can be great for some visitors, the truth is that it is not consistent. The platform is continually tweaking algorithms, and that traffic you have today could be gone tomorrow.
Not only that, but if you use an ad network on your site, Pinterest traffic pays less than organic traffic.
Sure, Google may update the algorithms from time to time, but there is usually less volatility where that is concerned.
When your content is optimized for SEO, it will rank. That ranking can put you onto page one of Google, so you get more clicks and traffic.
How do bloggers rank on Google?
I wish I could give you a simple answer, but Google's SEO ranking formula is a very closely guarded secret. Google does not tell anyhow how it works.
But, there are things that you can do, such as the proper title, headings, formatting, and keywords, that will increase the chances that your content will rank.
If I start SEO today, how long will it take for my posts to rank?
Google tends to keep new sites in the sandbox for 6 – 12 months. The reason is that they do not know if the website can be trusted. That is why it is essential to produce a lot of high-quality, on-topic content over your blog's first year.
Once Google knows and trusts you, your content may start to rank. But, there is no fast rule that if you write something today, it will rank immediately.
Google works at its own speed. It could instantly rank something today, or it could take them a couple of months.
However, you need always to do what you can to properly optimize your content to be ranked when Google takes a look.
What is DA, and how to I do increase mine?
DA stands for domain authority. It is a term and figure SEO research sites such as Moz, SEMRush, and Ahrefs use to determine the website's authority on a given topic.
Google does not use it. Nope. Google no longer displays or shares any authority ranking factors.
While it is not something, Google uses, having a higher score can help you more quickly rank as you produce content. It also helps you identify competing blogs. For example, if your DA is 10 and another site is 75, that tells you the other site will probably have a better chance of ranking for keywords you cannot, and you may not want to try to use the same ones.
However, if the other site has a ranking of 17, you can see the words they rank for and try to create better content and overtake their position in Google.
If you want to increase your score, start by getting quality backlinks to your site from other authoritative sites.  You will also need to continue to produce on-niche content that is properly formatted for SEO, make sure your page loads quickly, and that your site is mobile responsive.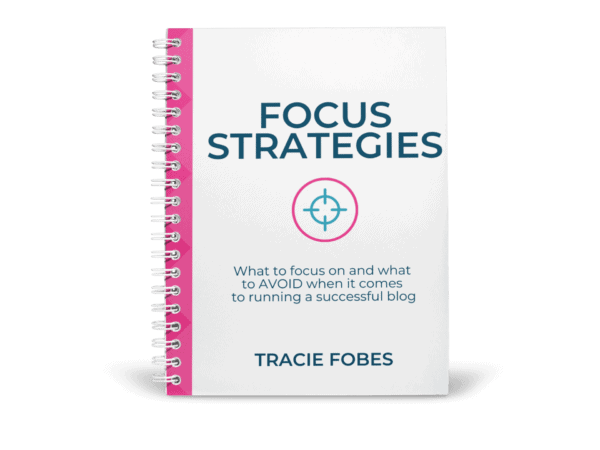 Struggling to know what to focus on with your blog?
What to focus on, and the mistakes to avoid making, to turn your blog from a hobby into a business.
SEO Tips for New Bloggers
Now, let's go over some SEO fundamentals that you need to know and apply as you write your site's content. While there is no guarantee you will rank, your odds of it happening are significantly increased if you do.
Try to rank for long-tail keywords
You have probably heard the term keyword, but what does that mean? A keyword is a word or phrase a user types into the search bar on Google. Google then looks for that content on articles and tries to show the best matches at the top of page one.
As bloggers, we want our content to come up when those keywords are typed into search. That is called ranking for a keyword.
There are different types of keywords you can use. You want to go for the long-tail keyword when writing your article.
Shorttail keywords are simple phrases made up of three or fewer words. While they may be an easy phrase to add to your article, they are often more challenging to rank for.
Why?
Because they are short and easy to use! That means countless sites will add the same phrase to their articles, which makes for more competition, and you may never rank for the term.
Take, for example, "plant a garden." That is a phrase that is used by hundreds of thousands of sites. Trying to rank for that phrase will be extremely difficult, if not impossible.
However, if you were to turn that short phrase into a longer one, you may see faster results. A long-tail keyword includes the short phrase but has more specific content around it.
Let's look at "plant a garden." You know that is the short keyword, but the long keyword could be "plant a garden on a balcony." Your article would teach apartment dwellers how to plant a garden where they live.
Since your article is more specific, it will serve a smaller audience, meaning less competition. That, in turn, increases the odds that your article can more easily rank.
Always do keyword research
Keywords. They are necessary for every article you write.
Knowing how to do that research and the words to search for can be confusing – especially when you are a new blogger. You can use a simple process to come up with the keywords to use in your post.
Step 1: Think of the words you would personally search if you were trying to find your article to solve a problem.
Step 2: Search for those words on Google. Pay attention to the other phrases that show, the inset box with more questions, and the bottom section where you see related terms.
Check the search bar for more terms. You can see that I typed "how to pant a garden" in the search terms box. There are other related phrases that people search for that show, including additional keywords I may want to include in my article (or a new topic that I should write about).
Once you hit the enter button for your first search term, you may see a box with additional questions. There are more keywords you will want to add to your article.
As you can see, people are asking several other questions when it comes to how to plant a garden:
Finally, look at the bottom of page one to see additional searches people conduct to get more ideas for keywords.
Step 3: Look at the top 3 – 4 articles you find on Google to see how the keywords are used and other words or phrases you could use in your article.
Step 4: Check for difficulty. The more popular a keyword, the more difficult it will be to rank. Therefore, you need to make sure you should use the word or not. You can plug the keyword into something such a Ubersuggest or Keysearch.
Step 5: Determine the keyword(s) you plan to target in your article.
I get that keyword research can be scary and daunting if you are new. The book Get Your Keywords Together demystifies and simplifies the process of finding and using the right words and phrases.
Write for your reader
Your site is for a person, not a machine. Therefore, you don't want to write in a way that feels cold and non-human. That won't help you.
When it comes to the content you want to write, always keep your user in mind.
Even if you see the red dot on Yoast or the low score on Rank Math, remember that they are also machines. They are not human and cannot understand the intent and the connection you want to make with your reader.
The more you can solve the reader's problem, the better your chances of ranking.
Never stuff your keywords!
You may think that the more you use that magic keyword phrase, the better. But, that may cause more harm than good.
In no circumstances should you ever stuff your post with the keyword.
Yes, you want to use it a few times, but if you put it in every heading and several times within the post's body, it can appear stuffed and can inhibit your ability to rank.
Use the title and the headers appropriately
When Google searches your article to find the keywords, it starts with your H1, H2, and H3 tags. These are heading tags that bloggers use to add section titles. While they break up the content, they also help you in search.
Look at this article. You will see headings such as "what is SEO" and "SEO tips for new bloggers." While they appear to you that they are simply directing you to the content to read, they are also the H2 tags for this article.
That means I've included different keyword phrases here in an attempt for this article to rank.
You also need the keyword in your title (also your H1 tag for most themes). You only ever want a single H1 tag in your post, so make sure you do not add a second one in the article. 😉
Don't forget to update the meta description
One commonly overlooked part of the blog post is the meta description. The meta is the small bit of text that will pull beneath the heading on Google. It is here that you will find additional keywords.
If you use something such as Yoast, you can add this to your article. Click Edit Snippet and type the right meta description, including the keyword phrase (but do not stuff it).
Never leave the meta description empty when writing a blog post.
Work on backlinks to build authority
Your site needs to be the authority on your topic. It is one of the many reasons you want to make sure you properly niche down your content.
Google needs to see this too, and what better way for them to realize this than to get others in your niche to link back to your content on their site. This is called a backlink.
When you get these links from highly authoritative sites, Google views that as a positive. After all, if a website that seems to be authoritative on a topic links to you, it tells Google that your content meets with their approval. And, it, in turn, helps.
Now, one thing I know people ask about doing is paying for backlinks. Never, ever, ever pay for backlinks! You can get found out by Google and get a manual action that will undo any work you've put forth to rank.
Backlinking will take time, but if you learn the right way to get quality backlinks, it can pay off with higher ranks and more traffic.
Use proper blog post SEO formatting
You can't write a post, add some keywords, hit publish, and hope that it will rank. That is never going to work.
You need to make sure your articles follow a proper SEO format.
Above I mentioned using the H2 and H3 tags. That is one part of proper formatting. There are other things you need to keep in mind.
Make sure the font is not too small. Google hates small font. With more and more people using mobile for search and reading, it is more important than ever.
Visitors should not have to pinch and expand to read your post. That is not a good experience. The font should be legible on any device.
To ensure yours works for all readers, the font for your content should be at least 16 – 18 px. Make sure you read it on your mobile device to ensure it is easy to read.
Make sure your clickable items are not too close together. Again, users are on their phones, reading your content. If you have a list of stacked links on top of one another, it can make it difficult for the reader to click on the one they intend.
Always review your content, make sure the links are spaced, and not make it difficult for the reader to navigate the linked content.
Grammar matters. Nobody wants to read an article filled with grammatical errors. Google can see this, as that type of content tends to have lower time on the page and a higher leave rate.
Triple-proof your articles before you release them. And, if needed, hire an editor or use something like Grammarly to do a final review of the content before it is live on your site.
White space is your friend. Make sure that there is ample space between sections in your article. Also, try to avoid paragraphs that are longer than 2 – 3 sentences long. The shorter they are, the easier they are to read.
Read more: How to Write an Epic Blog Post That Can Rank.
Always update your content to keep it fresh
Your blog posts are never one and done. It is essential to review and update them all of the time.
After 6+ months, review your posts to see if there are new keywords you could add, new questions that need to be answered, or affiliate links that need to be added to the post.
Google likes fresh content, but that does not mean it always needs to be new. Updating old content so it is new, sends the right signals to Google and also shows readers it is current and up to date.
Monitor your site speed
Think about the last time you clicked on a site that took a long time to load. Did you wait to see what the page showed, or did you click the back button to review another site?
Chances are you left.
Nobody likes a site that loads slowly, including Google. You need to watch plug-ins and hosting to make sure that it loads correctly. If it does not, make sure you make updates as may be required.
Respond to comments and use keywords
Those comments on your blog can improve your SEO. It is an opportunity to improve ranking.
Your blog posts get comments. Take the time to respond and use your keywords in the comments. Look at the keywords you used for the post and see if there are additional related terms you can use in the comments. It is one more way to add them to your post without stuffing the article.
Check that your site is mobile responsive
A few years ago, Google switched to focusing on mobile-first. That means they are focused on mobile users above desktop.
That means your blog must have a mobile responsive theme.
Take a minute a pull your blog up on your phone. Does the menu format properly? Is any content cut off or hidden? Is it easy to navigate?
If you find it is not, a new theme is in order, and it best to change sooner than later.
Continue to learn
There is a lot to learn about SEO for blogging. One book or blog post is not enough. You will want to invest in learning as much as you can.
When you make the right purchase, you can easily make back every penny you spent on the course – and then some.
For example, a new blogger should start with free resources, such as this free SEO course. Then, invest in other tools and resources that include: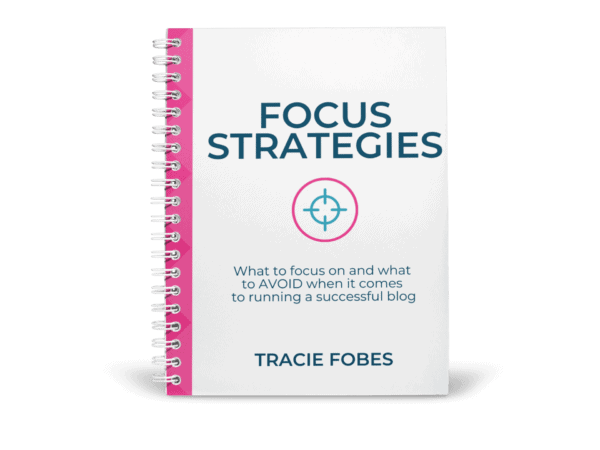 Struggling to know what to focus on with your blog?
What to focus on, and the mistakes to avoid making, to turn your blog from a hobby into a business.