How to Find Group Boards on Pinterest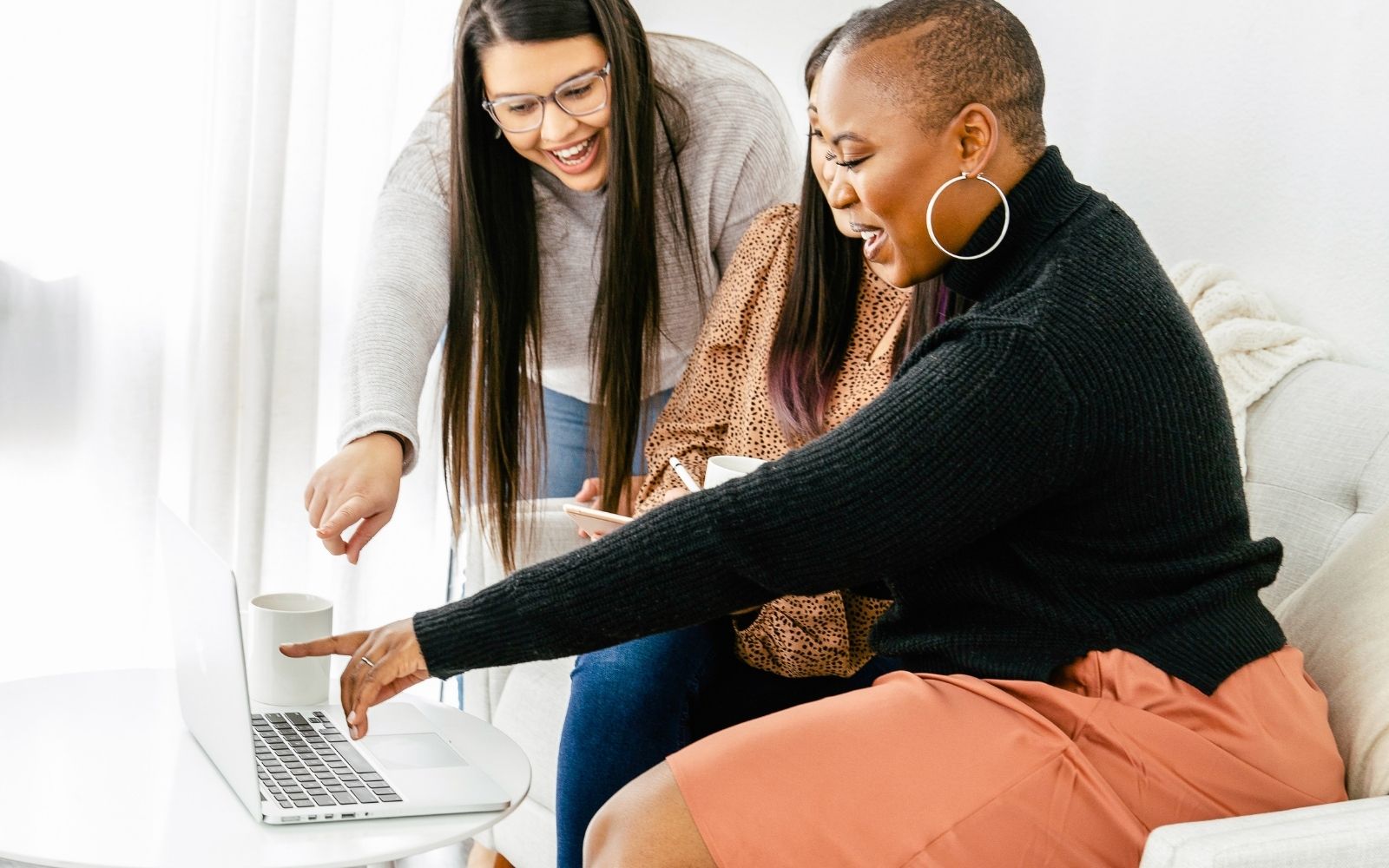 This post may contain affiliate links. That means if you click and buy, I may receive a small commission (at zero cost to you). Please see my full disclosure policy for details.
One strategy you may want to implement when using Pinterest is group boards. But, you don't want to go on a group board joining frenzy as sometimes, those boards hurt more than they can help.
One question I repeatedly see from bloggers is about group boards. Not only do people ask me how to find them, but if they need to use them. And, if so, how to make it a part of their Pinterest marketing strategy.
It can be overwhelming and confusing, even if you have been using Pinterest for some time. I want to break down that wall of confusion for you and help you not only understand them but learn how to find and make them work for you.
Pinterest not sending traffic to your site?
Grab my free quick-start guide to set up your account, learn how to add your boards, create images and develop your strategy.
WHAT ARE GROUP BOARDS?
If you are new to using Pinterest, you may have heard people talk about group boards and wonder what in the world they are. A group board is a board where several accounts work together and pin to a single board.
The idea is that your reach is collectively gathered and those people following the board will see what you and every other person on that same board have pinned. It can be a way to get more reach and potentially more clicks to your site.
SHOULD YOU USE GROUP BOARDS?
Pinterest has been rather vocal about using group boards. For years when you pinned to a group board, every person who followed that board would see everything you shared. But that was never the intent.
Group boards were designed so people could share ideas. For example, a bride could share with her wedding planner and bridesmaids. Teachers could use them for networking with other teachers in their schools or across the country.
Once bloggers realized that they could get traffic from them, they went crazy. Pinterest has pulled back on that and has changed how these boards work.
While they may not be as effective as in the past, you can still find success in your group boards.
WHAT SHOULD I LOOK FOR WHEN FINDING A GROUP BOARD?
With the changes, you want to make sure you use the right one. Some things to keep in mind:
No more than 25 – 30 contributors
The fewer the number of contributors, the better. Joining groups with thousands of members is no longer a good strategy. Aim for 25 – 30 (but never more than 50).
Deeply niched
There are group boards that are "Best on Pinterest" or "All Recipes." These are not as effective. Look for boards that are niched well and that the articles being shared match the description.
ARE GROUP BOARDS MORE IMPORTANT THAN MY BOARDS?
Nope! Your boards matter more than group boards do. In the past, that was the opposite. However, with the implementation of the smart feed, they don't help as much as they did previously.
That is not saying they do not matter. They absolutely do. But, you should focus on pinning to your boards first and then focus on the group boards secondly.
WHERE DO I FIND PINTEREST GROUP BOARDS?
This is where many pinners struggle. They are not sure where to even find boards that are relevant to their niche. I get this as it can be tough. Let me share the ways you can find group boards.
1. Pingroupie
While it used to be the best way to find group boards, PinGroupie is still a resource. Search for boards by topic to find those that may be open to accepting new contributors.
2. Others in your niche
Another way to find Pinterest group boards you may want to join is to see what others in your niche are doing. You can quickly look at the boards of anyone you follow to learn, which are group boards, and then click to see if you might be able to join as well!
Navigate to someone you follow on Pinterest and click on the Saved button, to bring up all of their boards. Locate one with several contributors (you will see faces below the board image).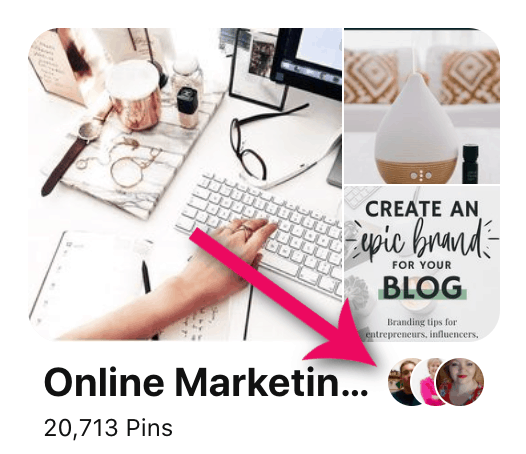 Double click on the board and then, click on the contributors at the top of the page. The first person you see is the owner of the board.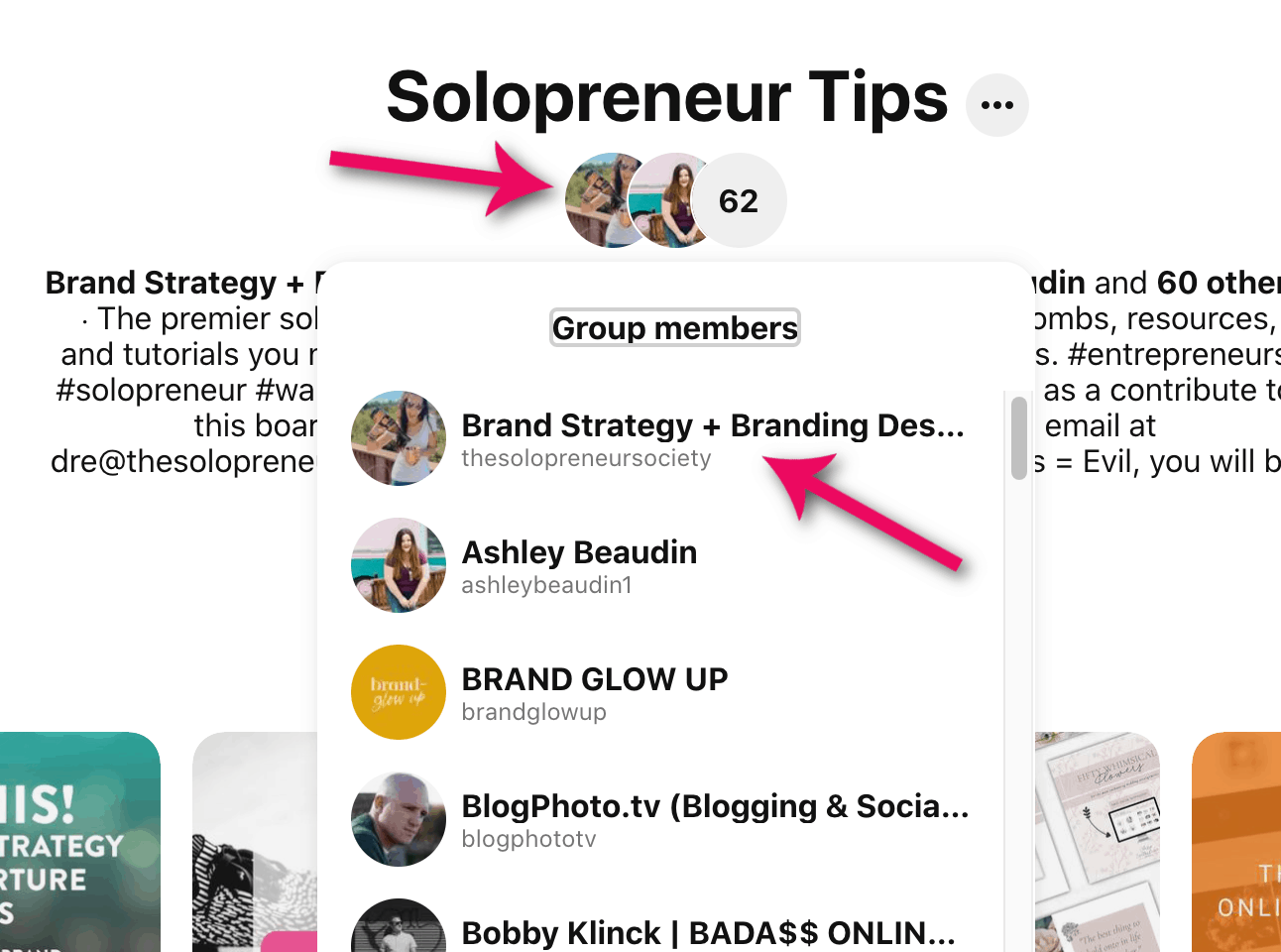 You can look at the description of the board to see if they tell you how to join. If not, click on their profile to navigate to their site and locate the contact information.
Pin Junkie List
Another resource for finding group boards is The Pin Junkie List. Bloggers add their own to the list, so she does not check them to ensure that they are quality boards. That will require some research on your own.
CREATE A GROUP BOARD
There is a saying that if you can't beat 'em – join 'em! The same is true on Pinterest. If you cannot find the right group board to join, you can make your own!
Start by creating a board in the same way you make other boards on Pinterest. Your board description needs to have the proper keywords to it can be found. Ensure that you also include details on how to join your board (i.e., your e-mail or other contact inf0). Also include the rules, such as no more than three pins a day, etc. You can look at other boards to get an idea as to what you want or do not want on your board.
Then invite people to be a contributor. Go to the board and click on the + at the top. Type in the profile name or e-mail address of the person who you would like to invite to be a part of your group.
You will need to watch your board and make sure people do comply with the rules and be prepared to kick out those who violate your terms.
HOW TO JOIN A PINTEREST GROUP BOARD
Board owners will often put the way to join in the description (if they are accepting members). Many times, however, there is zero information on how to reach out to the owner to ask to join. This can be frustrating (to say the least).
E-mail on Pinterest
The simplest way to ask to join a board is to send the owner a message through Pinterest. The owner of the board is the first person you see under the list of contributors. Look at one of my group boards; you can see my profile is the first one listed.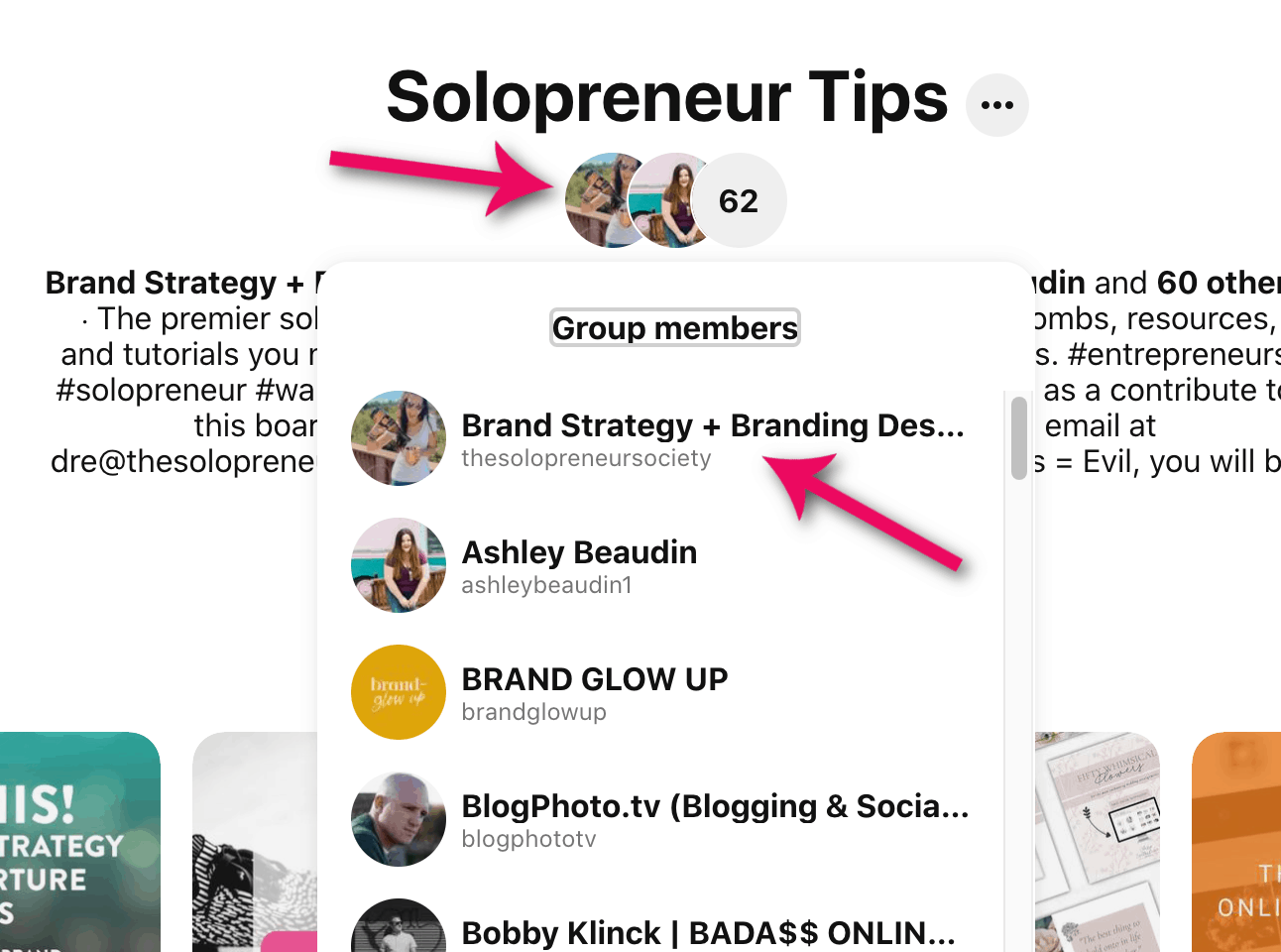 Click on this person to find out his or her profile name. This will be in the URL line and NOT necessarily what you see typed on their profile page. For example, mine will show https://www.pinterest.com/traciefobes. My name is TracieFobes.
Click on the message icon in the menu bar (next to your name) and select Inbox. Then, you will click on the + New Message button.
Begin typing the name of the person you want to reach, and Pinterest will begin to weed out everyone else. When the person you wish to e-mail comes up, click their name. You will see their image is now listed under the TO section. Click Next.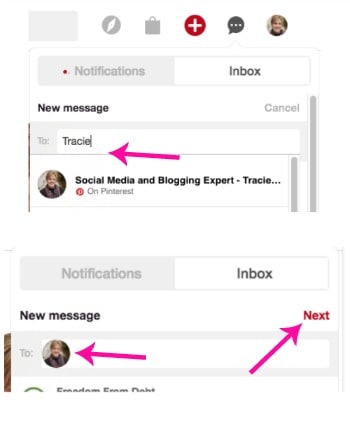 A window pops up on the other side of your screen. Type your message here and send it to the owner.
E-mail the owner directly
You can also send the owner an e-mail outside of Pinterest. This can be smart, as not everyone sees those internal e-mails, so yours may not be seen for a while.
Click on the owner from the group board, and go to his or her profile. There, you should see a link to the website where you can go and find their contact information.
WHAT TO SAY IN YOUR E-MAIL
Asking to join a board is simple. There are some things you should always include:
Name of the board you want to join
Link to your profile
Why you are a fit
Thank you
Here is a sample e-mail that you can use and modify to send e-mails to join boards:
Dear ______,

My name is ___________. I recently found your ________ board and would love to be considered as a contributor.

You can find my profile here (link to your Pinterest profile). As you can see, I create quality pins with excellent images, text, and descriptions. I also pin content that aligns with your board.

If the board is still open for new pinners, I would love to be invited. If not, I completely understand and wish you the best.

Sincerely,
You
FOLLOW THE GROUP BOARD RULES
All Pinterest Group Boards have specific rules that you need to follow. You must abide by them, or you risk being kicked out of the group completely! They may limit the number of pins daily, repins, or even require that you repin from the board. The rules will be found in the board description.
While there are rules that are written, there is a common group board etiquette that you need to follow as well:
Follow the style of the board. For instance, if the board is about recipes, don't post your photography tips. Make sure that the content fits with the board.
Always repin from the board. Even if it is not a group board rule, it is courtesy to repin from the group board. Doing so gives the pins from the board more exposure, which can, in turn, benefit you!
Make sure you have quality pins. Don't pin horizontal images or pins without a good, strong, keyword-rich description. Ensure that you have quality pin images with text overlay to ensure that your pins are of the best quality.
Don't spam the board. Understandably, you want to get visibility on your posts. We all do. However, spamming a board is a surefire way to get kicked out!
Don't add contributors without permission. Some bloggers may see that you are a member of a board and ask you to add them. Unless the board owner allows this – DO NOT DO IT! Most board owners like to make sure that the person they are adding is a good fit. Never add someone to any group board without the owner's consent.
***WARNING****
Some pinners are trying to charge people to be a part of their group boards. This violates Pinterest terms of service, where they say you cannot charge people to have access to anything on Pinterest.
Do NOT pay. As tempting as it may be to be a part of a board, you should never give anyone a cent to be a part of any group board.
If they tell you that you need to pay, please report them to Pinterest. They need to be shut down from this practice, and the only way to do that is for you to speak up.
Pinterest not sending traffic to your site?
Grab my free quick-start guide to set up your account, learn how to add your boards, create images and develop your strategy.
Using the right group boards should be a part of your Pinterest strategy. Find some that work (or make your own) and make sure you pin to them regularly.