14 Intense Habits of Highly Successful Bloggers
This post may contain affiliate links. That means if you click and buy, I may receive a small commission (at zero cost to you). Please see my full disclosure policy for details.
One question I have seen many times is, what does it take to be a successful blogger? Is it luck? Is there something they are doing that maybe I am not?
Find out the traits and blogger habits the successful people you know and trust have in common. You may even be surprised at what you learn and can apply to your site today!
Successful bloggers all have one thing in common – they implement and follow specific habits. Just because they have figured it out doesn't mean that it came easy for them.
Research shows that it can take more than two months to automatically turn a new habit into something you do. But, that doesn't mean you can't do it too! In as little as 30 minutes a day, you too can develop9 the same habits bloggers have used to achieve their success.
What are they? Below I've got 14 of the most powerful bogging habits to implement  — sooner than later if possible.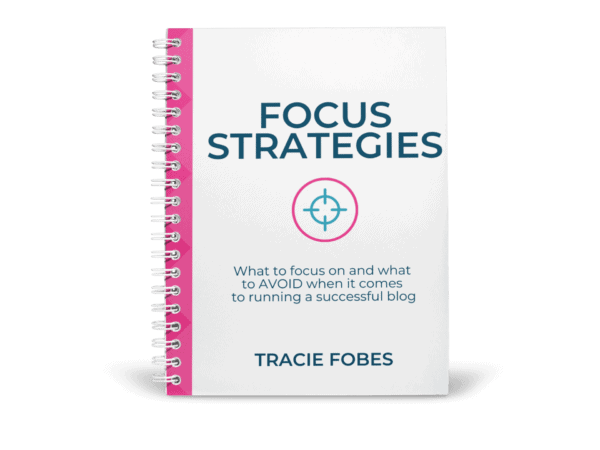 Struggling to know what to focus on with your blog?
What to focus on, and the mistakes to avoid making, to turn your blog from a hobby into a business.
14 HABITS OF SUCCESSFUL BLOGGERS
1. Bloggers set goals
The most important way to become an effective blogger is to set goals.
Without them, you don't know where you want to go. For example, it is one thing to say, "I want to make more money." But, if you change that goal to "I want to make at least $1,000 a month and do this six months from now", you've got an actual purpose.
Your goal needs to be SMART. That means it should be: Specific. Measurable. Attainable. Relevant. Time-Bound.
When setting your goals, make sure that you include all the requirements to turn a goal into a SMART goal.
2. They plan ahead
Successful bloggers know what they will be posting tomorrow, in a week — and even in a month. They plan, so they know exactly what they will need to do every single day. This comes back to reaching those goals.
When your goal is defined, it helps you determine what you need to do to reach them. The content you put onto your site is what it will take to help you not only achieve but even surpass the goals you have set.
Create a content calendar, so you know exactly what you will post and when you do it. This will help establish your consistency and set you up for success.
3. They follow a daily, weekly, and monthly schedule
One of the most important habits of effective blogging is to create a regular blogging schedule to know what you will need to do every day of the week. It will include writing and understanding where to focus your time and efforts to get the greatest ROI.
Consistency comes from publishing your posts on a specific day of the week. It also includes your social media sharing schedule and even when you send your newsletter.
Create a regular schedule, so you know exactly what you need to do every single day of the week.
4. They monitor what works (and what doesn't)
Part of being a successful blogger is knowing what to continue doing, but even more, knowing when to stop. The simple way to do this is to watch your analytics.
Once a week (or even a month), dig into your Google Analytics. Learn what posts have done well and those that did not. If it performed well, come up with other ideas using the same format or concept as they will probably provide positive results.
If an article is not doing good (i.e., no traffic), maybe you need to change the title or the graphic. It may require updates to include better keywords or content. However, it may also mean that you should not do that again.
It is also smart to check the analytics of your social sharing accounts. For example, what had a good reach on Facebook? Which articles were pinned the most? Did you get many retweets on that recent post you made?
It takes time, but it is essential always to monitor what works and what doesn't and then shift your goals or strategies to ensure that you are on the path you want.
5. They market themselves
You can't hit publish on that new article and hope that someone will read it. That is not what professional bloggers do.
To get people reading and interested in what you write, you have to market yourself. First, it means pushing out your post on all your social media accounts. Second, it includes networking with others and sharing content. Finally, it may mean sending a new email to your subscribers.
The marketing of your content is almost more important than the content itself. If people don't know it is there to read, they won't find it on their own.
6. They know their audience
Effective bloggers also know who it is they are writing for. They know their audience.
You may think that you are appealing to 39-year-old work-from-home moms, but the truth is, more 25-year-old stay-at-home moms read what you have to say. That means you need to change your focus and know the person for whom you are writing.
The simplest way to find out your audience is through your Google Analytics. That site has so much juicy goodness in it; it's amazing!
First, log into your Google Analytics account.
Next, look at Audience and scroll down. You will see demographics, interests, geo, behavior, and technology.
Now comes the fun part!
Demographics – This is the age and gender of your reader.
Interests – Learn if they are into recipes, family, etc. This helps you know what your reader loves (so you can push out more of that type of content).
Geo – Learn where your audience lives and the language they speak.
Now, you can better understand who is reading your blog, so you can create content that works for those already following you (even if it differs from who you thought your reader was, to begin with).
If you are trying to blog about blogging because you think it will make money, it may not. Not if your readers are there for fashion tips. Successful bloggers only blog about the topics they know their audience wants to read.
7. They never stop learning
The minute you think you've got it all figured out, and you don't need to learn from anyone else, you stop growing. There is always something new that you can learn, whether social media, SEO, writing techniques, or monetizing.
Successful bloggers know this.
That is why they are always finding new people to read and follow. They are willing to invest in courses and books to continue to learn and grow.
8. They don't compare themselves to others
There is a saying, "Never compare your beginning to someone else's middle." I love this because it is true. Successful bloggers never compare themselves to others.
[clickToTweet tweet="Never compare your beginning to someone else's middle." quote="Never compare your beginning to someone else's middle." theme="style1″]
When you start to do this, you begin to lose a piece of yourself. Instead of being genuine, original, and authentic, you will often find yourself doing what everyone else is doing. What makes your readers love you is YOU.
While following others can inspire and encourage you, never allow what they are doing to change what you do. Instead, take a new angle on a topic or go in a different direction. Whatever you do, don't try to be someone else.
9. They treat their blog as a business
Successful bloggers want to continue to grow and make money. Therefore, they treat their blog as a business. However, when you change your mindset from being a hobby to making an income, your attitude and how you look at your blog also change.
10. They know their limits
Every time you blink, it seems there is a new social media platform popping up. It can be tempting to jump in and try to market yourself through all of them. That never works. All it does is stretches you too thin, and you fail.
One thing you will see successful bloggers doing is finding 2 – 3 platforms where they know their audience lives and put in the time and effort to grow them. Then, if one does well and is a bit easier to maintain, they may add another new platform.
Dig into your Google Analytics to see where your traffic is coming from and focus your efforts there. There is no reason to tweet like crazy if no one clicks through those posts. However, if you see a large amount of traffic coming from Pinterest, you would be wise to invest your time and efforts there.
11. They are not afraid to fail
Successful bloggers are not afraid to fail. They know that if they don't try something new, they never know what will happen.
Failure often leads to success as it gives you the unique opportunity to learn from your mistakes and then grow from them.
Read more: How Failing Helped Me Find Success
12. They follow trends
Look back at your Facebook newsfeed, and you can probably remember a trending video or story that was everywhere. However, successful bloggers can often find a way to also capitalize on these trends.
One example was an open letter to the mom of the child who fell into the gorilla cage. That story went viral like crazy. While she did not write the post for that hope, it did provide her with a unique opportunity to reach a massive audience.
Of course, you must also make sure that the trending topic is relatable to your audience, or you can have the opposite effect (and lose readers for not being authentic).
13. They are self-starters
To be successful means that you need to be able to motivate yourself. When you have a traditional job, you have someone to answer to. Someone is managing your work.
However, when you work for yourself, you answer to …. yourself! If you are not a self-starter, you will not succeed.
Use schedules, to do lists, apps — anything you can think of to remind you of what you need to do every single day. Invest in either a digital or physical blogging planner.
14. They know when to ask for help
Successful bloggers know when to quit. They also know when to call for help.
For example, if you are not good at creating images, it can be a daily struggle. The images you take are only good enough to show your mom (and even she thinks they suck). This is the time when it can be worth hiring a photographer or even an image creator. These people can provide you with what you need to make a great eye-popping post and graphic for social media.
I no longer do any of my technical work. I can research and figure things out, but it is not worth my time (or stress) to do this. So instead, I have an expense on our monthly budget that is allocated to IT work. While I hate spending money on it, I also know that it is a smart investment in keeping my sites up and running properly.
Decide what you can work on and what you need to outsource. When you do that, you allow yourself to focus on what you are good at and become much more efficient with your time.
Smart and successful bloggers were not created overnight. It takes time and dedication to make it happen. It also means creating good habits that will lead you towards your goals.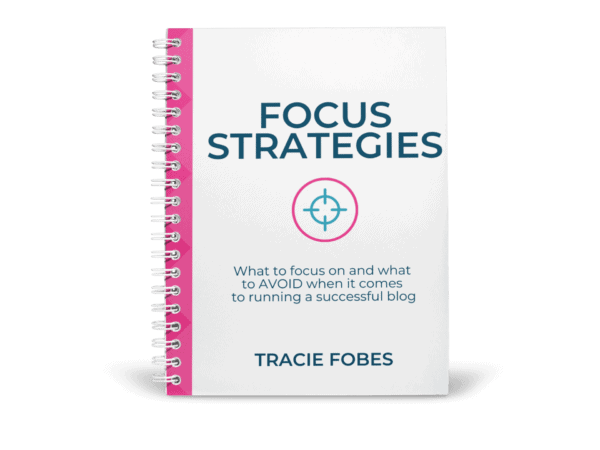 Struggling to know what to focus on with your blog?
What to focus on, and the mistakes to avoid making, to turn your blog from a hobby into a business.