Why Every Blogger Must Have an Email List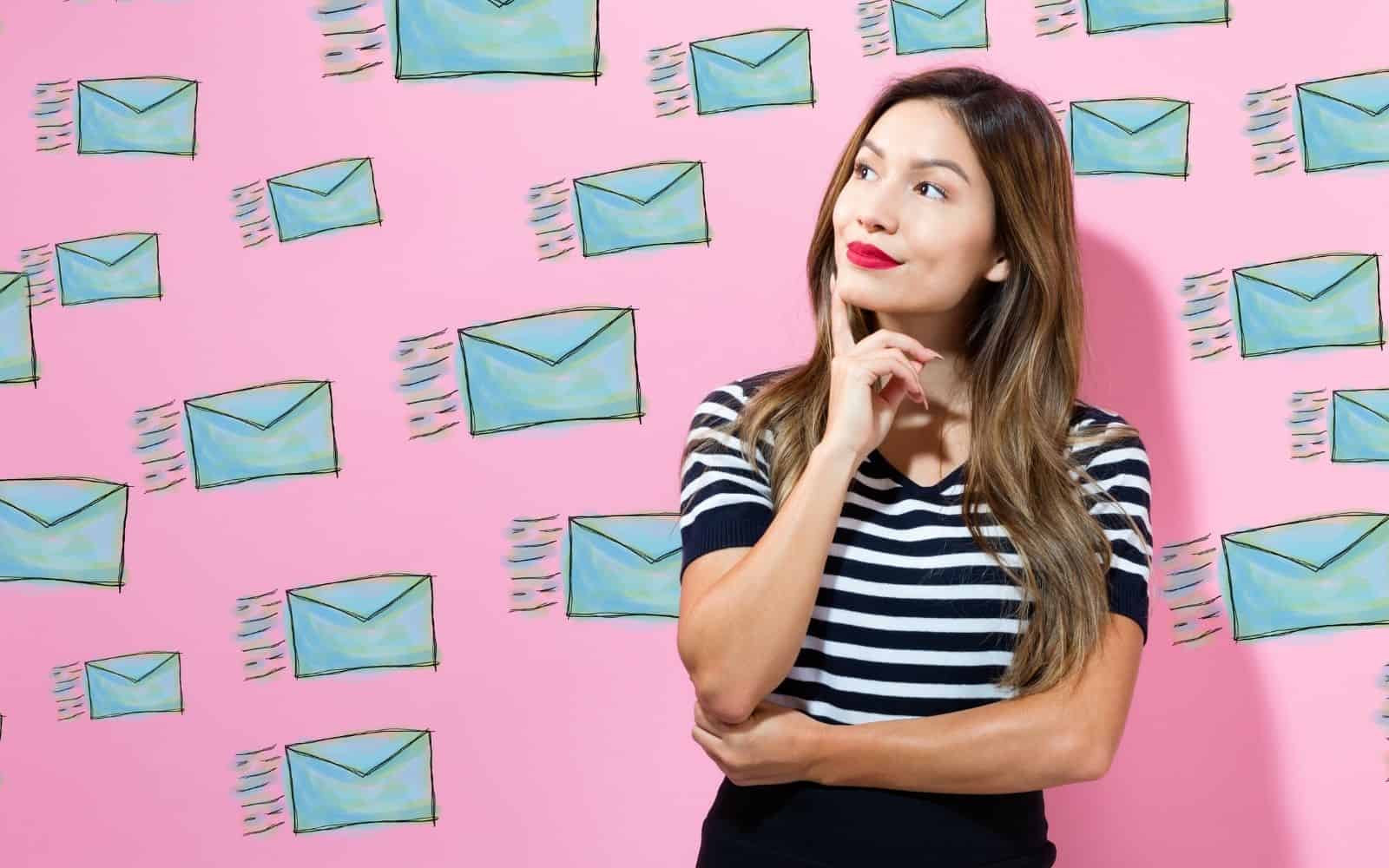 This post may contain affiliate links. That means if you click and buy, I may receive a small commission (at zero cost to you). Please see my full disclosure policy for details.
There is a lot to do when you start blogging. You need to decide what to blog about, setting up your site, and writing the content.
Next comes getting traffic and people to read your excellent articles. Yes, you want traffic, and social is hit or miss. But that may not be as effective as you'd like.
You have heard you need an email list but have not put much into it as you don't have the time. Or, you may not understand why it is so important.
All too often, bloggers overlook the need for email. They think it is simply not important enough for them to focus on.
But the truth is that every blogger needs a list. If you have not started, it's not too late!
100 Email Subject Lines For Any Niche!
Stop the stress of coming up with creative subject lines. Grab my free download of more than 100 ideas you can use.
What is an email list for blogging?
An email list is the emails you collect through—your blog. You can use that list to send marketing to people all at one time.
Simply put, the list is the number of total subscribers you have.
Do I need an email list for my blog?
Having an email list for your blog is one of the most important aspects of running a successful blog. Can you run your site without one? Sure.
However, if you do not have a list, you are missing an opportunity for increased income and growth.
You own the list
You own the list. Period. Nothing can take that away from you.
Social media and organic search are great, but those platforms are always in control. One small tweak to the algorithm — and you can lose ranking and the ability for your readers to see what you share. They decide who can see what.
Those changes can affect you negatively. One change and your pageviews can tank. You need to ensure you are always getting the traffic and clicks you need to sustain and grow your income.
Your list is always there no matter what changes you see happening online. It will never go away.
Higher ROI
You need to use email marketing, as there is a much higher return on investment (ROI). Studies have shown that email marketing produces a 3600% return! For every $1 you spend on email marketing, you can expect to make $36!!
Really? Yes, really.
If you look at the number of email accounts, there unlimited people to reach. There are currently more than 3.9 billion email accounts around the globe. That number is expected to grow to more than 4 billion by the year 2024.
When you consider that the average email user spends more than 14o minutes checking their inbox each week, that is more than 2.5 hours each day! That increases the likelihood that your emails are being read.
If someone tells you email is dead, they'd be wrong. Email works.
Highly targeted
When someone signs up for your list, they are telling you that they want to learn more. They are your person.
If you offer photography tips and someone signs up, they are telling you to share your ideas with them. They are interested in your content and will be more likely to engage by clicking through your links and purchasing the products you promote.
Fosters relationships
Your list is the way to connect with and get to know your readers – and for them to get to know you. While the focus of the content will always be on your person, your personality shines through.
Your email can be customized in the subject line or the introduction. You can add videos, images, GIFs – the things that connect to your reader and makes it feel you know and understand who they are.
When your reader feels that your email is speaking to them, they turn into your stark raving fans who anxiously wait for the next broadcast to arrive in your inbox.
When and how do you start building a list?
It can seem like a big task or "one more thing" you need to do for your blog. But, the truth is, email should be one of your top priorities.
Your list is the best way to see the growth you desire both in page views and income. It needs to be one of the most important things you work on every single week. I'd even dare to say that it should be your top priority.
When should I start building my list?
Ask five people, and you'll get five different answers. Before you can start building a list, however, you need to know what you are doing. You must have the focus you need on your site.
For some bloggers, that may happen within their second month. However, for most, it can take up to six months before you really know your avatar and the direction you want to take your site.
You can start at any time but all bloggers need to begin list building no later than the sixth month of blogging.
Sign up with an email provider
Before you can grow a list, you need to have a way to collect emails. And, you can't do that through your Gmail account. You need to use an email service provider.
An email provider is a company that helps you collect the email addresses of your subscribers. They help ensure you satisfy all the necessary legal requirements for email collection and distribution.
Some providers include Mailerlite, ConverKit, and ActiveCampaign. There are others, but these are the top three as they are not only affordable but are easy to set up and use.
A couple of things you need to know before you sign up:
You need a domain email. That means you can't use myfunname@gmail.com. Your host should provide this to you (usually at no cost). If unsure how to do that, get onto chat with your provider.
You will need to use your mailing address. The rumors are true. When you send an email, you must include a mailing address on each form. Since you more than likely do not want your home address on the form, you will need to get a PO Box (if you use ConvertKit, you can use theirs). Don't try to remove thiCANSPAM requires it.
Do not add someone without their permission. You may have a list of followers through an application on your site. Those people have not given you permission to add them to your list. That means you can't. Every person may opt into your list to tell you they understand they are signing up.
Offer something of value
The truth is that most people will not sign up for "updates and tips." They won't. While they do use their email, they only want the things they are interested in reading. Your tips are not enough to make them want to hand over that email.
That is where the lead magnet or freebie comes in. These are the items you offer to someone in exchange for signing up for your list. The reader wants what you have to offer and is willing to sign up for your list to get it.
That being said, there are some rules around GDPR and what you can and cannot do, so make certain you comply.
Read more: Creative lead magnet ideas to grow your list
Where do you promote your email?
Once you have the form and are ready to collect emails, itis time to let people know they can sign up. But, there is more to do than placing a link in your sidebar. That is not going to be enough.
Put it in the blog post
You have people coming to your site to read your articles. You need to place the opt-in form right there! And, not just once – twice. (You probably noticed that on this post).
Place the sign-up towards the top of your article and gain towards the end. Now, you'll double the chances that someone is going to sign up to be on your list.
Use exit intent
There are plugins and options for you to add a pop-up to your site. Do not use the one that happens after the user starts to scroll or after a few seconds of being on your page. That is annoying.
Instead, use the exit-intent pop-up. That way, when they try to leave your site they will get an alert asking them if they want to sign up. It can be a very effective way of growing your list.
Try the Hello Bar
Have you ever seen those banners at the top of a site when you visit? That's all the hello or the info bar.
There are plugins you can use to add them to your site, such as ConvertPlus or HelloBar. Either of these is an excellent option for adding more interest to your posts and getting the reader's attention.
In your groups
If you have a Facebook group – take advantage! Add it to your description. You can also ask them to give their email when they answer the questions to join.
Try a landing page
A landing page is a longer page to provide more interest to the user. These are more commonly used for challenges or free courses rather than a simple download.
If you plan to incorporate one onto your site, you can create them through your provider or via a page builder on your site. (No, you do not need to pay for Leadpages). As long as the page includes the details telling the reader why they need this (hit those pain points) and an easy way to sign up, you'll be set.
You can check out a couple of examples here:
List Growth Incubator
Sponsored Success Incubator
100 Email Subject Lines For Any Niche!
Stop the stress of coming up with creative subject lines. Grab my free download of more than 100 ideas you can use.
How often do you email?
There is no right or wrong time for when to email your list. There are some bloggers who email every day and others once a month.
Most bloggers will do great if they email once a week. If you want to do it more than that, aim for every five days.
Whatever you decide to do, make sure it is consistent. That means if you plan to email every Monday morning, then do it. Don't skip sending an email.
No matter what else may come up, you need to make sure you show up in your subscriber's inbox regularly.
What do you say in your emails?
It all starts with the welcome series
Your welcome series is the first time your new subscriber will hear from you. It needs to hit the mark and make them excited about what they will get in their inbox from you.
Don't send the freebie and then suddenly thrust them into your regular email broadcasts. That's not helpful.
Instead, take the time to build a series of emails that will go to your new subscriber. It will make them feel welcome. It will help them learn what they can expect from you.
Whatever you do, don't overlook the importance of your welcome series.
Nurture more than sell
Nobody likes to be sold to all of the time. Those are the emails we all tend to unsubscribe from the fastest. Avoid that.
That means you want to provide value. Be generous. Be helpful. Give more than you ask.
It could mean that you offer an additional free item or discount to your store. You may have a great article that shares with them what they need to learn more about.
When you are selling, make sure it is interesting and something that the reader needs. Don't promote it simply because you see dollar signs. Readers can see right through that.
When you can find the right balance between giving and selling, you'll find the sweet spot for increasing your income.
Make sure it interesting
Let's face it; no one wants to get an email that is a feed from your site. No one.
That's not an email. That's an alert.
You don't even need to email your list every time you write a new post. Crazy, isn't it?
You need to be interesting and make sure that what you discuss is relevant to your list. If you write a new post in advance of a holiday that is three months away, no one yet cares. But, if you wait and email your list six weeks before the holiday happens, it is something they want to read.
Your emails need to be engaging and make people want to read.
100 Email Subject Lines For Any Niche!
Stop the stress of coming up with creative subject lines. Grab my free download of more than 100 ideas you can use.
Your email list is the #1 marketing tool you have. Use it. And use it well.