Best Planners for Bloggers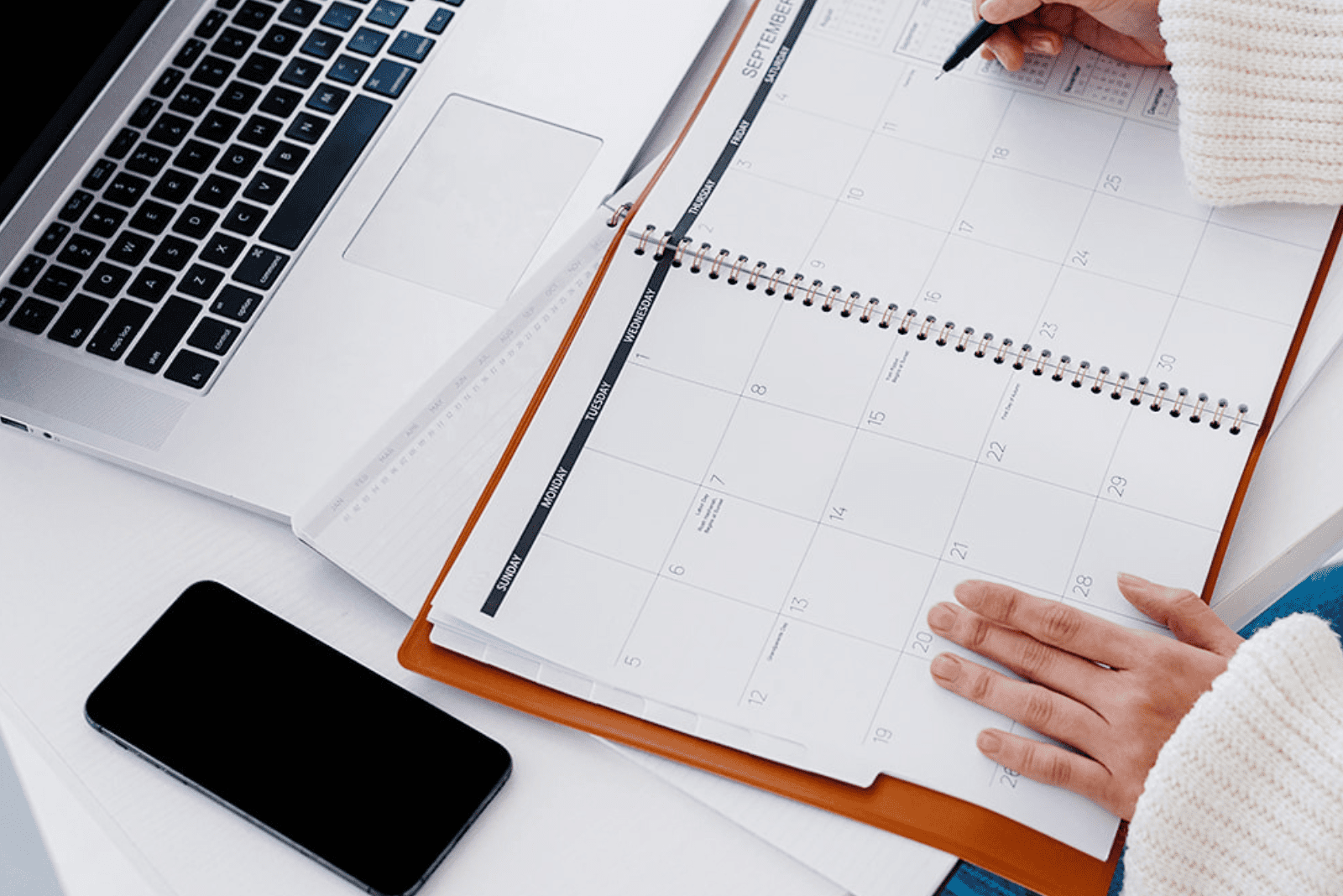 This post may contain affiliate links. That means if you click and buy, I may receive a small commission (at zero cost to you). Please see my full disclosure policy for details.
There is a lot you need to do as a blogger. Having a blog planner that keeps you both productive and organized is a must.
You need not only to plan what to write but there is also the maintenance and other aspects of running a successful blog that pull you in different directions all of the time.
There are countless planner options available, but not all of them are designed for bloggers. And, if you do a search for them, the results can be overwhelming.
Below you'll find the top blogging planners available so you can find the one that is the perfect fit for you, with the features and formatting that you need.
Too much to do but not enough time to do it? All you need is 15-minutes!
Whether you have 15, 30, or 60 minutes, you can work on your blog. Use the Blogging In Minutes guide to better manage your time and become a more productive
Why do I need a blogging planner?
You started your blog because you wanted to share your thoughts with the world or read an article about how blogging could make you money.
The problem is that having a blog is one thing, but you need to have a plan. You can't haphazardly write about what you want when you want to. You also can't randomly add some links and hope that you will make money.
You need to have a plan for not only your content but also how you will run your business. How will you make money? Who is your reader? What will you focus on? How will you promote it?
Before you even think about those aspects, you need to ensure you have your goals in mind. And best if they are in writing.
That's where a paper (or even digital) planner is best. It helps you visualize your goals and have a plan every time you sit down to work on your site.
Doing so helps keep your focus and work effectively and productively.
How to choose the right blog planner
With all the options out there, deciding on the perfect planner can be challenging. Here are things to keep in mind.
Do you like the style?
The most important factor to consider is whether you like it or not.
Are the colors appealing? Do you like the layout? Does it have the sections you need?
If the planner doesn't look good to you, you will be less likely to use it.
Is it something you will use?
Review the planner layout and options to see if it is a format you can use.
There may be pages that are outside of what you need or want to cover. It could be that the planner has left out important details.
Must it be designed for blogging?
That is one that is up to you. But, if you need a planning system that will help you organize your thoughts, track your stats and cover all the important aspects of your blog, then yes, you will need one that is designed for your blog.
That being said, a good planner will allow space to track your personal life too. After all, why use two different systems to organize your entire life?
Is the price in your budget?
Price is definitely a factor to consider. However, free or cheap is not always best.

The free systems you will find are often very small files with less than 20 pages. That means they often do not live up to the hype, and you are left trying to find sheets to fill in the blanks.
Cheap planners you may find at your Dollar Store or Target are great if all you need to do is track your appointments and some deadlines. But they don't have space or include other areas you know you need to address.
Yes, free or cheap are tempting for sure, but they often fall flat and do not provide you with everything you need. That means you will still need to purchase a planner or system to cover everything your free version forgets to mention.
Best Blogging Planners
Here is a list of the best blog planners for bloggers to help you organize your content ideas, finances, to do lists, maintenance — and everything else you need to do to run your blog efficiently.
You'll find a mix of both free and paid options. While free is great, keep in mind that they can be limiting with the features you want or need. 😉
Blog Content Planner
The most important part of your blog is the content. You need to know not only what you will write about but when to hit the publish button. After all, that post about Halloween must be on your site long before October 25th.
The Blog Content Planner not only provides space for you to plan what you will write about, but it also includes inspiration for what to write — and even when to publish it on your site.
The planner is a PDF, so you can download and print it, send it to a printer, or fill it out using a fillable PDF system.
Use the code PLAN15 and save 15% at checkout.
Check out the Blog Content Planner.
Blog Planner
Designer Blogs has a gorgeous Blog Planner filled with more than 40 pages to help you organize every aspect of your site.
The pages include:
Undated Editorial Blog Calendar
Social Media Planners for Facebook, Instagram, Pinterest & YouTube
Income Trackers
Post Planning Guides & Worksheets
To Do Lists
Goal Setting
Trackers for affiliates, giveaways, and more
You'll get everything you need in a PDF format in the size that works for you – making it perfect no matter where you live.
Learn more about the Designer Blogs Blog Planner.
50 Page Blog Planner
The creator of Stray Curls has some of the most adorable graphics I've ever seen! She has created a 50 Page Blog Planner filled with all the pages you will ever need.
It includes the pages you'd expect to find with a blog planner, but it also has a few that you will find helpful as well:
Vision Board (focus on your goals)
Ideal Reader's Profile (to never forget who you are writing for)
Business Plan (to help you remember why you are blogging)
The awesome thing about this planner is that it is super affordable (less than $10), making it a favorite amongst many bloggers.
Check out the Blog Planner from Stray Curls.
Ivory Mix Easy Marketing Planner
One of the best ways to get traffic to your site is through social media. Even with the algorithm changes, it can be a free way to get people to find your content.
But you can't (and should not) post without a plan. Ivory Mix offers a 12-month Easy Marketing Planner to help you manage your social media accounts.
The planner not only helps you know what to write about, it has much of it done for you!! You'll get:
200 Caption Templates (get fresh ideas to know what to say)
365 Days of Planned Content (never wonder what you should post)
100+ Story Starter Ideas
Business Planning Sheets
Holiday & Seasonal post ideas
One unique feature of this planner is that it comes in three formats: PDF, Google Doc, and Trello Board. That way, you can use the one that is best for YOU.
Learn more about the Easy Marketing Planner from Ivory Mix.
Blogging Business Planner
When running your blog, there is more than just content. You need to treat your blog like a business. The Blogging Business Planner helps you through the process of setting everything up (and managing your business).
It includes more than 40 pages of content. Some of the pages you will find include:
Traffic Generation Strategy (plan what you need to do to increase your traffic)
Blog Competition Planner (fine sites, keywords and other details to improve your SEO)
Monetization Strategy Plan (define how you will make money)
Mission Statement (narrow and define your "why")
You will get a PDF of the planner but can print it yourself, send it to a printer, or fill it out online using a fillable PDF program.
Use the code PLAN15 to save 15% at checkout.
Learn more about the Blogging Business Planner.
Blog Boss Management System
If you love using digital systems for planning, the Blog Boss Management System is for you. It uses Airtable. That's like having Excel, Trello, and your calendar app — all in one easy-to-manage platform.
This system helps you manage every aspect of your blogging business. The system helps you:
Create a strategy plan, so you are laser-focused on your site
Plan your content to know what to write next
Easily track your finances
Monitor every aspect of your blogging business
It is a single system that pulls everything you need together through a single login.
It's not only going to keep you on track and motivated but is an affordable system you pay for once and get lifetime access to use.
Learn more about the Blog Boss Management System.
Create Planner
The Create Blog & Editorial Planner helps you create intentional content, grow and nurture your audience, and build a business around your site.
The planner is more than a basic planner as it helps you:
Tie the current stage of your blog with your tasks and goals to maximize your returns
Track and analyze your social and email stats to learn more about your audience
Map your projects
Put your goals into writing
Plan your days and weeks to avoid stress and burnout.
The planner is more than 240 pages to help you with every aspect of your blogging business.
Learn more about the Create Planner.
Ultimate Blog Planner
If you love the old-school paper planner, then the Ultimate Blog Planner is the one for you!!
It is a spiral-bound planner that was created by a blogger – for bloggers! It includes all the detailed sections and planning you need to achieve your blogging goals.
Undated so you can start your journey and get 12 entire months of planning
SEO and newsletter planning guides to map your strategy
Monthly trends to know what to write about
Goal tracking (monthly, quarterly, and annually)
Guides to help you write epic posts and plan your SEO effectively
More than 250 pages to help you work productively and efficiently
The lanner is printed and mailed directly to your home. When it arrives, open it and start planning!!
Learn more about the Ultimate Blog Planner.
Erin Condren Planner
While this planner is not specifically for blogging, it is used by many bloggers to organize their day, week, and month.
What is awesome about these planners is that you can customize the layout, so it works for your blogging business. And, even though there is not a "blogging format" that you can use, you will have blanks that you can use to add the details for your site to know what to work on each time you sit down to plan your day.
Learn more about Erin Condren Planners.
Whether you choose one of these above, find a free one that will work for now, or opt for something completely different, does not matter.
What is important is that you have a way to monitor and track your to do list, deadlines maintenance, and every other aspect of running a successful blog.
Too much to do but not enough time to do it? All you need is 15-minutes!
Whether you have 15, 30, or 60 minutes, you can work on your blog. Use the Blogging In Minutes guide to better manage your time and become a more productive