How to Get Started Making Money with Affiliate Marketing
This post may contain affiliate links. That means if you click and buy, I may receive a small commission (at zero cost to you). Please see my full disclosure policy for details.
Affiliate Marketing may be a term you've heard in the past, but you aren't sure what it is. Or, if you understand what it is about, you feel that you do not want to pursue it as an income-earning opportunity because you think it is not something that works for your site.
When most bloggers hear the phrase affiliate marketing, they think it means being salesy and pushing your readers to buy your products. That's not really how it works.
When done effectively, affiliate marketing can bring in thousands of dollars a month to your site – all without you needing to promote or market yourself actively. That is the beauty of making money with this method – you can pretty much set it and forget it. You really make money even while you sleep!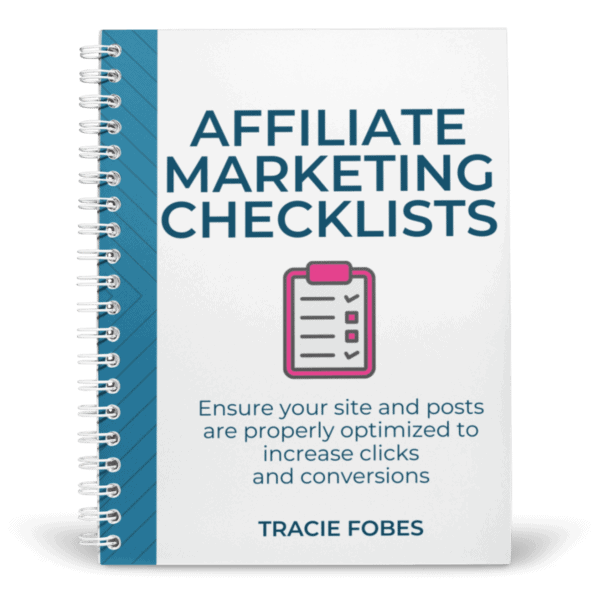 Ensure every article you write makes money!
You need to know what to do to get your site ready to do affiliate marketing and then make sure every post is written to get more clicks and conversions!
WHAT IS AFFILIATE MARKETING?
Affiliate marketing is simply promoting products or services, and when someone buys, you earn a commission.
That may sound simple, but that is because it is. These are links you see everywhere, and you click to see more and then buy. The site that had the link just made money off of your purchase. How easy is that?
CAN YOU MAKE MONEY WITH AFFILIATE MARKETING?
This is the #1 question most will have when it comes to this type of monetization strategy. I have seen people make as little as $50 a month and as much as $50,000 a month — all from using affiliate links on their site!
There is no way to tell anyone how much they will make because it varies from blog to blog. You could have two bloggers who have similar content, audience, and following, and one may make 10x more than the other.
Income from affiliate marketing does not happen overnight, but it can build up over time.
IS IT A PYRAMID SCHEME?
Not even close. You do not pay to belong to a group of others who all get others to sign up beneath them. It is a legitimate, honest way to make money on your blog or website.
DOES IT TAKE A LOT OF TIME?
It does not take much additional time to use affiliate marketing. The links for the partners end up being embedded in the post you write. Once the link is set, you are done. It adds just a bit more time when you type your post.
HOW DOES AFFILIATE MARKETING WORK?
The process is simple. You sign up with partners, and they provide you with a unique link to use on your site. The link includes a tracking code unique to your account. Then, those links are added to your blog posts as they make sense.
Check out this post: Everything you need to know about using blog images. Throughout the post, you will find text underlined in pink. Some of these are affiliate links.
But readers see them as additional information. They click, sign up, and then I make money. That is the primary way to incorporate affiliate marketing.
One of the links you see is ShortPixel. In the post, I share that you need to compress images and then provide the natural solution for the reader to do that. When they click and sign up, I may make a commission.
It looks like any other internal or external link on my site. The difference is that if someone happens to buy, then I can make a commission.
Does it look obtrusive or as if it is "in your face," making you feel like I am forcing you to buy? Nope. Not at all. The link appears to be completely natural and organic.
That is all there is to it! You link to products that fit into your post, using a trackable link for your site. These companies watch, and as you make sales, you earn a commission.
WHY SHOULD I USE AFFILIATE MARKETING?
I can't understand why bloggers would not want to do it. As you can see above, it can be very natural and work well into many blog posts.
You have to write the post once, and the link can continue to earn you money without any effort on your part. It is one of the easiest ways to create a stream of passive income for your website.
WHAT COMPANIES CAN I PROMOTE?
There are thousands of companies that offer affiliate programs. To start, you will want to create accounts from the affiliate partnerships. Once your account is established, you can search for the partners on their site.
While some affiliates will allow anyone to promote them, others require approval. They will be reviewing your site to make sure it is a fit for their brand.
They may also want to make sure you've been blogging for a while or that you have the traffic that they want. If they feel you are a fit, the brand will approve you as a partner, and you can start promoting them.
Another way to find the affiliate program for the company you want to promote is to conduct an online search for the company name + affiliate. For example, if you wish to promote Target, you could search for Target + affiliate program and learn that they have a program on Impact. You can usually apply right from the link that they send you to.
To start, sign up with these companies. Once you create your account, you can begin your search for partners:
IS THERE ANYTHING MORE I SHOULD KNOW?
One thing that many people do not realize when it comes to affiliate marketing is the required disclosures. You have to inform readers that you use affiliate links and will make money if they buy.
There is no way to get around this. I recommend you review this post – The Disclosures You Must Have On Your Blog – to learn much more about this.
You also need to disclose the link is an affiliate link. The way you do that is by adding the sponsored tag to your links. If you aren't sure how to update the type of link on your post, read up on How to Add a Rel="Sponsored" link on your site.
You may also have to pay taxes on the money you make with affiliate marketing. You will need to check with the tax laws and a professional to learn more about your situation.
HOW DO YOU GET STARTED?
First, you need to look at your site to determine the products or services that fit your readers. That is going to help you find the most success.
Then, run a quick Google search to see where the affiliate program is for the partner. You will head to that site, where you will sign up. That is where the partner details live.
After signing up to create an account, find the company, and follow the steps to apply to work with them. Once they approve your site, you will get the links, add them to your content and be on your way to making mine.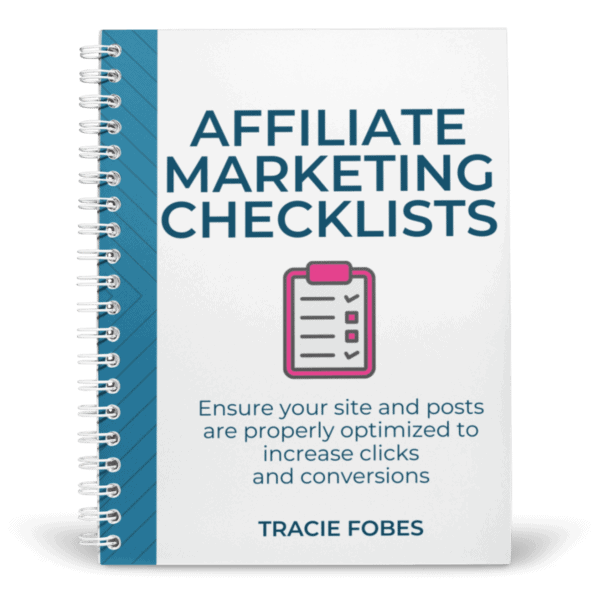 Ensure every article you write makes money!
You need to know what to do to get your site ready to do affiliate marketing and then make sure every post is written to get more clicks and conversions!
WHICH AFFILIATE PROGRAM IS THE BEST?
There is not one that is better than others. It is about finding the right partner to promote to your readers. You would never talk about blog hosting on a site about recipes, right? It makes no sense.
But, if you shared links to the pot, utensils, and cookbook the reader needed, then they would buy. It is about finding the right products and companies, above all else.
That being said, the one that tends to convert the best for most is Amazon, as people know and trust them (and often shop there frequently).
WHAT ARE SOME SMART AFFILIATE MARKETING STRATEGIES?
One mistake bloggers make is they drop a banner ad in their sidebar and think that will make them money. It won't. That is one of the least effective methods for getting clicks and conversions.
The idea, as mentioned above, is to incorporate links in your articles naturally. Sometimes it is easy to do, such as when you are doing a review post. But, what are some other ways you can add in links without appearing salesy?
THE RECOMMENDATIONS PAGE
As you get more readers to your site, they will begin to trust you. That means they will listen and follow your recommendations. One way you can share those with them is by creating a recommendations page. That is a page filled with links to products and services you use and love.
Check out My Recommendations Page. The reader sees this information as helpful, but the links are all to affiliate partners. If they click and buy or sign up – I make money.
THE TUTORIAL
There are times when someone needs to learn how to do something. These are tutorial posts. You can either share the service and how to use it or even instructions for creating something. You can add in links for the service or the products you need to purchase to build what is being shared.
I do this in my post about How to Add an Opt-In To Your Site. If you scroll down, you will see me walk through readers through how to do this with different email providers. The email partner links are affiliates – but the post provides value.
THE INTERVIEW
Another way to add affiliate links to your site that appear natural is through the interview. Bloggers often do this for courses they want to promote. They reach out to the owner and interview them. That provides value and answers questions for the reader about the service so they can decide if they want to sign up or not.
THE ALTERNATIVES POST
A fun way to help your readers and use links is through the alternatives post. This is where you share a cheaper alternative for a product they love.
Here is an example where the website shares more affordable options to the expensive Magnatiles brand. It helps by providing them value and options – and they make money!
These are just a few ideas on how you can strategically use affiliate links in your articles. Make sure you grab this download to get even more ideas on using them in your articles!
Therefore, sign up now for the Free Affiliate Marketing Bootcamp Course! Over a week, you will learn more about:
Why affiliate marketing is important
How to ensure your blog is compliant
Which companies are a fit for your site
How to find the affiliates you want to promote
Inside tricks to get more people clicking on your links.
If you really want to take the plunge and immerse yourself in all things affiliates, take one of the best affiliate marketing courses currently available: Affiliate Marketing Roadmap.
Affiliate marketing is the smart way to make passive income on your site. Don't put off getting started. Sign up and add those links so you can start making money!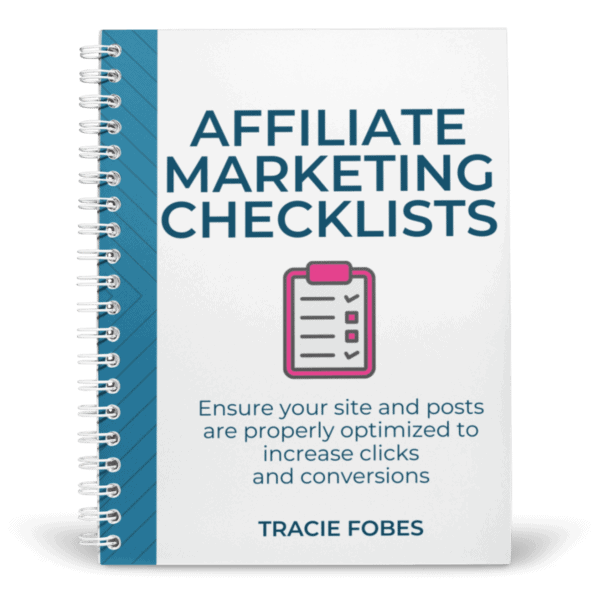 Ensure every article you write makes money!
You need to know what to do to get your site ready to do affiliate marketing and then make sure every post is written to get more clicks and conversions!