35 Gift Ideas for Bloggers (That They Really Want)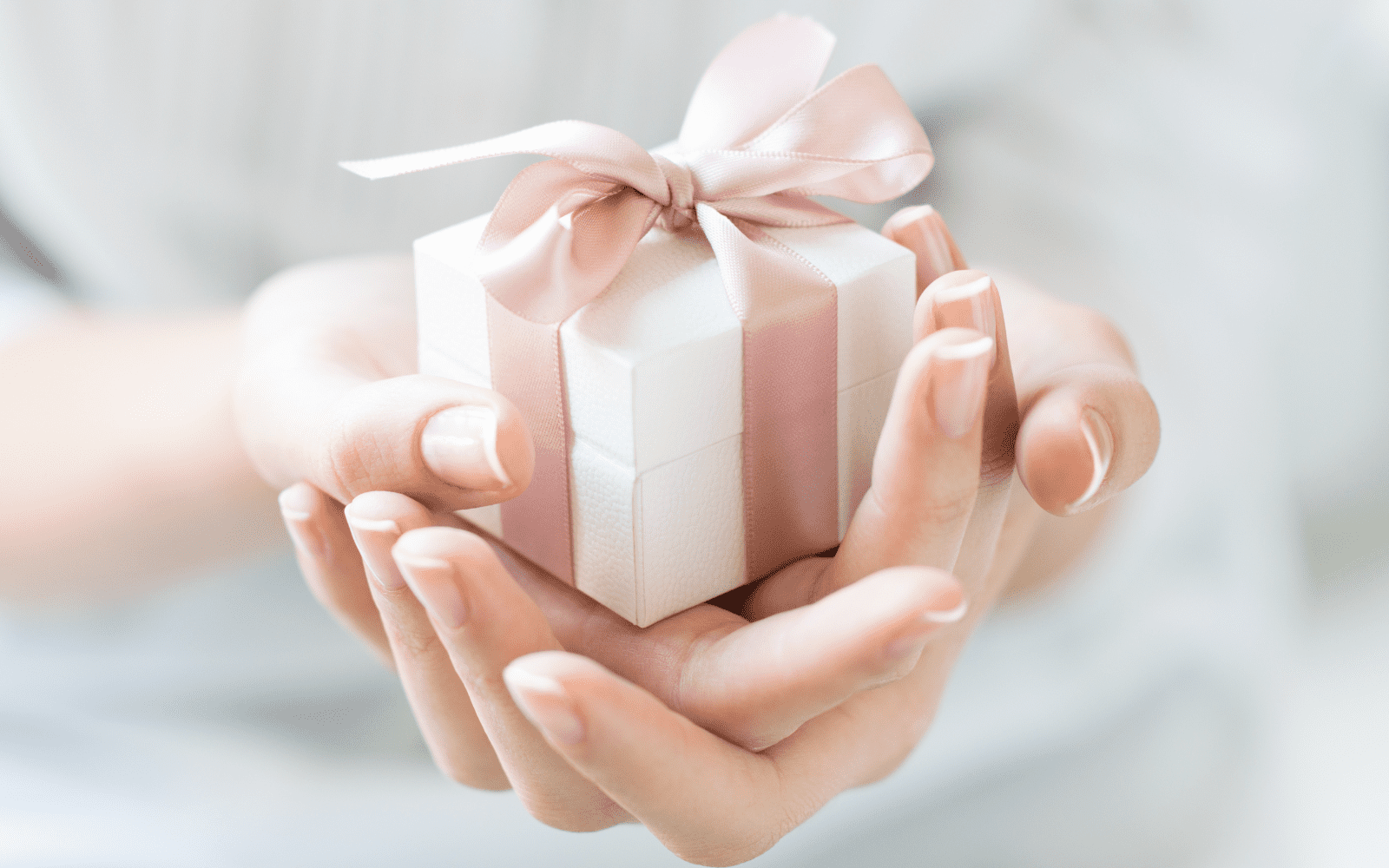 This post may contain affiliate links. That means if you click and buy, I may receive a small commission (at zero cost to you). Please see my full disclosure policy for details.
If you are looking for a gift for the blogger on your list, the search is over!!
We are a unique business model, and the things we need (or want) often differ from traditional gifts. That can make shopping challenging!
Below you'll find a list of the perfect gift for the blogger on your list (as shared with me by real-life bloggers).
Planners
Bloggers need to plan. There are both paper and digital planners, so you want to get the right one that works for them.
1. Ultimate Blog Planner
Paper planners are great, but most do not include the essential tasks on a blogger's list. Things such as working on SEO, writing content, planning their newsletter, or plotting their social media posts are recurring "to dos" that they must prepare for.
The Ultimate Blogging Planner includes space for tracking goals, products, newsletters, daily to-dos, and social media shares — everything a blogger needs to remember to do!
The planner is undated, giving them 12 months of planning — no matter when they start.
2. Erin Condren Planner
While it is not geared entirely towards blogging, Erin Condren Planners are always amazing (and gorgeous). You can customize the pages to get the sections or items you need, ensuring your blogger can tackle each day productively and efficiently.
3. Trello Digital System
A Trello Planning system might be a better option if your blogger is into a digital lifestyle. It helps you plan your tasks in detail and is perfect for tracking articles or projects that need attention.
While you can't gift someone Trello, you could purchase a Visa gift card and load a one-year's subscription onto it.
4. Erasable Wall Calendar
There's nothing like seeing what you need to do in one place. A reusable wall calendar helps keep you organized.
Notebooks & Pens
Whether using a physical or digital planner, your blogger will need to take notes. They will need notebooks and stationery items to do it all.
5. Personalized Pen / Pencil Set
If you take notes, you'll need a pen or pencil. You can get a personalized set with the blogger's name — or even website name — on it.
6. Leather Notebook
A gorgeous notebook is a perfect tool for keeping track of notes and other features. You can find several different styles and options, making it an affordable gift idea.
Photography & Video
If your favorite blogger takes photos or videos for their blog, they may love equipment to make taking those shots even easier.
7. Camera
Most bloggers will use the camera they have at their disposal, which is usually their cell phone. But, there is nothing like having a high-quality DSLR camera to take photos and record videos.
Here are a few options that may work:
8. Ring Light
Lighting is essential when taking photos or shooting videos, which is why a ring light makes the perfect gift!! While you can get an expensive style, affordable options often work just as well (and are more often in line with budgets).
9. Backdrops
Backdrops are a must-have for anyone who takes their own photos. You can find various styles and patterns, such as marble or wood looks, at various prices.
Blogging Resources
If you want to go practical, you can't go wrong with gifting resources bloggers need to run their websites.
You can't buy these products and "gift" them. If you want to give this to them, consider wrapping a fun poem, note, or photo, so they have something to open. Then, have them log in to their account and pay the fee.
10. Hosting
The best way to run a blog is to be self-hosted. To do so means an investment in a hosting package. There are numerous providers, but if you want to help your blogger by paying for hosting, you can't go wrong with HostArmada or BigScoots.
11. Email Provider
Bloggers need to use an email service provider to start their email list and send newsletters to their subscribers. It is a crucial piece for running a successful blog. Most use either Mailerlite or ConvertKit, which are both excellent options.
12. Website Theme
When starting a site, bloggers often start with free themes. But, there is nothing like a high-end theme with additional features and functionality so they can customize their site.
While there are many options available, it is important that the theme you get them is not going to slow their site and has the proper functionality they need. Those to consider include:
13. SEO Tool
One thing every blogger must do is ensure the articles they write can get found by search engines. That means they need to do proper SEO (search engine optimization). Keyword tools such SemRush or Keysearch help accomplish this task.
14. Photo Editing / Graphics Tool
Every blog post has at least one photo (often more). That means lots of editing. There are tools bloggers use to do this. The two most popular are Canva and Photoshop.
15. Stock Photos Membership
Even if they take their photos, most bloggers will need to use stock photos on their sites or social media posts. That requires access to images they can legally use.
There are several providers, but those that are the most popular include:
Fun & Quirky Gift Ideas
Blogging isn't all business – they want to have fun too! You'll find some fun and creative gift ideas.
16. Stickers
A fun and super affordable gift idea is stickers. They are perfect for laptops or notebooks and will bring a smile to their faces.
17. Wall Prints
Bloggers love inspirational or amusing quotes. And, when they can be on display on a wall or desktop, it makes working even better. There are countless designs and prints on Etsy (so you are sure to find the perfect one).
18. Bottles / Mugs
Hydration is important, especially when working for long periods. You'll love the funny and clever mugs and tumblers Etsy has to offer.
19. Tees / Hoodies
A blogger's "uniform" often consists of tees, hoodies, and sweat pants – and the more comfortable – the better!!
20. Gift Cards
Whether for Starbucks or goodies on Amazon, gift cards make the perfect gift.
Equipment
Sure, a blogger needs a computer, but there are other tools that they would LOVE to have.
21. Bluelight Glasses
It's no secret that looking at screens for long hours can hurt your eyes. Bluelight blocking lenses are a tool to keep your blogger's eyes healthy.
22. External Harddrive
A lot of data needs to be saved, such as post drafts, images, videos, graphics….the list goes on and on. Keeping that on an external drive frees up much-needed space on a computer.
Look for one that is at least 1TB (if not more), so there is plenty of storage space.
23. Laptop Stand
Long hours working on a flat surface can affect arms and backs, which is why a laptop stand can be very helpful. It raises it so you can stand or get your laptop at the perfect angle for working.
24. Seat Cushion
Bloggers sit. A lot. A strong and supportive seat and back cushion can alleviate any potential pain.
25. Footrest
You can't talk about comfort without a way to keep your feet happy. Look for an ergonomic footrest to support the feet (which will also help with back issues).
26. Mousepad
It may sound simple, but a mousepad with proper wrist support can make a big difference for your blogger and all the computer work they have to do. While these usually come in black, you can find styles in gorgeous colors to make working fun.
27. Wireless Products
Nobody likes to be tethered to their phone or laptop. You can find wireless earbuds or headphones to connect to a phone or laptop. Using a wireless keyboard and mouse can also make blog work easier.
28. Microphone
A quality microphone is a must when doing a video or podcast. I asked a podcaster for the best models, and he said the ATRX is the one he uses and recommends.
Education
Ask your blogger if they have things they need to learn, and they will more than likely say YES!! And they probably know of a few courses they'd love to take.
As with the tools and resources above, you can't purchase the course as a gift for them. You could give them a Visa gift card loaded with the course cost so they can buy it when they are ready.
29. Affiliate Marketing
One of the ways bloggers make money is through affiliate marketing. However, there are many strategies that they can use to maximize their profits. Affiliate Marketing Roadmap is an in-depth course to help them learn how they can grow their income.
30. Six Figure Blogger
If your blogger's goal is to scale and grow their business, Six Figure Blogger is the course for them. They'll get all the inside tips and strategies from a successful blogging duo.
31. Printables by Number
Digital products are one of the easiest ways to earn money blogging. Suzi Whitford's Printables by Number teaches how to create and sell products on a site and through Etsy.
32. Stupid Simple SEO
SEO stands for search engine optimization. It is how blog posts are found via search. Stupid Simple SEO teaches how to find the content they can write to improve their chances of reaching the top of page 1 on Google.
33. Off Page and On Page SEO Book Bundle
While it is not a course, Debbie Gartner's SEO Book Bundle teaches bloggers how to ensure they can get SEO working on their site and through other methods.
34. Books
There is nothing like a book that will catapult your budding entrepreneur and help them grow their business.
The best gift of all
35. Time
While all these ideas are amazing, there is nothing like the gift of time. Time to work, uninterrupted by family and other distractions.
How do you gift time? Here are some ideas:
Overnight stay at a local hotel for them to be alone and work
Babysitting their kids
Taking the dogs for a daily walk
Running errands
Taking the kids to the park
While you can't wrap those ideas, you could create coupons or notes to give to them.
Hopefully, one of these gift ideas is perfect for the blogger on your list.