The Process for Launching a Successful Blog
This post may contain affiliate links. That means if you click and buy, I may receive a small commission (at zero cost to you). Please see my full disclosure policy for details.
You want to start blogging but have no clue what to do. While a great way to express yourself and make money, there is a process you need to follow to launch a blog that will be successful.
In short. You need a plan. And, you need a launch plan that is easy to follow and not over complicated. Let's break down everything you need to know in a way that just makes sense.
There are countless articles and courses on how to start a blog. However, most of them are merely sharing how to buy a domain and hosting. They fall flat on the prep work and even more on what to do once you have your site up and running.
If you've set up your site and are now ready to blog, you may feel very overwhelmed. You know there is a lot to do, but you also may not even realize things you have to take care of. I call this "not knowing what you don't know."
You can't search for something you don't even realize you need to know. Let's simplify the process for you. You'll find all of the steps you need to follow when starting out blogging.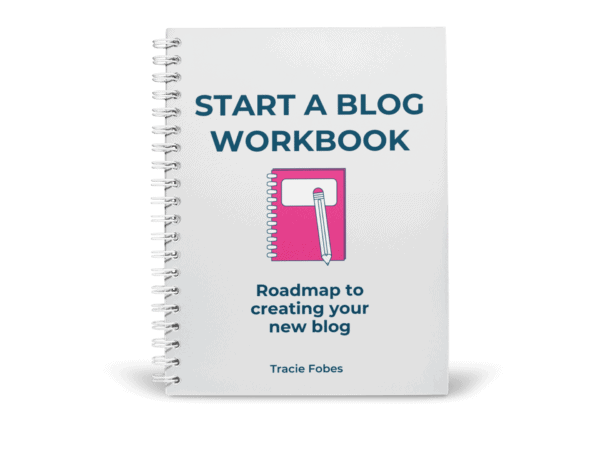 Starting a blog… made simple!
Sign up for my email list and I'll send you a copy of my Start a Blog Workbook for free! Just my way of helping you start your brand new journey.
EVERYTHING YOU NEED TO DO TO START A KILLER BLOG
One of the most frustrating parts of blogging is that no one tells you everything you need to do. Most articles say, "click here and sign up with this host." They leave you hanging as they don't tell you everything you need to know. There is a simple outline to follow to get started blogging.
You may also think you need the perfect theme, with the ideal layout, email sign up, and perfect navigation.
Nope.
You simply need to make sure you have the following:
Domain Name
Hosting (with WordPress installed)
Mobile-responsive theme with a heading and your colors
Privacy policy
Contact page
About page
One article that is on topic for your niche
That's it! That is all you need to get your blog up and running. But, putting these pieces together can be a bit daunting. That's why you need to follow a process to ensure you cover all of your bases. That is where your launch plan will help.
CREATE YOUR LAUNCH PLAN
Knowing what you need to do is one thing, but having a plan is something entirely different. You need to see the process and steps to follow, so when you are ready to share your blog with the world, you can do so with confidence.
The launch plan is a guide that helps ensure you remember to do ALL of the things when it comes to setting up your site. The plan is consists of four components:
Set up
Design
Content
Release
We'll go over these a bit in a bit more detail. Of course, you can pop into the free Start a Blog course to get the step-by-step instructions, should you want some hand-holding to get your blog started.
BLOG SET UP
Setting up your blog consists of several different steps from deciding on a niche to getting your domain and hosting. You must work these in the right order, so you don't overlook any critical steps along the way.
Decide on a blogging niche
The first thing you need is a niche. That is what you will talk about. Some questions to ask yourself when it comes to your niche include:
What do you love to talk about?
Which topic can you talk about for hours on end?
What do you want to help others learn?
Then, think about the person you want to target:
What are their concerns?
Does their gender or age matter?
What are their pains?
What do they want or need to learn?
Finally, pull those concepts together to create your niche. The niche planning guide walks you through planning your niche, so you know the exact person to target and what you plan to teach them.
Pick a blog name
Once you know what to blog about, you need to decide what name to give it. Consider your potential keywords, as well as the phrase that will best describe your content.
You will want to double-check to ensure you can use it as if someone else has something similar; you need to pass. Otherwise, it could be a potential trademark infringement. Nobody wants to deal with that.
Make sure you avoid misspelled words (i.e., koffee rather than coffee) as that will not help you and is not as clever as you think. You should also ensure that the name does not look offensive in the browser bar. For example, if your site is His Hitting Streak, you will notice an offensive word shows when types as a site name.
Give your blog name some thought as you do not want to select the wrong one and end up having to change your name a few months down the road.
Purchase your domain

Once you know what you want to call your site, you need to buy the domain. Your domain is your address. It is where your site lives and what people type into their browser to find you.
Don't rush to sites you may see advertised when it comes to buying a domain. They often charge you for privacy and may even raise the price of the domain if it is popular. (Yeah. That sucks).
You want to use a reputable site to buy your domain name. One that will give you free privacy (so your email address is private) is NameCheap. And, as the name implies, you can find some great pricing in buying your name.
Get hosting and add WordPress
Just like the domain is your house numbers, the hosting is the house and foundation. It is where your site lives and is stored. You need to be self-hosted, which simply means you get 100% control over every aspect of your website. You can do the add-ons, make money, and give it the look you want.
The recommended platform is WordPress. It may seem scary at first, but once you learn how to navigate and use it, then it is pretty straightforward.
Just as with a domain, there are many options for hosting. But, they are not all created equally. You want a quality host with the customer service to back it up. The hosting platform I recommend is HostArmada.
They are both affordable and will work for the new blogger. You aren't making anything now, so you need to keep your costs low.
Once you have hosting, your host will show you how to install WordPress. It may sound technical and scary, but it is very easy to do.
If you opt to use Siteground, check out the steps in the Profitable Blogging Roadmap (free course) where you find the screenshots to guide you through this process.
Set up your site
Once you have WordPress added, it is time to get it set up. But you want to make sure you do so the right way! You will see there are plugins and other features that may be confusing. Blogging Playbook can help navigate the waters if you aren't sure what to do next.
Do not use Jetpack or Monster Insights. Two plugins that your host may have automatically installed for you are JetPack and Monster Insights. They claim this is the simple way to check your site traffic and clicks.
These plugins will be a drag on your site resources and cause it to run more slowly. If you happen to see them on your site, you will want to delete these plugins right away.
Update the URL configuration. The default setting for your URL will have a date in it. For example, it may look like yoursite.com/2020/01/20/my-awesome-post. You do not want that.
You never want a date in the URL as that will date the post for search, and if you ever want to update and change the date, you may have issues with broken links if you do not do so correctly.
Save yourself the headache and change it right now. Go to Settings > Permalinks. Select Post Name and save. Now you've got the proper format for your site.
Find the plugins you need. Plugins are add-ons for WordPress. They make things happen, such as helping you with SEO, connecting your site to your email provider, adding those fun share buttons you see on posts, and more.
But, before you rush out and go on a plugin-adding frenzy, do your homework as not all plugins are the same. Some will slow your site, and others may not work. You must start by having the right plugins on your WordPress site.
Review all the settings on your site and make sure that you've configured everything properly.
Connect your site to Google
One step that many tend to forget is the connection of your site to Google. Doing so will not only allow you to see how many people visit but also the search terms you rank for as well.
You will need to connect your site to both Google Analytics and Search Console. The process is straightforward and will take less than 30 minutes.
Please do not be tempted to use a plugin for this. Plugins fail and may slow down your site. Instead, learn how to connect your site to Google the right way.
Grab your social channels
As soon as you have your site name, head to Facebook, Pinterest, Instagram, and Twitter to grab those handles. If they are taken, look for something similar that makes sense for your site.
Follow the steps you find on each site to set them up. Make sure you set up a Pinterest business account. On Instagram, you want to sign up for a creator account. When it comes to Facebook, you may want to create a group at the same time you make your page (as the group is where you build a community).
BLOG DESIGN
Know your blog brand
One thing many bloggers overlook is the importance of blog branding. Your brand is not merely a logo or colors. It is the message you want to convey to visitors when they land.
Are you snarky or have an odd sense of humor? Are you serious? Maybe you are very laid back.
Take time to determine your blog's branding message when you decide on your theme, content, colors, and overall message to convey.
Add a Theme
Your theme is the paint and shutters on your house. It is what makes it look the way you want to give the impression desired to those who visit. When done the right way, it will be inviting and give the right vibe to your reader.
There are countless themes online. When it comes to the one to get for your site, stick with reputable sites, and not third-party sellers. You simply do not know if the person knows WordPress if it will be compatible with the features you need and what type of updates and support they offer.
You should also make sure your theme is mobile-responsive. That means it automatically reformats for those who visit on a phone or tablet. This is important not only for your reader but also, Google (it is a factor in ranking).
The free themes to consider include Kandence or Astra. If you want to get a paid theme, look into Studio Press, and Restored 316. All are reliable themes with a history of mobile-responsiveness, support and should have zero effect on your site speed.
Determine your colors
Part of your branding message is the color on your site. If you cover dark topics, you would not want pink and mint green on your blog. However, deep purple may be the right fit.
You may know the colors you want to use, or you may have no clue. You can use a color matcher to help you come up with the colors to use on your site.
Keep in mind that you can always change colors and themes — so if you aren't 100% sure, you can at least start with something and change it later.
CONTENT
Create your necessary pages
There are a few pages you need to make on your site. Pages are the content that people need to have access to, but it is not where you share your articles that your readers want.
The pages you need to create include:
About Page
Contact
Privacy Policy (and other legal pages)
Your about is not about you but rather, your reader. Why are they here, and what will they learn. Check out how to write the perfect about page (it even had a template) you can use.
You also need a contact page. It will include the details so readers and potential sponsors can reach you. You can use a contact form, or you can simply write out your email address.
The final pages are your legal policies. A privacy policy is a must, but it is also recommended you invest in the proper disclaimer and terms and conditions pages as well. Since these are legal, you mustn't try to create them yourself (or worse, copy from another blogger). Instead, invest and purchase the legal policies you need on your site.
Write your first article
You also need to write that first piece of epic content! You must follow the proper blog post structure and learn a little about keywords (more involved SEO knowledge will come in a few weeks).
Review the post to ensure you have the proper headings and sections. Make sure it is free from typos and grammatical errors. Add the images that will help tell the story (including the pinnable images you will want so people can pin so others will see it too).
RELEASE
You've done it! You've got your blog set up, and your first article is written. Now it is time to share it with the world!
Share on Pinterest
The first place to start is Pinterest.
Pinterest is a must-have platform for nearly every blogging niche. While some may not be as popular as others (i.e., recipes do great but football may not), there is a place for everyone.
You will want to learn how to get started using Pinterest to leverage it for your first bit of traffic.
Post it on Facebook
If you have your Facebook page or group, share your article there as well! If you are in groups that allow you to ask for feedback, make sure you take advantage to get some help and ideas from others who have been blogging longer or who may be your target reader.
Why should you not wait to start your blog?
Your site will be in the Google sandbox for 6+ months. That means Google does not yet know or trust you enough to rank your site.
Sure, you may get lucky once in a while and get a post to rank, but the truth is your site is not trustworthy. Trust comes with both age and content. You need to get Google to see your site.
If you wait for eight weeks to launch it and let Google know it exists, that puts you two months behind. Two more months for them to get to know about you. Two more months waiting to rank.
Don't wait. Launch!
How many posts do you need to launch your blog?
The one question most new bloggers have is — how many articles do you need to launch your website. Should you have 5, 10, 20?
The truth?
One.
You can launch with one. Single. Post.
Why?
That one post should be one piece of pillar content. That means the post that sets the tone for what your site is about.
What should my first blog article be about?
You want it to be one that is for your niche. It needs to set the tone for your site. It needs to be epic and helpful.
For example, if you are starting a site about knitting, your post should tell people the difference between knitting and crocheting, the terms, or even the products you will need to knit.
Do not waste time writing a welcome post. Save the introduction for your about me page and jump in with content that is going to help your reader and send the first signals to Google as to your niche.
When is the best time to launch your blog?
There is not a right or wrong time of day or even day of the week when it comes to sharing your site. You just need to do it. Set a goal and do what you an to make it happen.
WHAT COMES NEXT?
Above are the fundamental strategies for getting started blogging. Try to ignore all of the other noise you hear so you can focus on learning. Once you have tackled the above, you can begin to read more about adding an email newsletter opt-in, affiliate marketing to make money, promoting yourself on Pinterest, and more.
But, even then, it is easy to feel still overwhelmed. You can't do all of the things all at once. It is impossible. Plan a six-month blogging strategy, so you know what to do – and when to do it. The topics you need to learn include:
It is easier to focus on just one thing at a time and learn it well. Once you learn about that topic, move onto the next step. Never try to do all of the things all at once. It just doesn't work.
Blogging is a lot of fun, but it can be stressful. Having someone in your corner who gets what you are going through to help you on your journey makes all the difference.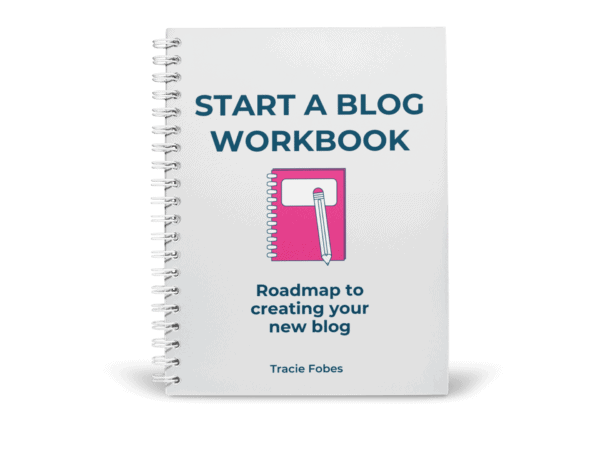 Starting a blog… made simple!
Sign up for my email list and I'll send you a copy of my Start a Blog Workbook for free! Just my way of helping you start your brand new journey.