The Best Blogging Courses You Need to Take This Year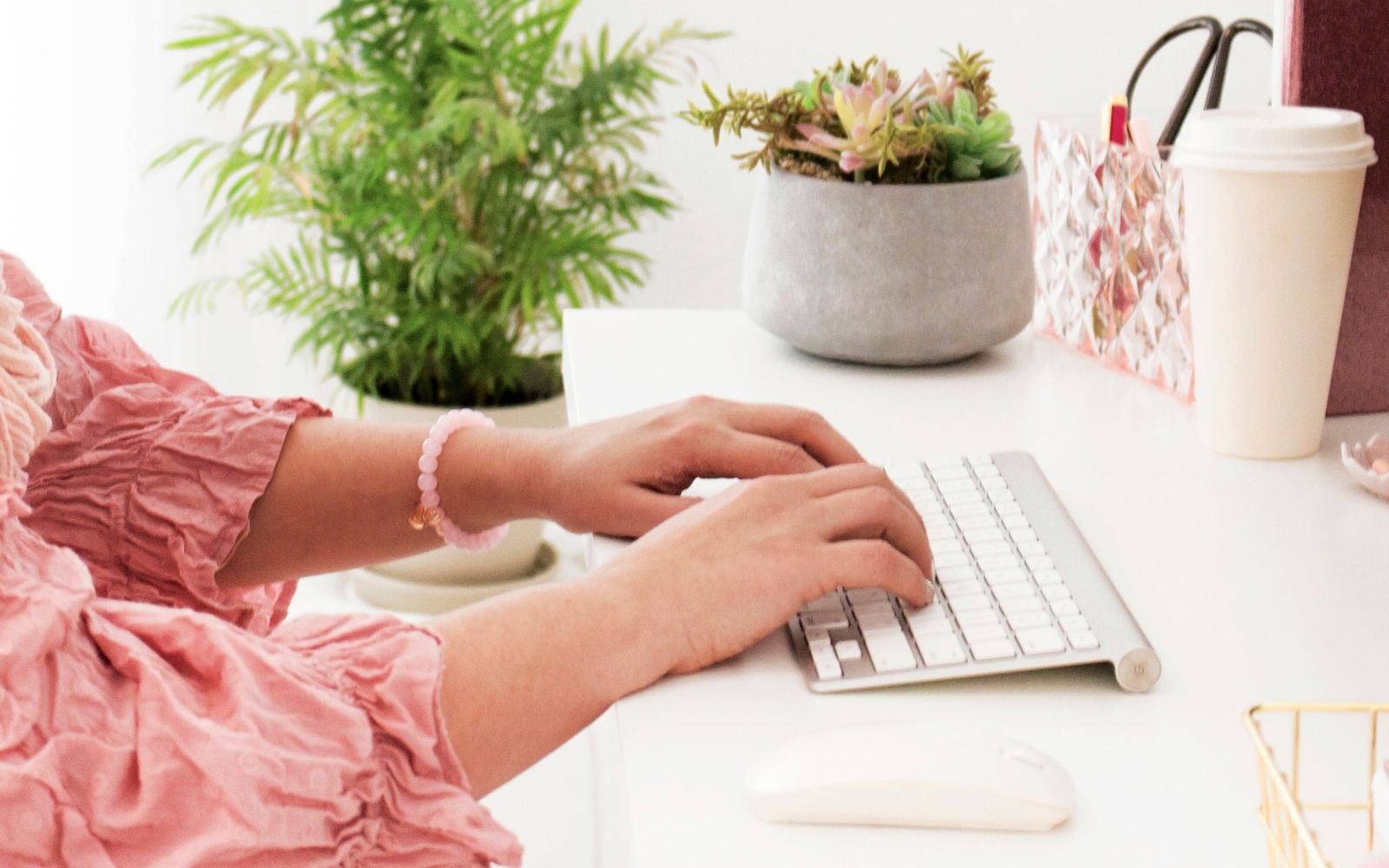 This post may contain affiliate links. That means if you click and buy, I may receive a small commission (at zero cost to you). Please see my full disclosure policy for details.
You started your blog by signing up for a free start a blog course. And now you are ready to sign up for one of the blogging classes you read about in a Facebook group.
But how do you know which are the best to take in 2022?
With all the courses you see mentioned and touted online, how do you know if the one you want to take is the right investment for your business?
If you ask this question in a Facebook group, you will get overwhelmed with lists of the courses everyone says you need to take. The truth is that many of them will share links only because it is their course or as an affiliate who will get paid if you sign up.
That's not helpful. Not in the least.
You need someone to help you cut through all the noise so you can make a smart investment in the best blogging courses that make sense for you.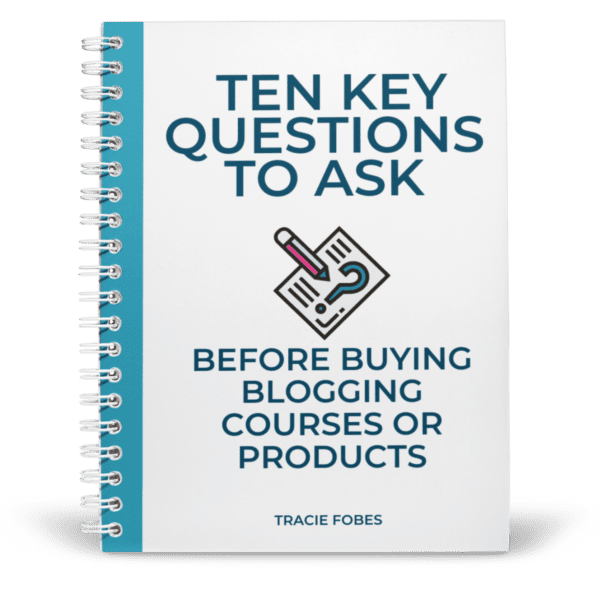 Don't buy another course or book to learn about blogging until you read this!
How many times do you buy a course or an eBook just to be let down? There are ten (10) questions you need to ask yourself before you make that next purchase!
What makes me an expert?
I've been blogging since 2009. I've invested in countless courses. I even created many courses because I felt those I took fell short. They did not deliver on their promises.
I used what I learned to grow my first site, Penny Pinchin' Mom, into a six-figure blog. I did so well that I sold that site in October 2019 for more than $250,000!!
My knowledge came from a lot of reading, learning, and applying. It also came from various courses.
I'm not writing a post with zero background as to what is good or not. Some courses would pay me a lot more than what I may make on these, but I don't care about that.
I am here to teach you about what is good and where to focus your time and money. You need to trust my input to know you are making the best investment in your business.
Do you even need to buy blogging courses?
There is a barrage of information online. Run a single Google search, and you will see what I mean.
For that reason alone, you may think you don't need to take one. After all, why pay when all the information you (think) you need is available for free?
The truth is that free data only takes you so far. You have to take the ideas from multiple sources to try to package, learn, and apply the lessons.
That can be overwhelming, confusing, and may lead to no success. How do you know who to listen to and what you need to do?
You don't.
When you invest in a blog course from an expert, you will get everything you need in a format that can be read and implemented. However, make sure that the course will meet your needs.
Which courses are the best for blogging?
The blog program you need depends on where you are in your blogging journey.
For example, if you have been blogging for less than a month, you would not invest in courses about selling products. It is not the right time.
Or, if your blog is nine months old, maybe you are ready to try your hand at sponsored posts.
Whatever you need to learn, there is a blogging course for you.
Top recommended blogging courses
There are hundreds (if not thousands) of online blogging courses you can take. Below you will find my top list of the courses you should take.
Best Courses for Beginners
Best Courses for Intermediate Bloggers
Best Courses for Advanced Bloggers
What should you keep in mind before buying a course?
Unfortunately, not all courses are equal. There are a few things you need to consider before you grab your credit card and pay.
Taught by an experienced blogger
Before you even think about buying a course, you need to research the creator. You want to make sure they are an expert in the field of blogging they are going to teach you.
How long have they been blogging? Do they have proof to back up their claims? Do they really know this topic?
The truth is anyone can claim to be an expert. But that does not mean they are. If they started blogging 2 months ago, are they someone to listen to? They are not.
Take the time to research the creator. Make sure they have the experience to teach you what it is you need to know.
Easy to read and learn
Look at the course content and research how it is presented. Some send lessons daily by email, while others put it together on a platform you can log into and access as it works for you.
Then, there is the way the content is packaged. Is it all video? Text? A mix of both?
If you do not do well learning through video, then the course may not be a fit for you if that is the way it is delivered. Ask questions, and make sure the format and layout is a fit for you.
It's a marathon, not a sprint
You've seen the courses that make big promises that if you sign up. You've seen those that promise you a make thousands in 30-days if you apply their teachings.
That's wrong. No one can promise that.
The truth is that blogging is a marathon, not a sprint. There is no quick way to the finish line, and your course should not say there is.
Instead, the course should guide you and help you implement the teachings to get the growth. You desire. That may take you two-weeks or even six-months to achieve. And that's OK.
It won't deliver results unless I do the work
Courses are not a magic fix that will instantly transform your blog. If you think that is how they work, then don't buy one.
You are going to need to read and then apply what you've learned. Otherwise, you've created an expensive login to some content.
Before you think about that course, make sure the timing works for you to implement its teachings.
Don't expensive blog training courses mean more value?
Nope. Not. At. All.
Bloggers believe they should charge hundreds (sometimes thousands) for their courses. Some might be worth it, but others are not.
The cost of the course may have little to do with value. I have taken courses that cost less than $100 that provides 10x the information than those that cost $200 and more.
Don't fall for the trap that if the course costs more that it means you will learn more – as you often do not.
Best Courses for Starting and Learning How to Blog
If you are getting started, there is a lot to learn. A. lot.
And there are literally thousands of articles and courses on how to start a blog. But they aren't all created equally. These days, someone starts a blog one day, and a week later, they think they are qualified to tell you how to start one.
Truth? They aren't.
The courses below were created by bloggers who have years of experience. They know the ins and outs based on knowledge and not their 30 minutes of setting up a site.
Blog Accelerator
Welcome to the wonderful world of blogging!! You want to start a blog or have a domain name and hosting but have no clue what to do next. It is a bit overwhelming at first.
One of the best courses to learn how to blog is Blog Accelerator.
Why?
It is actually five ourses packaged together! You should never expect one course to teach you everything to get started. You need several of them so you can do the deep dive and learn what you need to get your blog set up the right way from the start.
When you sign up, you will learn how to select the perfect niche, choose the right name for your blog, set up and configure your site, and write your first article.
You will learn how to add a theme to get the custom look you desire, connect your site to Google so you can follow your traffic, and even how to prioritize your to do list. Blog Accelerator teaches it all.
The accelerator includes these courses at one affordable price. You could call it a blogging all-in-one.
Blogging Playbook (setup, configuration, add a theme, adding images, writing posts, and navigating WordPress)
Blog Analytics (connecting and understanding how Google works)
Posting Perfection (writing a blog post with the keywords and structure to rank on Google)
Smart Producitivty Plan (plan your schedule to be as efficient with your time as possible)
Easy Printables (design and create your first freebie to grow your email list)
Who is this for: The new blogger who has a site or is in the first stages of starting a blog
Cost:  $147
Creator: Tracie Fobes
Understanding WordPress
If you have your site but struggle with Understanding WordPress, iMark Interactive has a great free online blogging course you can take.
He walks you through the ins and outs of how to use the platform. Grayson teaches you how to add a theme, upload and add plugins, and write a post.
Who this is for: Anyone who is confused by using WordPress or wants to learn more about using it.
Cost: Free
Creator: Grayson Bell
Blogging Advantage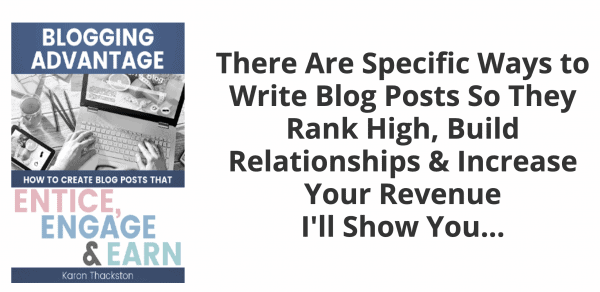 You have blog posts. But, are they engaging? You want to make sure that every post you write will not only entice and engage your readers but will also get them clicking on your affiliate links — so you can make money!!
Blogging Advantage helps you write the posts that get readers coming back for more (and make you more money).
Who this is for: New to Intermediate bloggers
Cost: $41
Creator: Karon Thackston
Easy On-Page SEO
Not a course but a practical guide for understanding the principles of SEO. Debbie makes it easy to understand what SEO is and how to make sure your site and content are set up to rank on Google through Easy On-Page SEO.
You need to get people to find your site, and it all starts with proper SEO. You should not wait to start SEO. Learn from the start.
Who this is for: Someone who knows little to nothing about SEO
Cost: $57
Creator: Debbie Gartner
Best Blogging Courses for Learning Email Marketing
There is a saying in blogging – the power is in the list. That's because it is true.
Email marketing is more than sending something to your list every time you hit the publish button on your site (that is an alert). It is nurturing your list and providing value. When done properly, you can turn your list into a powerful income-generating tool.
Blueprint for Email Success
Your email starts with your provider. You need to learn how to connect your site and deliver your freebie on auto-pilot. Then, you need to know what to say and how frequently to email your list.
Blueprint for Email Success is the course that does all this. It answers those questions with step-by-step, detailed instructions that help you get started with list building and marketing.
Who this is for: Beginner to intermediate bloggers who have no idea where to start when it comes to email
Cost: $87
Creator: Tracie Fobes
Love Your List
If your email is still not getting the results you want, it is time to do more. It is time to go more in-depth and learn from one of the leading email experts, Kate Doster.
Love Your List will take you beyond signing up with a provider and sending your weekly broadcasts. She has a unique way to help you find out how to better connect with the people on your list. She preaches that being on your list is a privilege and that you need to keep that in mind. The course includes access to an incredible Facebook group where you can connect with other students and even Kate herself!
Who this is for: Intermediate to advanced bloggers who need to better leverage email
Cost: $700+ (cart opens only a few times a year so make sure to get on the waitlist)
Creator: Tracie Fobes
Best Courses for Learning SEO
I'm going to let you in on a secret. I have taken multiple SEO courses. The reason is that there are different approaches to learning and applying SEO, and I don't find that one course does it all.
When it comes to SEO, it is a matter of learning different techniques and ideas to apply to your site. Some involve analytical thinking and application, and others consider reasoning. These tools work together to teach you what works for your site as SEO is never 0ne-size-fits all. It simply isn't.
Stupid Simple SEO
If you are looking for practical and analytical SEO applications, Stupid Simple SEO is the course. In this course, you learn how to analyze the competition to find the opportunities available for your site to rank.
You will do a lot of analysis to dig into the keywords and phrases you can use to get your post to rank – and beat out even the most popular sites. Mike makes the process easy to understand. (And, the free Facebook group is amazing).
Who this is for: Intermediate to advanced bloggers
Cost: $497 (will need to take the free masterclass first)
Creator: Mike Pearson
Adventures in SEO
Lena applies SEO differently than others. She applies logic and reasoning in her SEO approach in Adventures in SEO. You can learn whether your post will rank without the need for expensive keywords or SEO tools.
The course opens only a few times a year, but you can sign up for a few free lessons and then get an alert when the cart opens again.
Who this is for: Intermediate to advanced bloggers
Cost: $397 (free lessons available when you get onto the list)
Creator: Lena Gott
Easy SEO Revamp
You've written your posts, and they are ranking. However, they aren't sending the traffic you want. You need to dig into the post to understand why that might be and what you can do to fix it.
Easy SEO Revamp walks you through how to review your articles in Google Search Console and how to determine which keyword opportunities might be available – that you did not even realize. Once you know what Google sees when reading your site, it is easier to update your content and improve your chances of ranking.
Who this is for: Intermediate to advanced bloggers
Cost: $127
Creator: Debbie Gartner
Best Affiliate Marketing Blogging Courses
One of the simplest ways to make money is to use affiliate marketing.
The idea is simple. You put a special link on your site. If your visitors click and buy – you make money!
Affiliate Marketing Roadmap
Affiliate marketing is more than getting a link and adding it to your site. You need to know how to write and develop the articles that can get you the clicks. And then, you need to understand how to analyze and modify your affiliate marketing strategy.
Affiliate Marketing Roadmap shares what others miss. You will learn all the legal issues surrounding this type of marketing, find and use the various partner networks, write the content that will get the clicks, and then analyze and tweak to make sure your strategy converts.
I share what I have learned over more than a decade of blogging — all for less than what most competing programs will charge for the same lessons.
Who is this for: All bloggers at any stage
Cost: $87
Creator: Tracie Fobes
Best blogging course for learning about Sponsored Posts
Another way bloggers make money blogging is through Sponsored Posts. They can be a lucrative income stream – if you know what you are doing.
Sponsored Success
After more than a decade of doing sponsored posts and working with numerous brands and partners, I share what you need to know to add sponsored posts to your income strategy.
Sponsored Sucess helps you determine where to find partners, what to do with those requests you see in your inbox, negotiate rates, ensure you meet mandatory legal requirements, invoicing, and the little things you can do to set yourself apart from your competitors.
Who is this for: Intermediate to advanced bloggers
Cost: $87
Creator: Tracie Fobes
Best Courses for Selling Products & Courses
Once you have a list and readers, it is time to branch out and offer products you own. Affiliate marketing is smart, but there is nothing quite like having something you can use to make more profits. You need to create and sell products, eBooks, or courses.
Product Perfection
Take your printable product or digital download from idea to implementation. The course helps you analyze what you could sell and how to create, price, market, and sell it.
In Product Perfection, I share the processes I have used for more than six years to generate thousands in income on my site month-after-month—no need to learn how to code or have a lot of technical experience or background. If you want to sell, there is an option for you.
Who is this for: Intermediate to advanced bloggers
Cost: $97
Creator: Tracie Fobes
Course by Number
Suzie and John have created countless courses on blogging, making them experts in course creation. In Course by Number, they pull back the curtain and walk you through the entire process from concept to sales cart, in a way that simply makes sense.
Who is this for: Intermediate to advanced bloggers
Cost: $397
Creator: Suzi Whitford
Six-Figure Blogger
Alex and Lauren have mastered selling products and services. They are pros! They have placed all their teachings in a single product called Six-Figure Blogger.
You will learn how to have the confidence to sell, how to create sales pages that convert, not be smarmy on your posts, and transform your blog into a profitable business. It is the course you need if you are looking to take your products to the next level.
Who is this for: More advanced bloggers
Cost: $297
Creators: Lauren McManus and Alex Nerney
These are a few of the hundreds of courses you can buy, but they are the ones I've used to grow a profitable blog. No matter which course you think you want to take, make sure it meets your goals and objectives.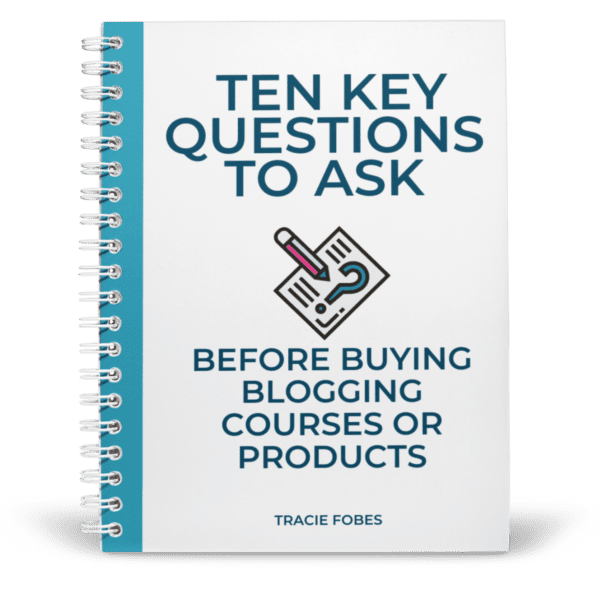 Don't buy another course or book to learn about blogging until you read this!
How many times do you buy a course or an eBook just to be let down? There are ten (10) questions you need to ask yourself before you make that next purchase!