You're tired of blogging with no income. Tired of the constant need to create new content but not seeing anything deposited in your bank account.
You're tired of Googling for answers and just going around in circles.
You've heard the rumors about making money through brand partnerships, but how does that work? How much do you charge? And how do you find these opportunities?
The truth?
It's easier than you think!
Sponsored posts can take your income to the next level. If you've never done a sponsored post, you might not feel confident in seeking out those opportunities. But once you know the process you can easily do it over and over again.
How would it feel to get paid to create new content for your blog? Pretty thrilling, right?
I've been doing sponsored posts for years. And, now, I get four to five figures time and again – just for producing content for my own site!!
Imagine for a minute, having clients willing to pay you to be featured on your site. And, not just $50. Or even $75. Or even $100. We're talking about actual money that can make a difference in your business and your life.
I get asked the same questions over and over about how to get started in this lucrative method of generating an income on your blog.
How do you find sponsorship opportunities?
How do I figure out what to charge?
Do I need to have a contract in place?
As much as I want to help, there is no way to cover it in just a single blog post. So, I'm finally pulling back the curtain and sharing ALL of my secrets with you in this course.
WELCOME TO SPONSORED SUCCESS!
I am sharing the exact system I have used to find countless sponsors. From crafting your pitch and creating a media kit, to determining your rate and covering your legal bases, you'll be a sponsored post expert after this course.
Learn how to write an Elevator Pitch that makes you stand out.

How to figure your base rate AND how much you should add on top of that.

How to find and pitch to sponsors AND PR firms (and how they differ).

Contract and disclosure basics that cover your butt and keep you safe.

How to write a sponsored post with five examples from my own blog.

Finally, how to go above and beyond what companies expect so they'll come back for more!
This course is a complete resource…
"Tracie's Sponsored Success course has everything you need to work with brands like a pro! It is so reasonably priced and easy to follow. I love how organized the content is and she teaches you how to pitch yourself to brands, how to determine your sponsored post rates, how to write and finalize your sponsored posts and most importantly, she even covers the legal issues you need to know when working with brands such as having a sponsored posts legal contract and providing proper disclosures in your posts!
As a lawyer, I look at everything from the beginning till the end, so for me, this course is a complete resource you need to start making money from sponsored posts.
I'm also getting approached by brands to produce sponsored content, so the bonuses included in the course such as the media kit templates, invoice template, sponsored posts rate calculator have been extremely helpful for me and have saved me tons of time.
I don't have to worry about creating any of this on my own because Tracie has professionally done this for us already!
I highly recommend this course! "
Amira, AmiraLaw.com
This course is exactly what I needed!
"As a beginner blogger that has been wanting to do sponsored posts, but was totally intimidated by them, this course is exactly what I needed. It was thorough, and answered questions I didn't even know I had! I now feel comfortable and confident to go out and start cold emailing potential sponsors."
Kristin R., LaughDreamExploreBlog.com
Everything is laid out in easy to follow steps!
"Tracie's Sponsored Success took all the guesswork out of how to find sponsors, how to create a media kit, setting your rate, the proper way to negotiate, and how to do contracts for the sponsored post. She even covers how to handle the less fun aspects of running a sponsored post such as non-payment.
Everything is laid out in easy to follow steps! Her course has saved me so much time in researching and trial & error. This gives me more time to focus on finding sponsors and creating content.
I love that I can keep going back to the course to review the lessons while I'm in the process of getting sponsors. The video format is clear and the written text overview is great for quickly scanning for information.
The media kit templates and sponsored post rate calculators are bonuses that I will continue to use over and over. If you're looking for an in-depth course that takes the mystery out of creating sponsored posts, I highly recommend Tracie's Sponsored Success course."
Steffa Mantilla, Plantsonify.com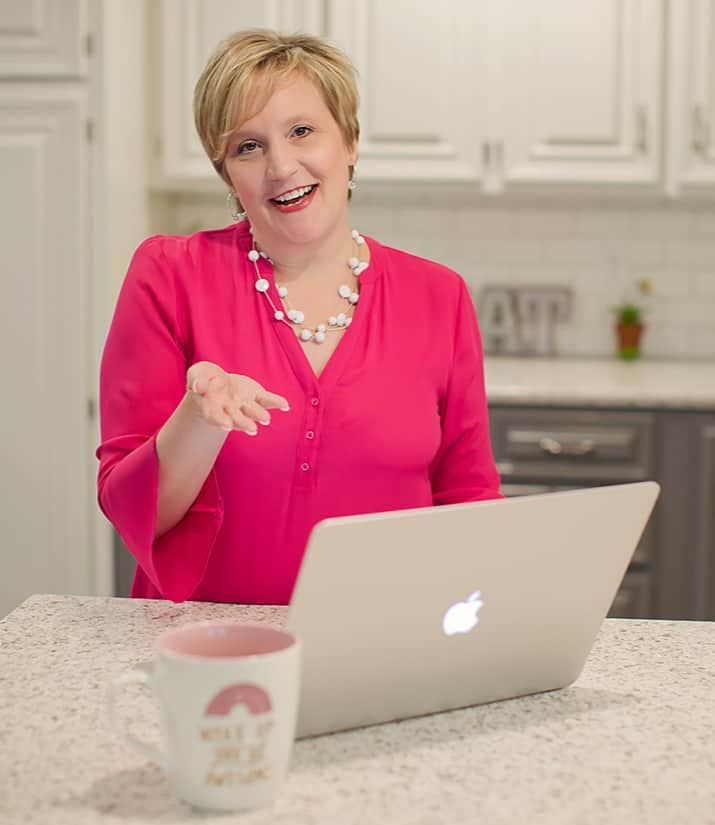 Hi there! I'm Tracie!
I started blogging in 2009. Over the years I've turned a blogging idea into a thriving business that earns my family five figures month after month. We've been able to pay off our debt of more than $37,000, purchase two vehicles and even remodel our house – all because of the income I have made from my blog.
It wasn't easy. When I started, there was no one there to help me. I had to figure it out on my own. I remember emailing bloggers asking for help and received no responses. As things came together for me and I figured out how to do things, I vowed to never let another blogger feel like I did.
"I loved this course!"
"Sponsor Success has so many actionable tips that I could implement quick and easy. The templates and bonuses alone make the course worth every penny.
I have put off creating a media kit and elevator pitch for quite some time because I thought it would be so hard to do! But Sponsored Success has taken the fear right out of the process and shown me how easy and fun it can be!
First off I am so glad you included written text with your videos. I am a visual learner and that was extremely helpful for me to be able to learn from a written format versus your videos.
I also had many AH-HA moments while taking this course because I am new to sponsorship and influencing. And finding out that even though I am new but my rate should never go below $250 was a mini celebration for me!
This course is a must-have for every blogger in my opinion. We should be paid for all our hard work and what better way to gauge our worth than through working with brands and partnerships.
Sponsored success is an easy way to make that happen. Thanks again for putting this course together!"
– Tammy Solis
"You can never go wrong with purchasing this course"
"This course is a thorough course for everyone who wants to get hold of sponsored posts. Tracie has always gone above and beyond to provide tons of value to her students, and that's what she did in this course too.
You can never go wrong with purchasing this course. I have learned a lot from this course, and it has all those related templates and printables you are going to need on your sponsored posts journey.
Either you know most of the stuff of sponsored posts, or you are still struggling for that push, then this course is for you. Tracie would make you believe that YOU can do it.
I have never thought about how someone could help you with so much sincerity. I have purchased a couple of courses by Tracie, and she herself has always been helpful on her Facebook group, and that means A LOT on your blogging journey.
I highly recommend this course for those who want to learn and start with sponsored posts from someone who has been doing it for quite a long while."
– Madiha Aslam, RainbowDesire.com
This course is perfect for bloggers who:
Love to write and want to get paid to post on their own blog.
Aren't afraid to tell their audience about products they love.
Are interested in building more income streams.
Even if you've never written a sponsored post before (or even if you've tried and failed!) you'll learn everything you need to know inside this course. In just a few hours of learning, you'll know exactly how to pitch your first sponsored post.
FAQs
How the heck do I know what to charge?
This is the question I get asked most frequently. I've broken the entire pricing process down into a step by step method that will allow you to set a price with confidence. Plus, as a bonus, I've included a calculator that will help you price out a pitch quickly and efficiently.
When does the course start and finish?
When you want for it too! There is no start or end date. You take it at your own pace. If that means two weeks or two months! The course is here for you when you are ready.
How long do I have access to the course?
FOREVERRRRRRR!! Yep – you always have access!! And – if there any new lessons or bonuses added in the future – you get those too (at no additional charge).
What if I am unhappy with the course?
Well, nobody wants that! I get that it may not be the right time. Just reach out within 30 days and I'll get you a refund.
Sponsored Success
You can keep writing post after post for your blog without sponsorship. You can try using free resources to learn how to approach brands. You can even ignore the sponsored post opportunity altogether. 
Or, you can dive into this course and spend a few hours learning how to pitch and write sponsored posts and be making more money tomorrow. Click the button below to buy the entire course plus $350 worth of bonuses today!