If you've got a name and a niche, you are ready to move onto the next step — setting up a website.  This is an easy to follow guide that will walk you through the entire process – step by step.
Many people tend to shy away from doing this out of fear.  It sounds like a big, scary thing to create a website, but it is rather simple.  If you can type, use a mouse and have 30 minutes, you can do it.
That's all it takes!
I'm not going to waste any more of your time, let's dig into this!  Let's get your site set up!!
THE PARTS OF A BLOG
It may feel like there are a lot of moving parts to set up a website, but they all work together and you can't operate without all of them.  I love using examples to explain things, so I compare blogging to a house.
When your home was built, they started with a frame.  Then, they added the walls. Once that was finished, they painted it both inside and out. Finally, the put numbers up on the outside so people could find you.  And you have your house.
Your blog is similar.
Hosting – your frame. Without having a place to hold your site name and details, you have nothing.
WordPress – these are the walls. This is how people navigate your site and find what they need (like they walk through your home into various rooms).
Theme – is your paint and décor. It is how things look when people visit.
Domain name – is your address. This is how people can find where you live.
Understanding how all these components work together is important to running a blog.  You need to know what each piece does when looking at your blog as a whole.
Starting today, we are building your house.  We will first start with your address, so we know where the house will be built.  Then, we are going to build the frame. Finally, we are going to add the walls.   By the time you get done today, you will have a house you can find on a map and can walk through the door.  It will even have some paint on the walls and a little furniture. You'll be happy to invite guests to check it out.
Ready to get started?  Good!  So am I!!
(If you want more detail than what you find here, pop into the FREE Start a Blog Course to see what to do step-by-step).
WHAT WILL YOU BLOG ABOUT
The first thing you must do is determine what it is you will blog about and who you want to help.  We call this your avatar. Your avatar is the person you are trying to reach.
Take time and really think about this and the topics you will blog about. The Niche Planning Guide will help you through this process.
YOUR BLOGGING NAME
Next up is the name of your blog!  What will you call it?  Your name? Something unique?  Take time to research to ensure no one else is using any form of the name (you don't want to get caught up in a lawsuit by using a trademarked name).
Then, it is time to buy your domain!  This is where the fun begins.
Head over to Namecheap.  You will find they offer good pricing on the name you want to buy (they don't raise them unlike sites such as GoDaddy).  Follow the steps to buy your domain.
They will ask you if you want privacy – which you do. It keeps your info hidden an away from those who will want to try to scam you.
I would also set up the auto-renew so you don't forget and lose your domain (that would be awful).
Up next – hosting!
USING THE RIGHT HOST
There are a lot of different hosts available.  You may have heard of some of them, such as Bluehost, for example.  They are recommended because it is affordable for a new blogger.
The thing is, I don't recommend you use them. Why?
Because they tend to have more technical issues that can leave new bloggers, just like you, feeling frustrated.  And then, to fix the problem, they want you to purchase more services.  That just does not work for me.
I've seen a lot of hosting companies over the years, but when it comes to new blogs, the only one I recommend is Siteground.  They are just as affordable as Bluehost, with less of the headaches and amazing customer support.
So, that is what we are going to do today.  I am going to walk you through the entire process of adding your domain name to Siteground, so you can have a blog that is ready to use!
SETTING UP YOUR HOSTING
There are several hosting companies you can use, but I only recommend Siteground. They are not only affordable but have great customer service, so will help you every step of the way.
So, let's go there! Click HERE to go to Siteground. Below you'll be guided through the entire process so you won't be struggling with what to do next.
When you first get there, you will want to click on Hosting and WordPress Hosting. You will see three options, one of which is Startup. That plan runs $3.95 a month and that is the one you want. Click on Get Plan to start.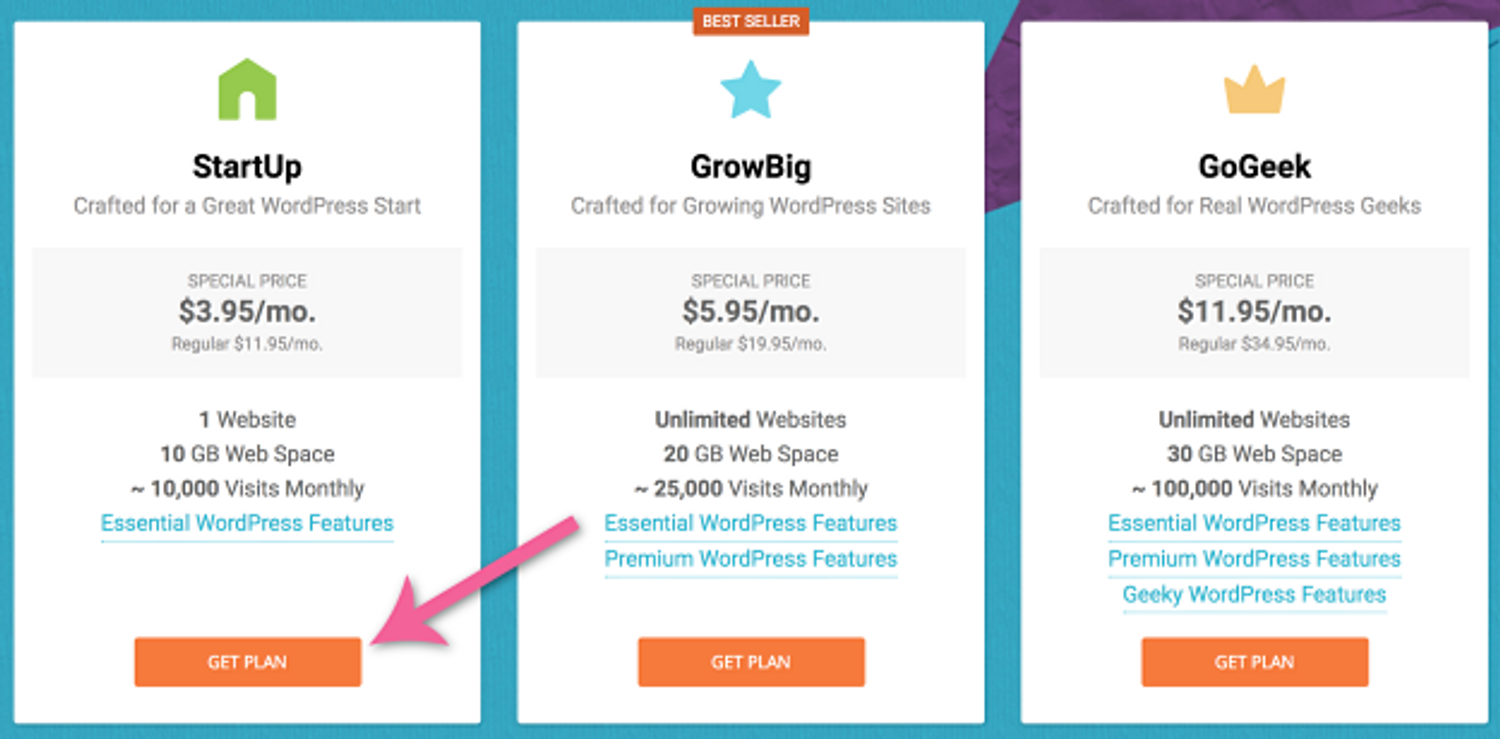 **IF YOU HAVE NOT PURCHASED YOUR DOMAIN NAME YET, GO BACK TO MODULE 2 AND DO THAT NOW.
Next type in the domain name you already purchased. This is the name you will call your blog. Type it in and hit enter.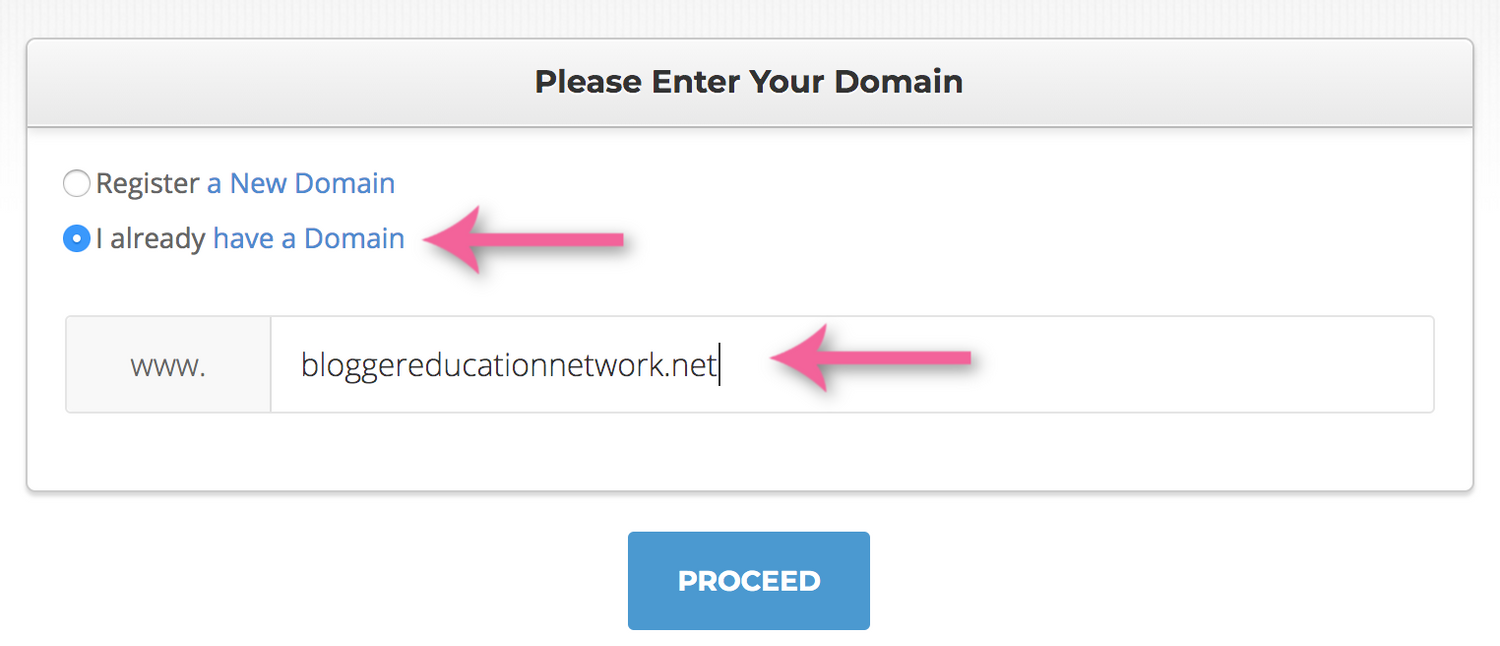 The next screens are your account information and payment options. Fill out the top sections as requested. One of the boxes you see is Hosting. You will want to select 12 months here. By doing this, you get a discounted monthly rate and they save the $14.95 set up fee. That means you will pay for an entire year's worth of hosting today.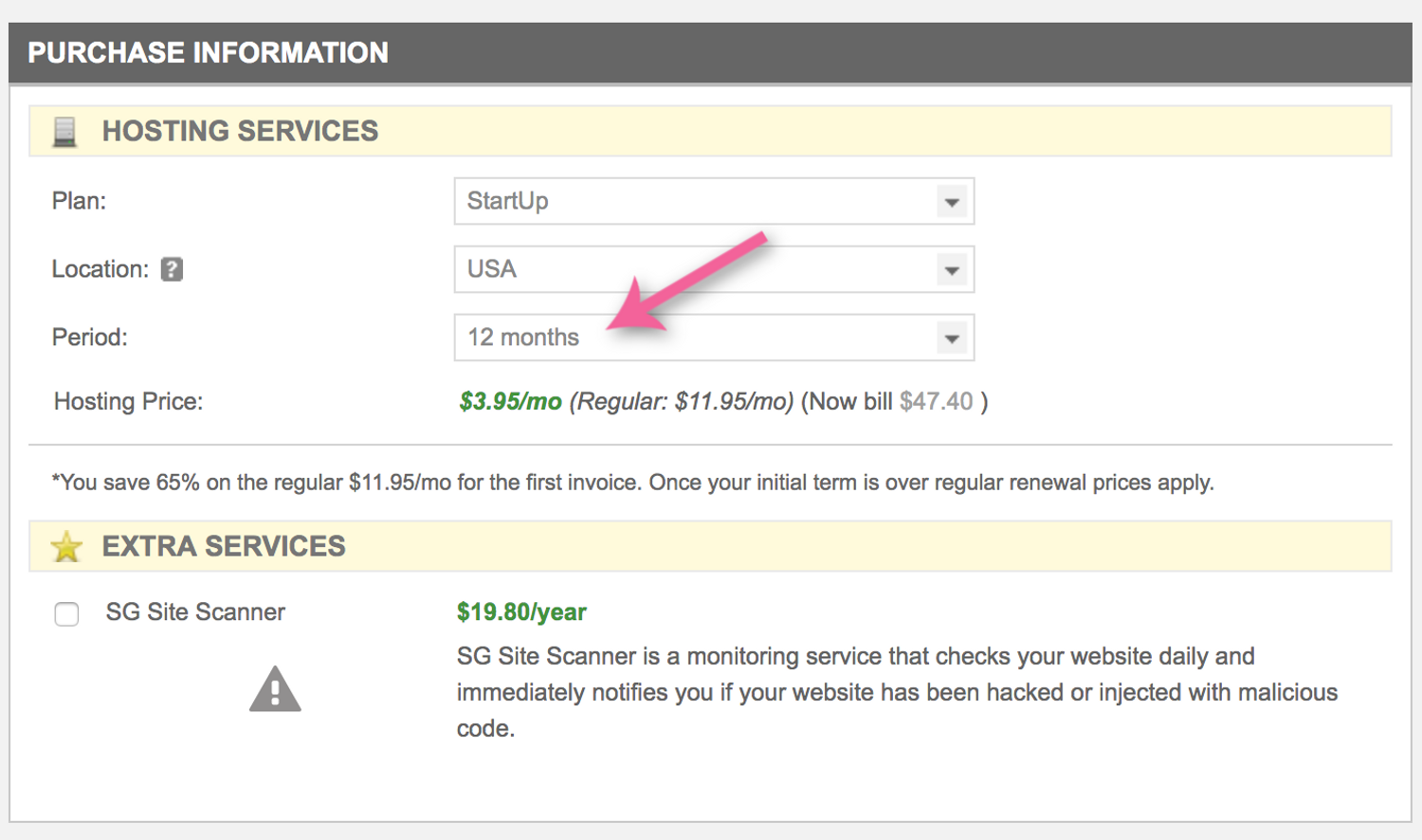 Once you enter your payment information and hit enter, you've got your hosting!! That means you have a frame built! Now, let's get the address working and then add some walls!
INSTALLING WORDPRESS
One thing I love about Siteground is just how easy they make this.  You need zero technical experience to do this.  Just a few clicks and you are on your way!
After you buy your domain and hosting, you will want to add WordPress.  Let's talk about how to do that:
Log into Siteground and from the main screen, select Websites.

Select New Website

Next, select Existing Domain (as you already purchased your site name through Namecheap) and then scroll down and fill out the boxes to type your domain name (don't forget the .com at the end).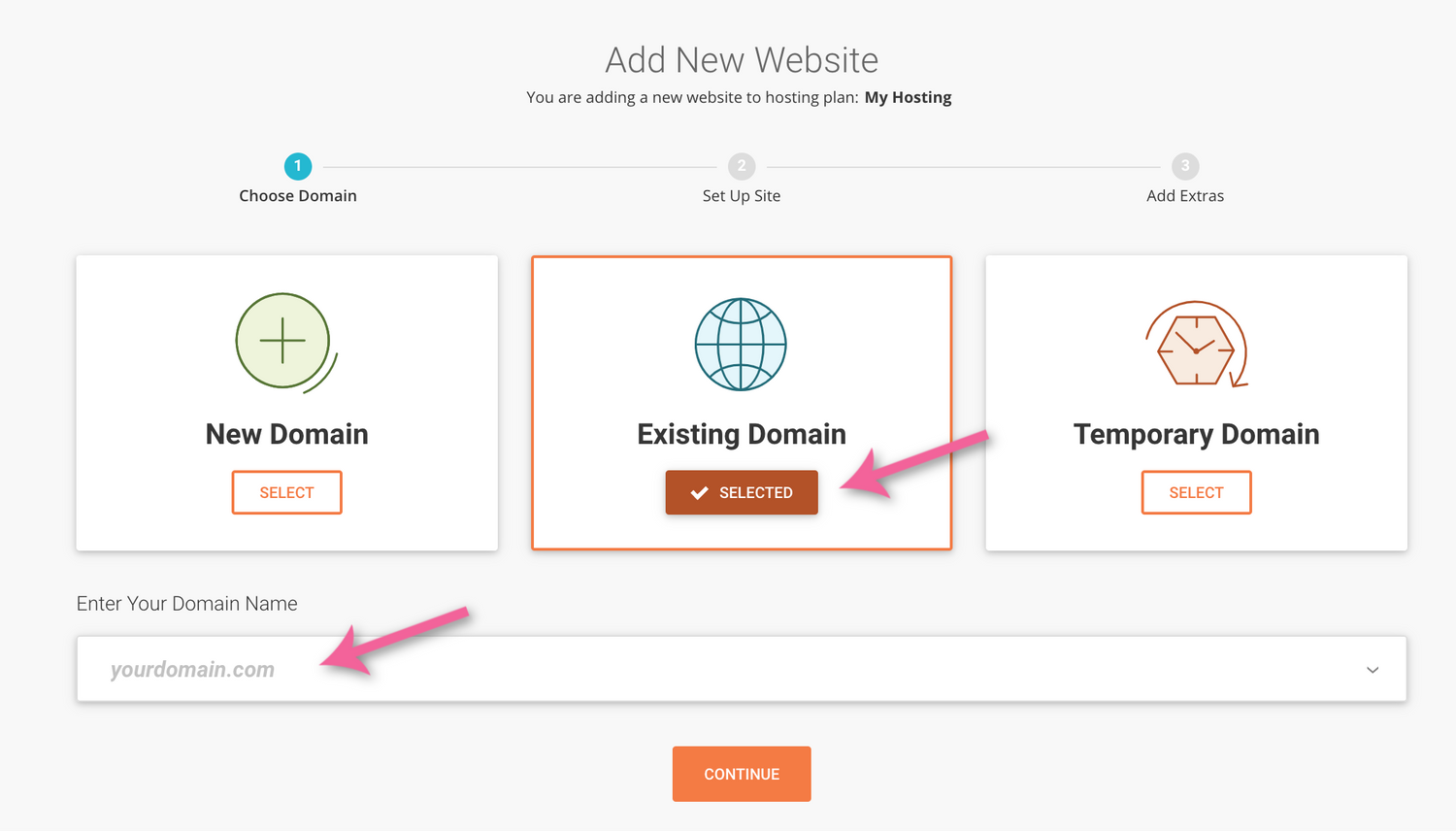 You will see an error that alerts you that the domain is not in your Siteground account (which it should not be as you did not buy it there). Select the Continue button.

Next, select Start a New Website.

On the next screen, you will find several platform options. Make sure you select the first one – WordPress.

Enter your email address and select a password. Make sure it is something you remember as you will use this to log into your site to add posts, images and more.
**Make sure this is an email address you have access to at this moment. You can use a gmail address.

Next, you will be asked if you want to add SG Site Scanner. Say no. You do not need that. Press the Finish Button.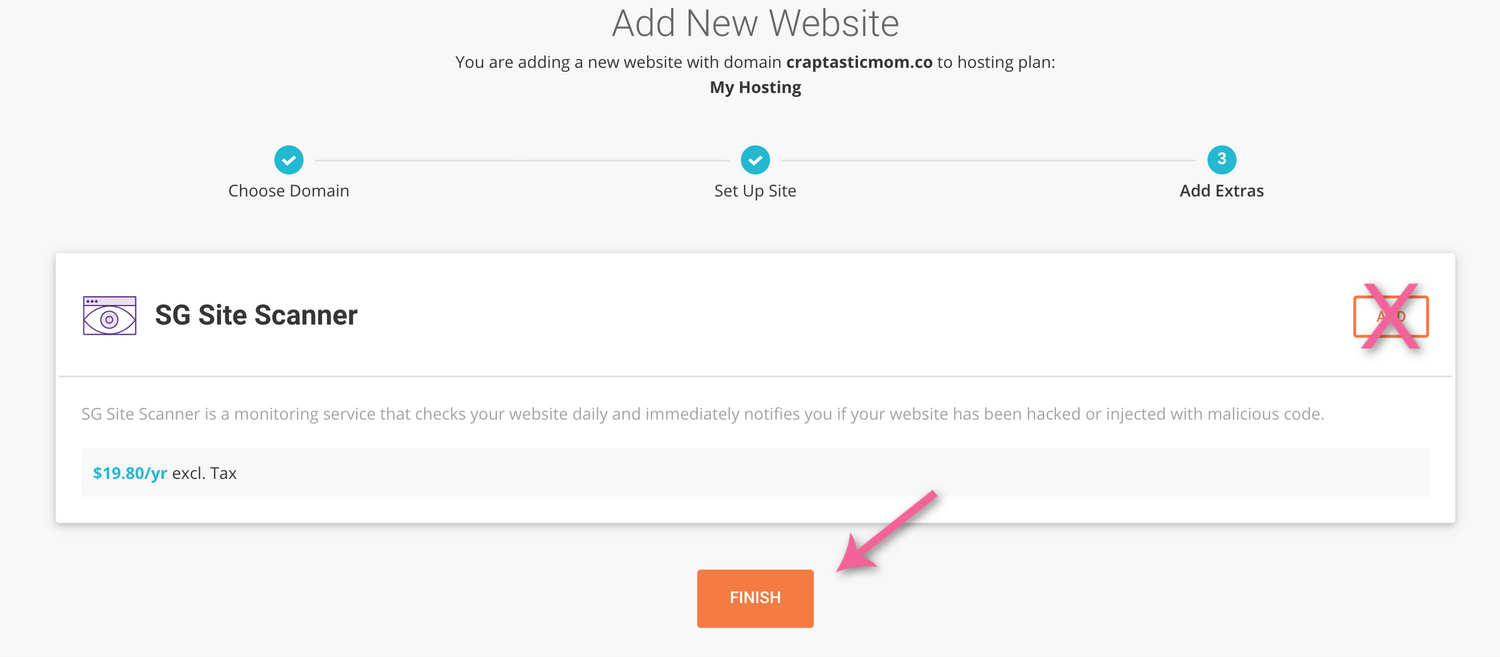 Siteground will then set up your site for you (it should take less than two minutes or so).

When it is done, you will see two boxes. You now need to direct the domain you purchased so that it is connected to your hosting. See the next section in this module to learn how to do that.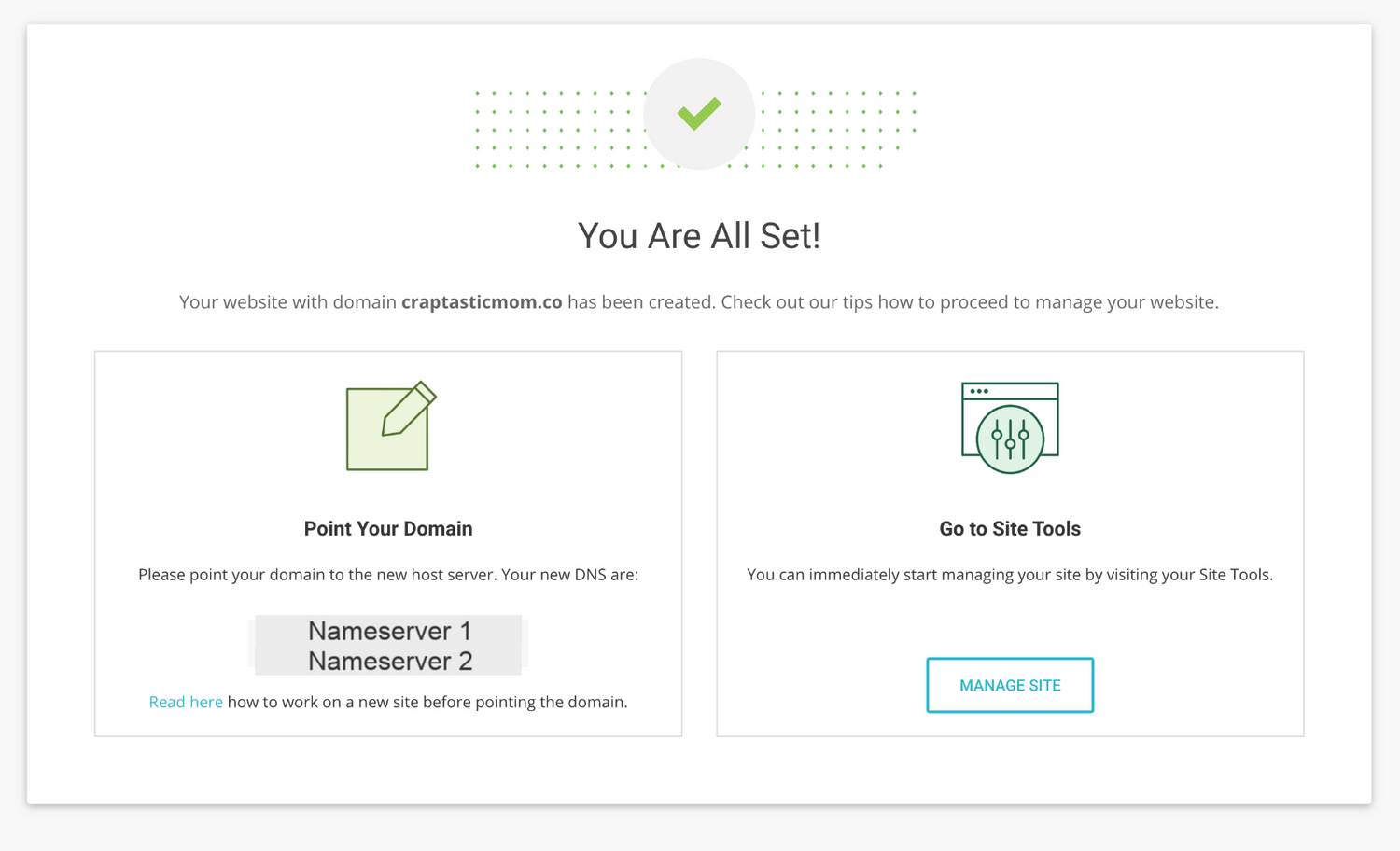 NOTE: You will not be able to log into your site or do anything for anywhere from 24 – 48 hours (it takes time for the server change to happen as it is not instant).
And that's it!  You've just added WordPress to your site!  Next up is to connect your domain name to your host. Don't worry it is SUPER easy to do!
POINTING YOUR DOMAIN TO SITEGROUND
Once you have the hosting and WordPress added, the next thing you want to do is tell Namecheap where to go to connect your name to your site. That means you need to point your name servers to them. This may sound all technical and scary, but it is really easy to do.
There are two ways to find this information.
As soon as you set up your site
The minute you finish with the site setup, you will see a box. One of them is the domain and you will find the nameservers displayed (I have covered mine up but you will see them on your account.
You do not need to do anything with the screen. Leave it alone and open a new tab in your browser window.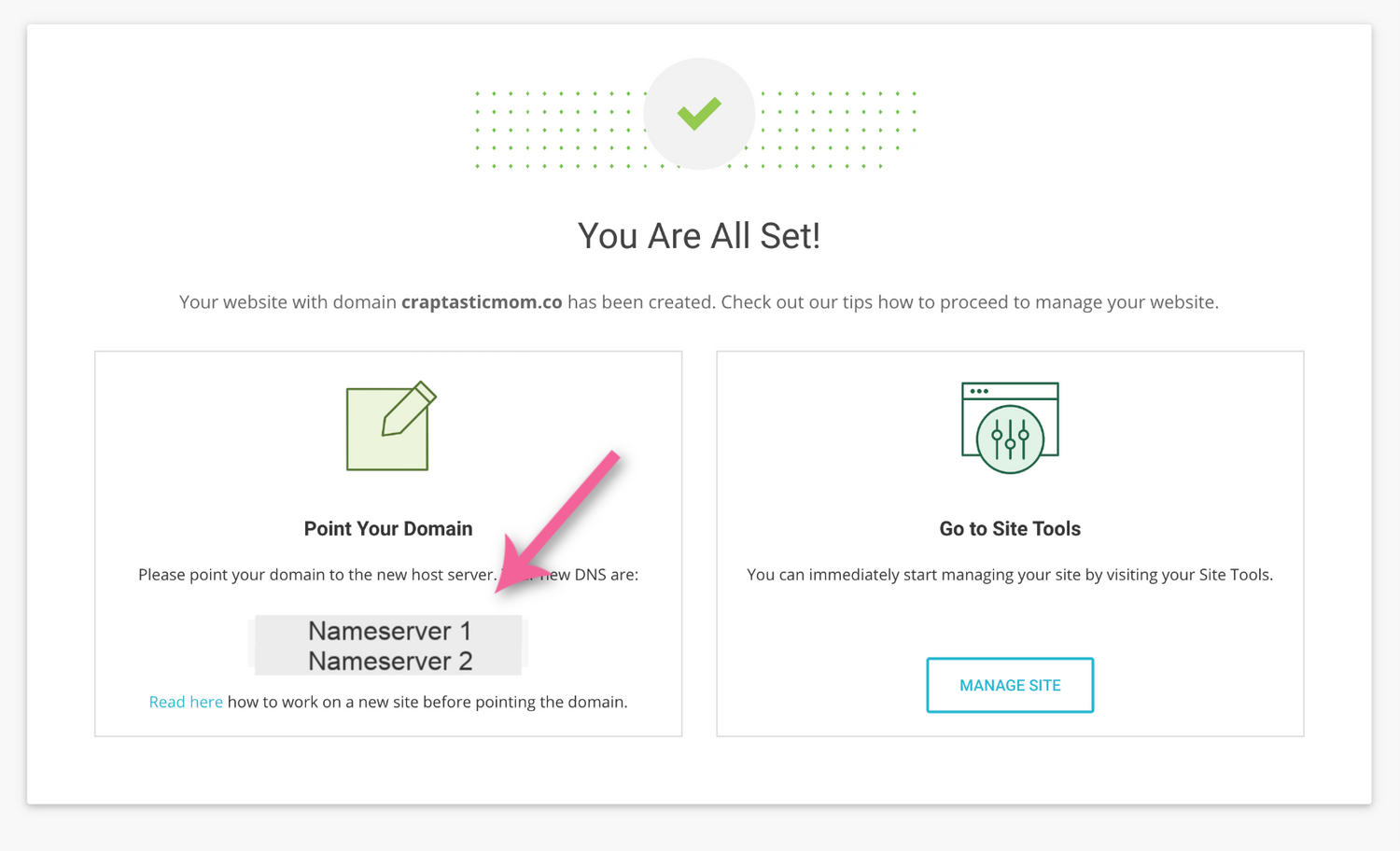 If you closed out the screen from the setup, you can still easily find the Nameserver. It will take a couple of steps.
Finding the nameserver through the menu
From the main menu, select Websites

Next, find the site you set up and need to connect through Namecheap and select Site Tools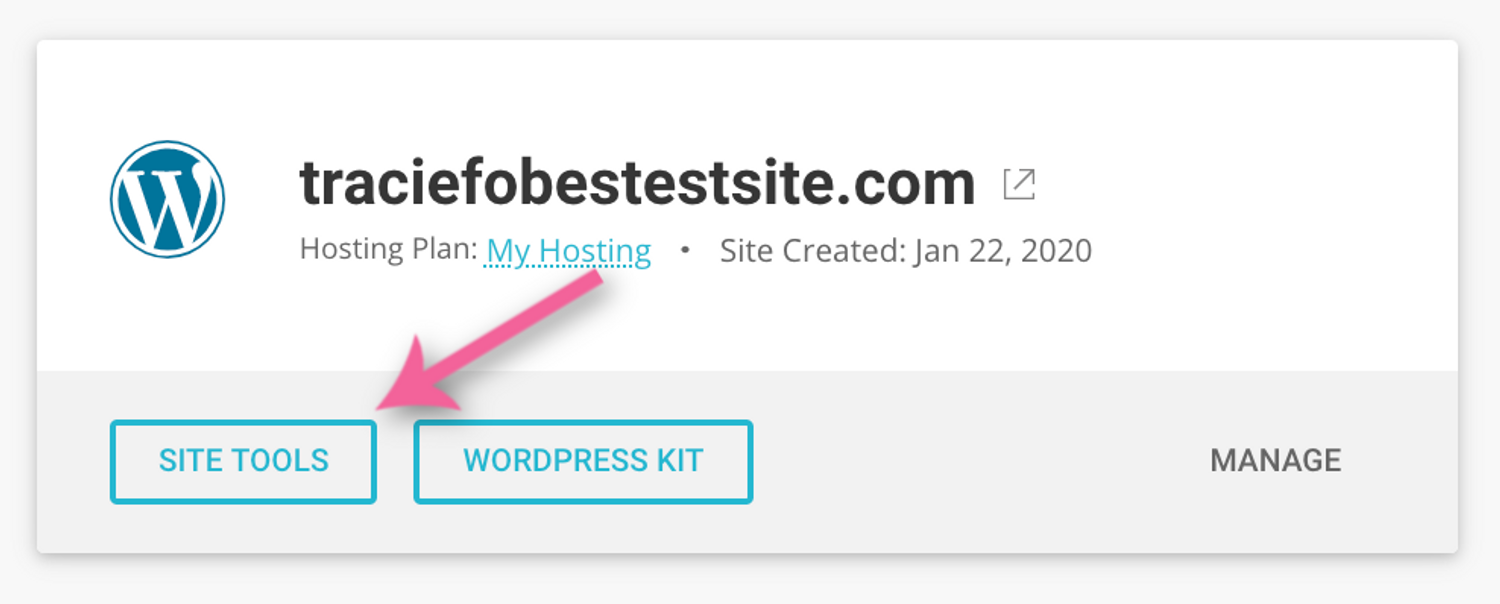 Review the first screen and locate the Nameserver box. You will find them there (blacked out here for security).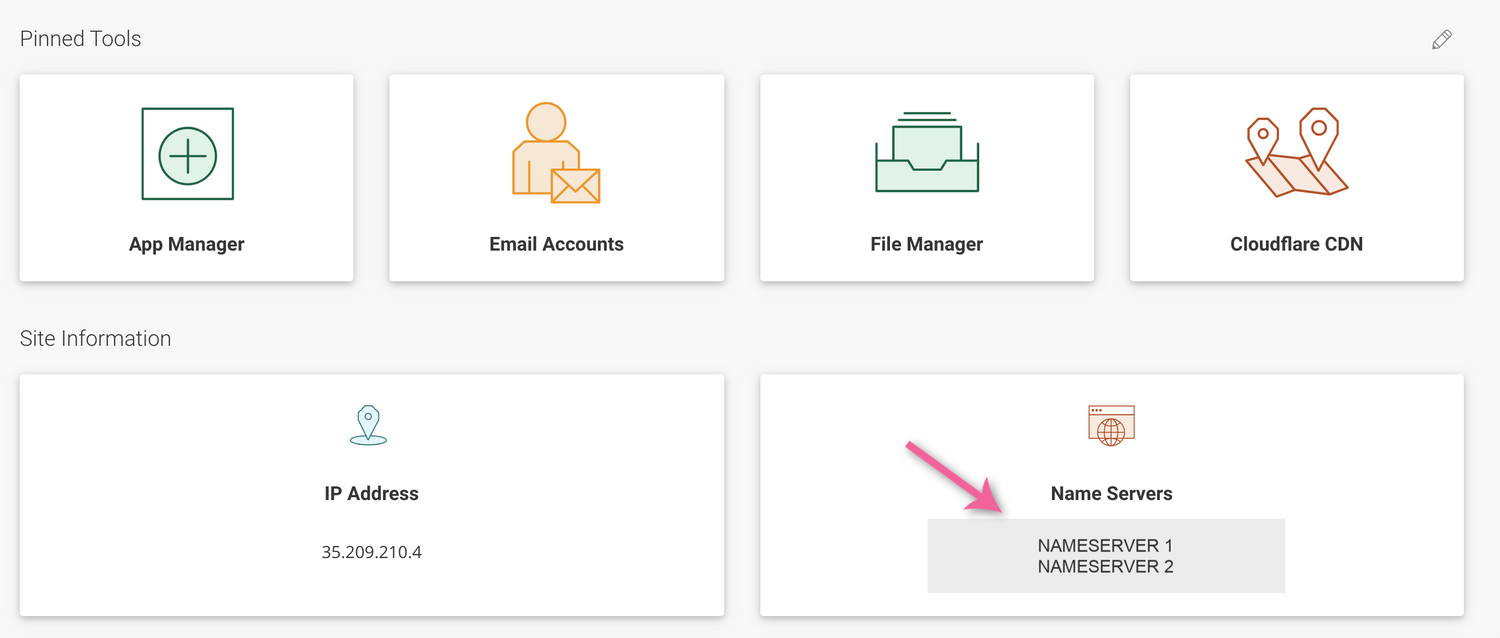 Leave this window open and open another one and head to Namecheap to update them there.
UPDATING THE NAMESERVER ON NAMECHEAP
Log into Namecheap
From the Dashboard, select MANAGE for the domain you are working on

Step 3 – Select Domains from the main menu.

Scroll down to Nameservers and click the down arrow next to Namecheap Basic DNS.

Click the down arrow and select Custom DNS.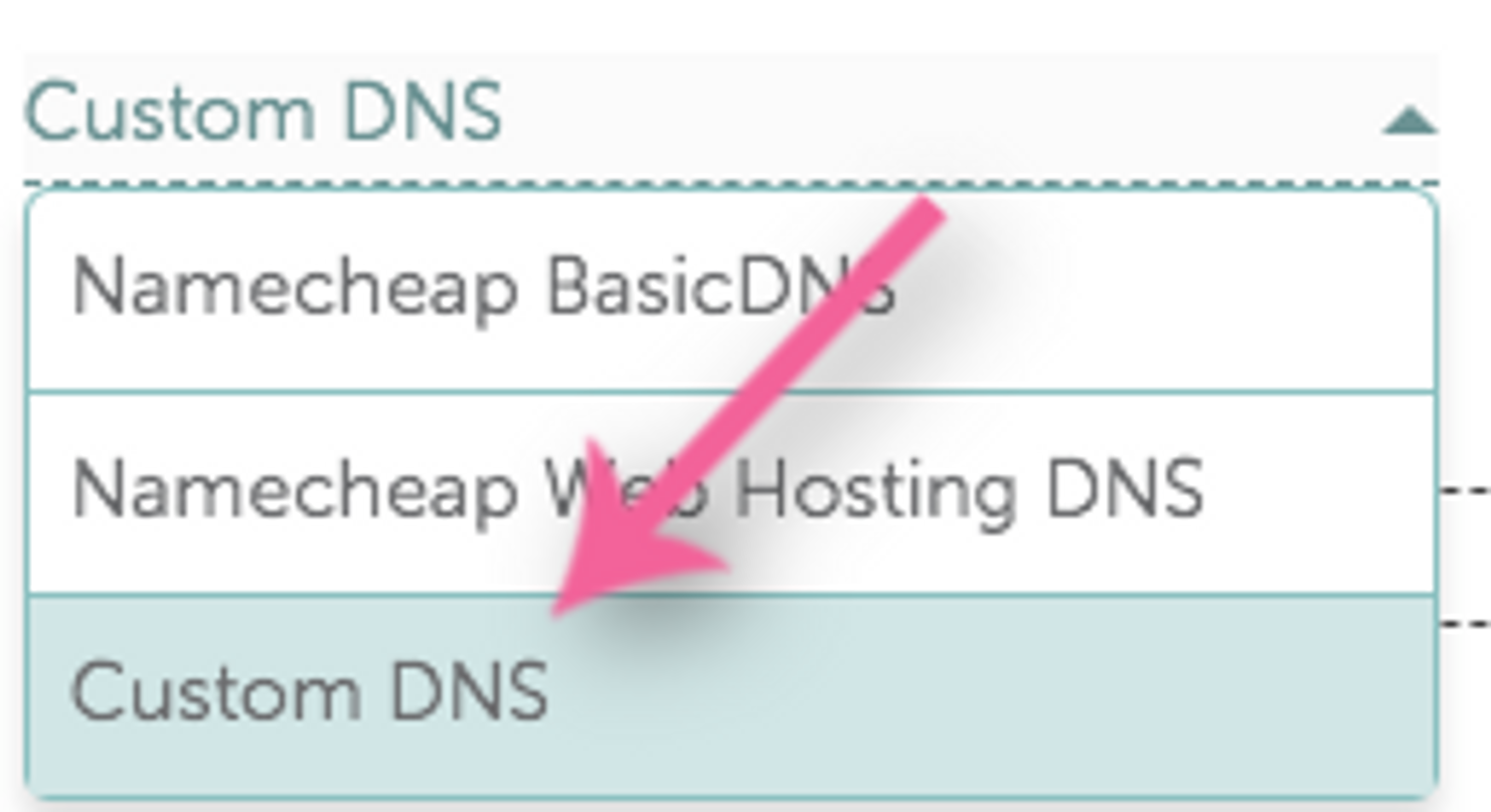 Copy each of the DNS names you found on Siteground. The ns1 name goes into the first blank and add the ns2.name to the second one.
save the changes by hitting the small green checkmark you see next to the name server.
The address change will begin. It can take up to 48 hours for the site to point properly.
HOW TO LOG INTO A SELF-HOSTED WORDPRESS SITE
Now that you have a site, you can log into it and start looking around.  You should have received an email from Siteground with the link, but you can get to it even without that.
Your login is your domain name/wp-login.php.  That's it.
So, if your site name is https://myawesomenewsite.com, your login would be https://www.myawesomenewsite.com/wp-login.php.
Enter the username and password you used to add WordPress and you're in!  You've just logged into your website.
A WALK AROUND WORDPRESS
I know you are excited to look around and figure some things out.  But, before you jump in and start blogging, there are a few settings you need to get changed right now.
The first screen you see is your dashboard.  Along one side you will see Posts, Media, Appearance, Plugins, Settings and more.  Don't get overwhelmed by this.  We'll start with the few things you need to do first.  The rest will come in time.
CHANGING YOUR BLOG SETTINGS
Before you do anything with your site, you want to check the settings.  That way, you know your site is properly configured so you can work on adding content and promoting it.
To start, look in the side menu and find Settings.  When you hover over it, you will see several options come up.  We'll go through the sections and settings you need to address right now.
General WordPress Settings
Most of these should make sense. I'll touch on the few you will want to edit.  If they are not listed here, then you should leave them alone.
Site Title:  Enter the name of your site.  It should not be your domain name, but the name.  For example, mine is Tracie Fobes.  That is my site name.
Tag Line: If you don't have one, that is OK.  It is not necessary if you do not want to use it.
Membership:  You don't want people to sign up for your site, so make sure this remains unchecked.  This is different than an email service, so make sure you don't allow people to register.
Timezone:  The time is in UTC.  Which means Universal Time Co-ordinated.  Yeah, I was confused at first too. You have to convert your time zone into the right UTC zone.  I've made this easy for you:
DURING DAYLIGHT SAVINGS TIME
UTC-4 EST     UTC-5 CST     UTC-6 MST     UTC-7 PST
NO DAYLIGHT SAVINGS TIME
UTC-5 EST     UTC-6 CST     UTC-7 MST     UTC-8 PST
Date Format, Time Format and Week Starts on:  Select what you want it to look like on your site.
Make sure you save your changes before moving onto the next section.
Reading Settings
These settings affect the posts on your homepage and how things look should someone subscribe to your feed through a service, such as Feedly.
Your home page displays:  If you want a landing page as your home page, you can do so here. I discourage this and recommend people be able to see blog posts right from the beginning — even if they are lower on the page.  But, you can play around with this and decide what it is you want to do.
Blog pages show:  The number of posts you want to see in on each page is here.  I have mine set on 2, but you can make this what you want. I recommend anywhere from 2 – 6.
Permalink Settings
You also need to update these settings – especially before you add any content to your site.  This is the format of your blog posts.
There are options to show the date, such as https://www.mysite.com/2018/11/01/my-awesome-post as well as others.  You need the right structure so your posts can get found through search engines.
You want to this to be POST NAME.  Check that radial button.  That means your posts will be https://www.mysite.com/my-awesome-post.  Doing this ensures you have already take the first step to proper search engine setup.
Those are the only settings I want you to worry about for now.  You are now ready to add some customization, additional features and then start writing blog posts!
Other Dashboard Features
There are some sections you will frequently access in your dashboard.  These include:
Posts
When you click on this menu button, you will see all of the posts you have written on your site.  Of course, since yours is brand new, there is not yet anything here.  But, as you add your content, you can use this to find prior posts quickly and easily.  You can also click on All Posts nested under this heading and also see a full list of your articles.
Add New
When you want to write a blog post, you will click on Add New under this section (or under +New at the top of the page).  That's how you start writing a post.
Categories
Categories are how you group your content for your menu.  Every post needs a category.  You will be adding a menu to your site and the way it works is by pulling up groups of posts by category.
So, if you write a post about budgeting, you could add it to the money category. Then, if the next one is a recipe, you can tag it recipes.  Now, when you add a Money and Recipes menu to your home page and people click on it, only the articles with those categories will show.
Don't make any yet!  Wait until we walk through this a little more so you set them up the right way.
Tags
Tags work in the same way as categories, so you can use one or the other.  Do not use both.  Categories are simpler and what is easier for new bloggers to use, so don't worry about adding tags.
Media
Media refers to your image and videos.  They are all accessed through this dashboard.  While you can upload your images here, you can also do so directly on your blog posts.
Your Library is a list of every image on your site.  This includes your logo and any images you add.  You can search to find the one you need to get the code to add to another place on your site.
You can also click on Add New and upload a new image. When you write a blog post, you will upload the image through there.  If you have logos and other images you will place around your site, you will add them here.
Pages
Sometimes, you have something you need to add to your site, such as your About Page, but you do not want it to be mixed in with your blog posts.  That is what pages are for.
When you make a page, you can write just like you do a blog post, but rather than it being listed with the rest of the blog posts, it is only accessible when you have the link to it.  They are used for about pages, privacy policies and other things on your site.
There are only two options here – All Pages and Add New.  All pages allow you to see every page you have made and Add New is how you add a new page to your blog.
Appearance
Appearance is how things look on your site. This is where you will find a free Theme to use or access one you have purchased.  We'll talk Themes in another lesson during the Profitable Blogging Roadmap five-day course.
Widgets
These are features you add to your site.  You may see things in the sidebar of a site such as social sharing icons, a link to their about page, etc.  You add these using Widgets.
Menu
Having a menu on your site helps the user experience.  They can find the content they need without having to scroll through page after page.  The menu is created by including links to specific pages and categories on your site.
Plugins
Plugins.  Glorious Plugins.  Plugins are what provide additional features and enhancements to a site.  They can include items such as buttons readers can click on to share a post, help with SEO and blocking spam comments.  They are a vital part of a good blog, but you don't want to add everything you see.  Be careful with the plugins you select so you only get those you really need to have on your site.
If you are still really new to blogging, I recommend you take my FREE How to Start a Blog Course.  You'll get help figuring out what it is you want to blog about, coming up with a name, setting up your site, making it look the way you want and even getting your very first article published.  It is absolutely free of charge (no strings attached).
There you go!  The simple way to get your site set up and running so you can be on your way to making money!!