How to Write a Blog Newsletter Subscribers Will Want to Read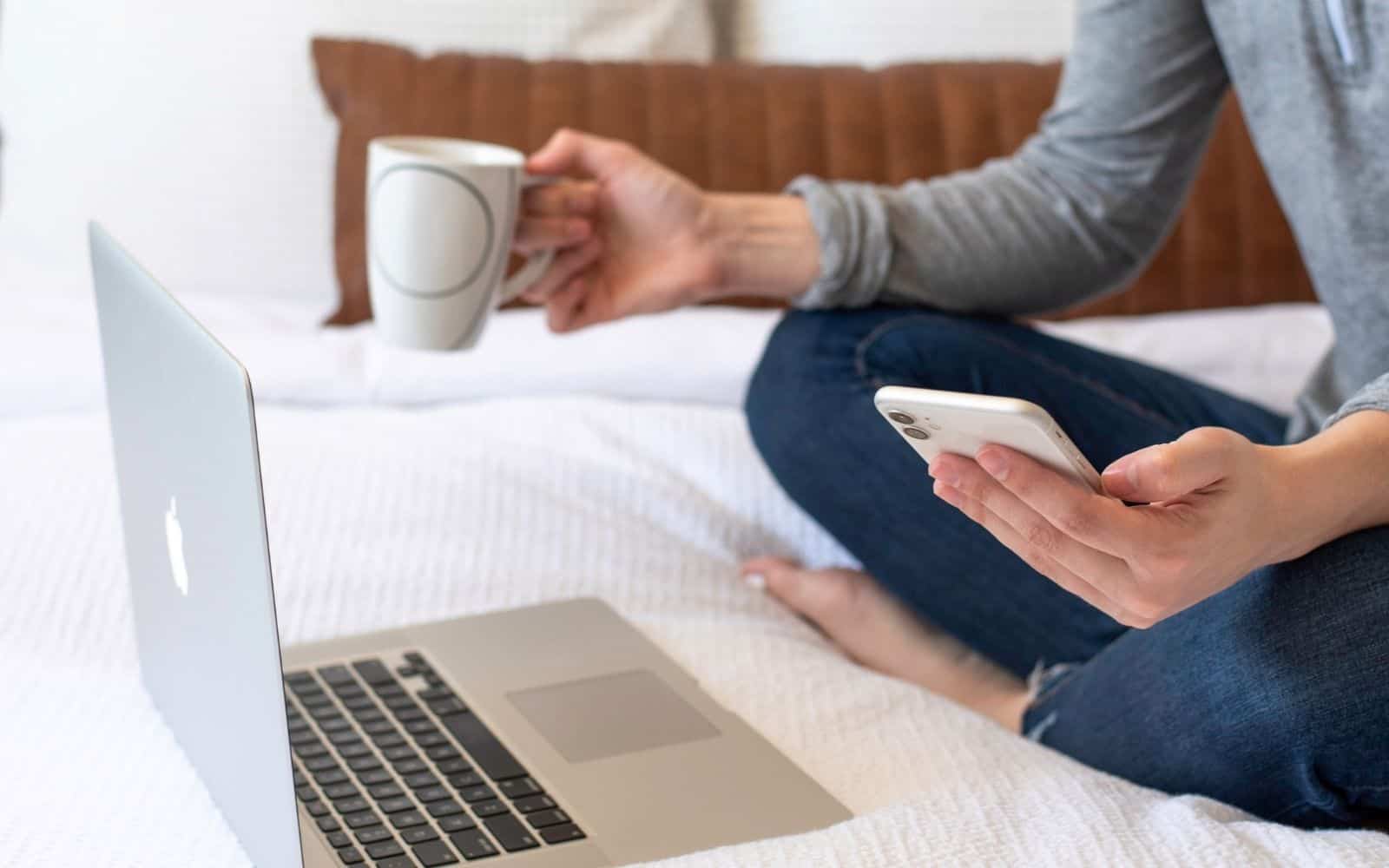 This post may contain affiliate links. That means if you click and buy, I may receive a small commission (at zero cost to you). Please see my full disclosure policy for details.
One of the best tools for traffic and income that every blogger needs to use is email marketing. And, while you know you need to send emails, you aren't sure what to say.
You may have it set up to send your RSS Feed or manually send emails every time you write a new article. Or, you may be amongst that group of bloggers who've never sent an email.
Not because you don't want to. It is that you aren't sure what in the world to say!
For years, bloggers would use emails to send out their RSS Feed (which, if you aren't sure what that is, is simply an alert that you have a new blog post with an excerpt to try to get them to click to your site to read more). And, while it may have worked previously, that is not the case anymore.
Think about your inbox and the influx of emails you receive every single day. You have to find a way to make your subject and content stand out above the rest.
You do this by writing emails your readers will love. You don't necessarily need to be witty, creative, or funny. You simply need to be helpful and solve their problems.
But, a simple as that sounds, putting together an email that people will want to read is another thing. You need to make sure you stand out in a sea of headlines.
100 Email Subject Lines For Any Niche!
Stop the stress of coming up with creative subject lines. Grab my free download of more than 100 ideas you can use.
WHY DO YOU NEED TO SEND A BLOG NEWSLETTER?
Before you can think about what to say, you need to know what your goal or objective will be from sending the email. Some may include:
Affiliate offer or promotion
Selling your product
Nurturing your list
Downloading a freebie
Promote a new product
Inform your list about your latest post
All of these are reasons to send an email. However, you should not use the same purpose for every email you send.
If all your subscribers receive in their inbox are links to articles, that may not be helpful. If you happen to sell to them in every single email, they may find it pushy or annoying and unsubscribe.
You want to mix up the reason for your email to keep your subscribers engaged and waiting on bated breath for the next one to hit their inbox.
WHAT SHOULD A BLOG NEWSLETTER INCLUDE?
You may think that the idea of a newsletter is to send your latest blog post and that's it. It is not.
Your email is a chance for you to connect with and sell to your list. You need to make sure that what you write about makes sense. Some ideas include:
Freebie or download
If you have another free form on your site, you can send that to your list. Or, it could be something in your store you offer for free to your list as a thank you for signing up.
Recap of an old post
Find an old post and write a new email to your list. Chances are readers who have not seen it or don't remember seeing it.
A new post
You've written a new article, so send out another email to your list. They'll want to read about it and you can get more clicks to your site.
A limited time offer
Check with your affiliate partners about promotions — or offer a discount on of your products. Send an email to your list to share the details.
HOW CAN YOU GET MORE PEOPLE TO OPEN YOUR EMAILS?
You send your emails but you see that nobody is opening them. That is frustrating. Threre are some things you can do to get more people to open, read and love your emails.
Use a powerful headline to get more people to open
The next step in writing your email is creating a captivating subject line that will make them want to open your email. Merely saying, "Here is my latest post," is not helpful to anyone. It will not get clicks.
However, if your email subject line happened to be "The biggest mistake I recently made," that would make them want to open. There is a good chance they will want to see what you did and how you fixed it.
One secret trick I recommend is to use emoticons once in a while too! Clocks, lightning, question marks – they all can help your email stand out in a sea of text in a reader's inbox.
The final thing you need to keep in mind with your subject is to make sure it is not spammy. Using phrases such as Free trial or Money Making, for example, not only gets caught by email spam filters but also may result in spam reporting by your subscribers. Avoid using them.
Add a captivating introduction
Once you've got your idea and subject figured out, it is time to write. And, it starts with your intro paragraph.
Why?
If your readers use something such as Gmail, they often see a small excerpt of the opening statement in their inbox. That too may encourage clicks or for them not to open it.
Check this one that I sent recently. My post was about finding motivation. You can see the subject, and the intro is both visible in Gmail.
You can see here that I have that title asking them to share if they are struggling and then tell them they are not alone. They will want to see what I am doing too.
The open rate on this email was nearly 27% (industry standards hover around 20 – 21%). It was a successful email not only because of the subject line but also that intro they could see in their inbox.
WHAT SHOULD I SAY IN MY WEEKLY NEWSLETTER?
That, my friend, is the million-dollar question! Knowing what to talk about in your email can be challenging. But there are some tricks you can use to get ideas for your next email.
News & Media
What is trending right now? Is there a news story that is leading? Take, for example, the college admissions scandal. It was everywhere you looked. I received emails from many bloggers who used this idea for their newsletters.
One was about trust, another saving for college, and another was about social media backlash. They all were very effective as the timing was perfect, and they found a way to tie into their content.
Facebook Groups
Join Facebook Groups in your niche (or start your own). You will find people asking questions. Use those for ideas.
If people are asking in groups, there is an excellent chance that others are wondering the same thing.
Copy the question and put it in the email and answer it (if it is your own) or use it as inspiration to address the problem with your readers. Either way will work to help you figure out what it is you want to write about.
Your life
Sometimes, what is going on in your life will give you a newsletter idea. You may have returned from a vacation and want to share how everyone needs to take a break. It could be a mistake you made or something you discovered with a link to your article that shows how the product worked for you.
Take the time to look at what is going on around you, and you'll end up with lots of great newsletter subjects.
Be yourself
You need to be authentic. That means using your voice and being yourself with your reader. Don't try to copy or mimic somebody else.
When you are yourself, your readers see that, and they will gravitate towards you and want to read every email you send.
Keep them shorter
The long emails lose readers. If they have to scroll and scroll to read what you write, they will click out. That does not mean you can't do a long one once in a while, but most people will want to read a shorter email.
How many words does that mean? If you can, try to keep them at 500 or fewer words. That is a quick read and won't lose your readers.
WHAT GOES IN YOUR VERY FIRST EMAIL?
The first email you send is the first time many will hear from you. You need to make sure it matters.
When you send that email, you want to provide the reader with their freebie and then say very little about yourself. Keep it short and sweet. Share how to use the freebie or a trick to how you've used it.
Then, a couple of days later, send a second one that is more about you and your site. Keep the first emails short and to the point but still, share with the reader what they can expect by being on your list.
ANALYZE YOUR EMAIL OPEN AND CLICK-THROUGH RATES
Once you send that blog email, you want to check your stats. Doing so helps you learn what works and, more importantly, what does not. Your email provider includes stats on every email you open.
Open Rate
Your open rate is the perecentage of people who opened the email. A reasonable open rate is 20 – 3o%. Keep in mind that the larger your list, the more this number may go down.
It is reached by dividing the number of people who opened it by the total the email was sent to. For example, if you have 5,000 people on your list and 1,500 open the email, the open rate is 30% (1500/5000).
If your open rate is lower than 20%, try to use new subject lines and intros.
Click-Through Rate
When you have a link in your email, readers will click on it. The rate you see here is the percentage of people who clicked on a link after opening your email. On average, the rate is 2 – 5%. Your goal is to reach this level.
You had 1,500 people open your email, and 42 people clicked on your link. Your click rate is 2.8%. You are still above the industry standard. That is a great result.
Have a low click-through rate? Try to use buttons with larger font or text other than "click here" to get the clicking.
Unsubscribes
Every time you send an email, you will get people who will unsubscribe. It is going to happen. There is no getting around it.
But, instead of being sad that they opted out, be grateful. If they opt-out, they are telling you they would never buy from you or click your links. They are telling you not to pay for them to be on your list.
If you remove people who will not open your emails, you may also see both your open and click-through rates increase.
100 Email Subject Lines For Any Niche!
Stop the stress of coming up with creative subject lines. Grab my free download of more than 100 ideas you can use.