How to Create a Free Resource Library for Your Blog
This post may contain affiliate links. That means if you click and buy, I may receive a small commission (at zero cost to you). Please see my full disclosure policy for details.
You might be on some lists where the sender references their resource library. Or, you might be in a group where people talk about the libraries they have on their blog.
If you haven't ever used one or set one up, it can be a tad overwhelming.
Let's put that to rest!  By the time you get to the end of this post, you will not only know what a resource library is and why you might want one, but you will also get the steps sharing how to set one up on your site (and even an example as to how they look).
Struggling to know what to offer to your list? Get more than 25 lead magnet ideas!
The secret to growing your list is to offer your readers what they need. Grab my free download and stop stressing about what to create.
What is a blog resource library?
A resource library is a password-protected page on your site where all your freebies, lead magnets, or opt-in printables are housed.
Yep. That's it!
Rather than send a reader a single download once they sign up, you direct them to the library. They will find not only the item they signed up to receive but also every other printable you offer — for free!
What should you put in the library?
Anything you like! If you can offer it to your reader to make them sign up – add it!!
Some ideas include:
Budget forms
Planners
Recipes
Templates
Tips & Guides
Coloring Sheets
If you can dream it, it can be added to your library.
Why should you create an online library?
When you have several printables on your site, a library makes it easier for your readers to access everything in one place.
For example, if you offer six different printables, do you want to make them sign up six different times to get each of them? And, does your reader want to do that?
Perhaps not.
The library is a simple way to make things simpler for your reader. They only need to sign up one time and get access to everything in an easy, organized format.
Not only that, but you can copy forms with the settings again and again to use each time you create a new opt-in. No uploading and attaching a new file with each new form you make. Edit some text and the image, and you are on your way!
Your subscribers will return to your library repeatedly to check out the new downloads they can use.
When should you set up your free resources page?
If you only have one or two items, you certainly do not want to set up a library. There won't be much there.
For that reason, make sure you offer at least six items before you take the time to set one up.
Why six?
It will flow nicely onto two rows of content in the library and have value for the user. If they go to a library with three forms, it seems like there is not as much value there. However, when you have two rows of three printables, there is more you have to offer.
Of course, you can always set up a library for your subscribers when you wish. However, make sure that there is enough there that it seems worth the reader's time to sign up.
How do you create a resource library in WordPress?
It is pretty simple in theory. Here are the five quick steps to make your library:
Step 1 – Determine where you will save the download
The first thing you need to do is decide where the download will be saved. That way, when the reader clicks the download button, they will get instant access to your freebie.
There are two options — Google Drive or add them to your media library. Either way will work, so you can choose the one that is best for you.
Google Drive
You can easily upload any PDF or file to your Google Drive folder. Then, you will grab the link URL and attach that to the download button (see step 2 below for how to do that).
To add an image, log in to Google Drive and select the +New button. Then, choose File Upload from the drop-down menu.
On the next screen, you will find the file on your computer, select it, and choose the OPEN button. The file will be uploaded to Google. To get the proper URL to use, click the share button in the upper corner.
You will need to make sure that anyone can access the link – not just those in your organization. You will see a window, and one of the options says "Get Link." Click "Change" towards the bottom of the box (which will open the next window).
You will see the default setting is to share it only with people in your group. That will not work as anyone who is not a part of your Google account access will not be able to get the link to work (and you will get a ton of emails requesting access).
For this reason, we need to change it so that anyone with the link can access it.
The last thing to do is to copy the link. Click on Copy Link, and then that is what you will use in the next step to link the download in your library.
Adding downloads to your media library
It is one less site to use and maintain. Navigate to Media and add the PDF as an image.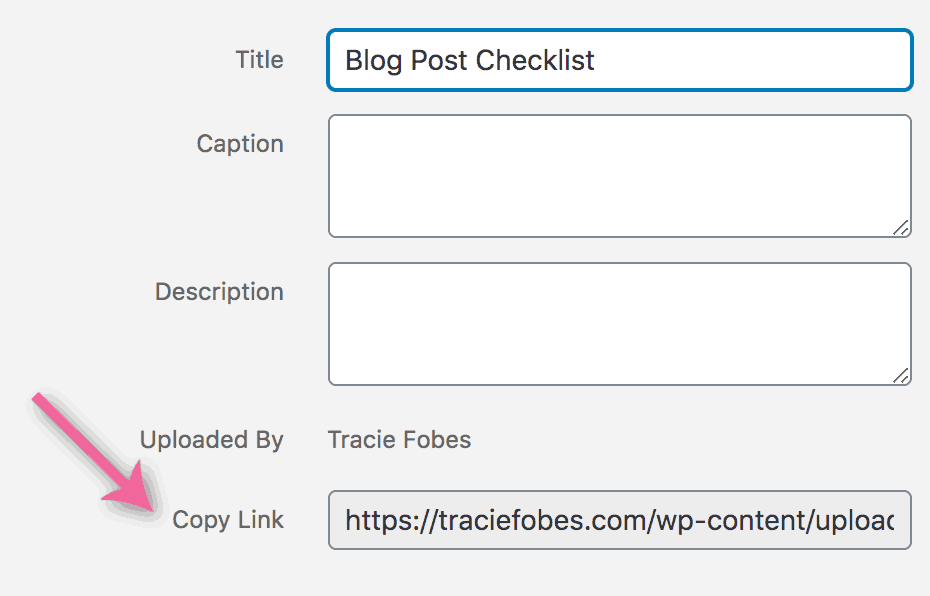 Open the image to get the URL. That is what you link to in the text or the buttons for the download. Use this link in step 2 to connect the download to the button link.
Step 2 – Decide if you want to use a page builder or create your content manually
There are different methods you can use to set up your library. While you can use a plugin, I would not recommend using that method – it is just one more thing that can slow down your site and potentially leave it vulnerable to hackers. You'll find two simple ways below to create your library.
There are two options I recommend: page builder or manually coded.
Note: If you are not using WordPress, I recommend migrating your site to a self-hosted platform for more control and customization.

Page Builder
A page builder is what it sounds like – an application that helps you create a page with the look you want. You can customize it easily with text, columns, images, and buttons.
Some themes, such as Divi or Avada, have page builders installed within them. If your theme does not include a page builder by default, you can download Elementor for free to create the layout you want.
Page builders use drag and drop technology to get columns, buttons, and more to create the page you want. If you look at this sample page, it was built using the page builder in Avada.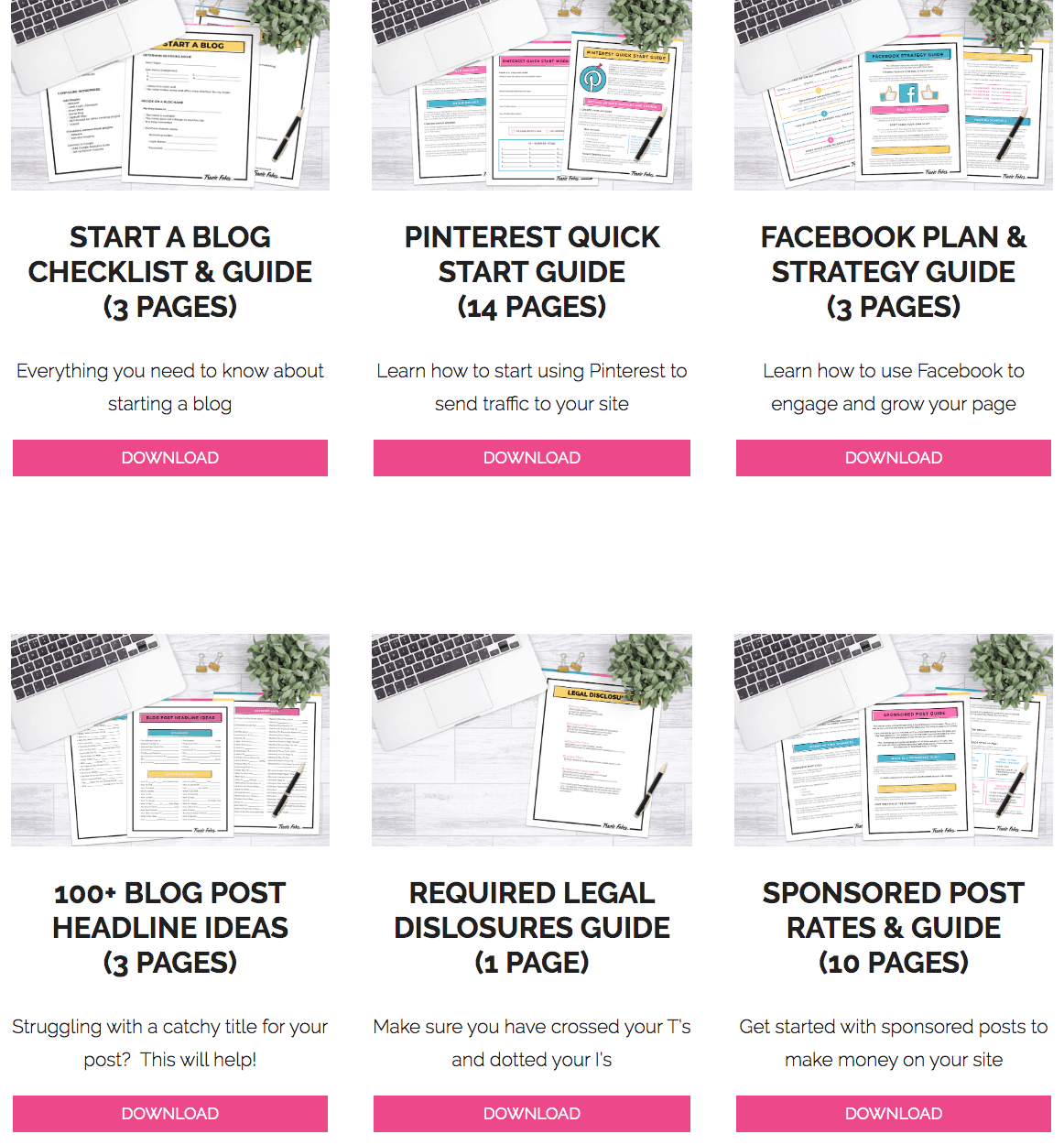 Page builders are a simple way to create a professional-looking page without a need for manual coding or manipulation.

Manually code the columns with buttons and images
If you do not have a page builder or do not want to add one to your site, you can easily add code to your site to get the same look. You can learn how to do them whether you use the Classic Editor or Gutenberg in WordPress.
Classic Editor
If you are using the Classic Editor plugin on WordPress, it is easy to add columns to your site — and no plugin is required! You will navigate to the page and select the TEXT tab from the dashboard.
To add three columns to your page and have a button for them to click to download the content, navigate where they are to begin, and enter this code.
*Note – the link for where the printable is housed will be the link. you created in Step 1 above.
<div class="one-third first">
INSERT YOUR IMAGE HERE
INSERT YOUR PRINTABLE TITLE HERE
DESCRIBE YOUR PRINTABLE
<a class="button" href="ENTER THE LINK WHERE YOUR PRINTABLE IS HOUSED HERE">DOWNLOAD</a></p>
</div>
<div class="one-third" style="text-align: center;">
INSERT YOUR IMAGE HERE
INSERT YOUR PRINTABLE TITLE HERE
DESCRIBE YOUR PRINTABLE
<a class="button" href="ENTER THE LINK WHERE YOUR PRINTABLE IS HOUSED HERE">DOWNLOAD</a></p>
</div>
<div class="one-third" style="text-align: center;">INSERT YOUR IMAGE HERE
INSERT YOUR PRINTABLE TITLE HERE
DESCRIBE YOUR PRINTABLE
<a class="button" href="ENTER THE LINK WHERE YOUR PRINTABLE IS HOUSED HERE">DOWNLOAD</a></p>
</div>
If you want for this to be a four-column layout, change "one-third" to "one-fourth" and then add the next two sections you see three times instead.
If your theme does not read the button code (most should), you may need to create a button image in Canva or PicMonkey and upload and link it.
Gutenberg
You may be using the Gutenberg blocks to create your posts. You can add columns easily by putting them to work for you.
Access the page where you need to enter the content, and within the blocks builder, search for columns.
You can choose one of the layouts shown or create your own. For the sake of this lesson, we are using the three-column format.
Select the "+" button on each column to add the image, text, and buttons as needed. Drag to reorder the columns as you wish.
There is no need to spend money to create a custom page when Gutenberg makes it super easy for you!
Step 3 – Password-Protect your page
Once the page looks the way you want it to, it is time to save it. But, you need to make sure you password-protect the page. You will share the login details with your subscribers when you send the confirmation email to them (see the next step).
Gutenberg Users
Select the Public link at the top of the sidebar menu. Then, choose
How do you share your resources library?
Once you have it created, you need to share it with your subscribers. The way you set it up will vary based on your email provider's options. Below I show you how to do this both on ConvertKit and Mailerlite. If you use another provider, find the confirmation email settings, and update accordingly.
Sharing the library through ConvertKit
If you use ConvertKit as your email provider, you will navigate to Landing Pages & Forms. Scroll through the list to find the sign-up form you are connecting to the library.
Next, select Settings from the top menu.
Select Incentive from the sidebar and then, beneath "After confirming redirect to" paste the URL for your library.
Next, select "Edit Email Contents," which will open the window where you can update the subject line and content sent to the reader as soon as they enter their name and email into your form.
Update the email and thank them and remind them that they can get your subscriber offer by confirming. Include the password details and give them some insight t know what is inside the library to encourage them to confirm.
Here is sample wording you can use:
Thanks for signing up! Just one more step and you'll get your Amazon checklist. Click the button below to confirm your subscription and get instant access to your FREE gift!!!

Once you do that, you will be directed to the resources library where you'll find every free printable download offered ont he site! You'll not only get your "insert awesome form name here", but also "form 1, form 2, and form 3". When you get there, enter the password _________ to get in.

Changed your mind? No problem! Do nothing and I'll not email you again. Have a great day!
Now you'll have the reader directed to your page with the information they need to get all they want to download.
Mailerlite
You can also set this up using Mailerlite. Log into your account and navigate to Forms. Find the form you want to update and click the EDIT button.
Next, select Success Page at the top of the menu.
Next, select Settings and check the Custom Success Page. Then scroll down a bit further and paste the URL to the library.
Click on the text that says, "THANK YOU!" and update to put your content. You can use the sample wording shared above.
Save your changes, and you are set!
The tricks to preventing non-subscriber access
You only want people on your list to get access to the library. After all, it is part of the offer you give to your subscribers, right? There are two things you want to do to ensure people do not get to the library if they should not:
1 – Password protect the page
2 – Disable social sharing icons
Add a password
By adding a password, even if someone lands on the page, they need the key to unlock the content. You can prevent people who are not on the list from seeing the forms by adding a password.
If you use the Classic Editor, look in the Publish box in the dashboard of the post. Under Visibility, select edit and then Password. Enter the password here, and it will be locked.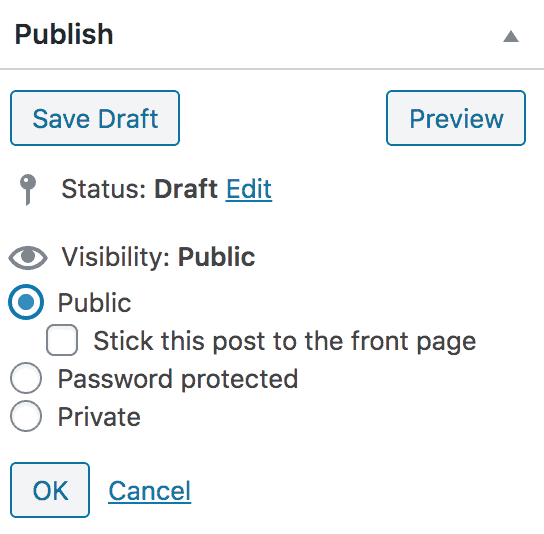 If you happen to use Gutenberg, you can do the same thing very quickly. Select the gear icon at the top of the page, and you will see Visibility listed. Click "Publish" and select Password. Enter the password you want to use.
Now, when people land on the page, they will see something like this:
Remove social sharing icons
The last thing you want is for someone to share this page on social media or Pinterest. You want to disable those icons on the page, if possible.
I say, if possible, as some free social sharing plugins do not allow you to do this. You may need to pay for the upgraded version to enable or disable sharing on the page.
Blog Resource Library Example
Of course! Most libraries are a single page without sidebars or ads. You will add images and link buttons readers can click on to download what they see. Here is an example: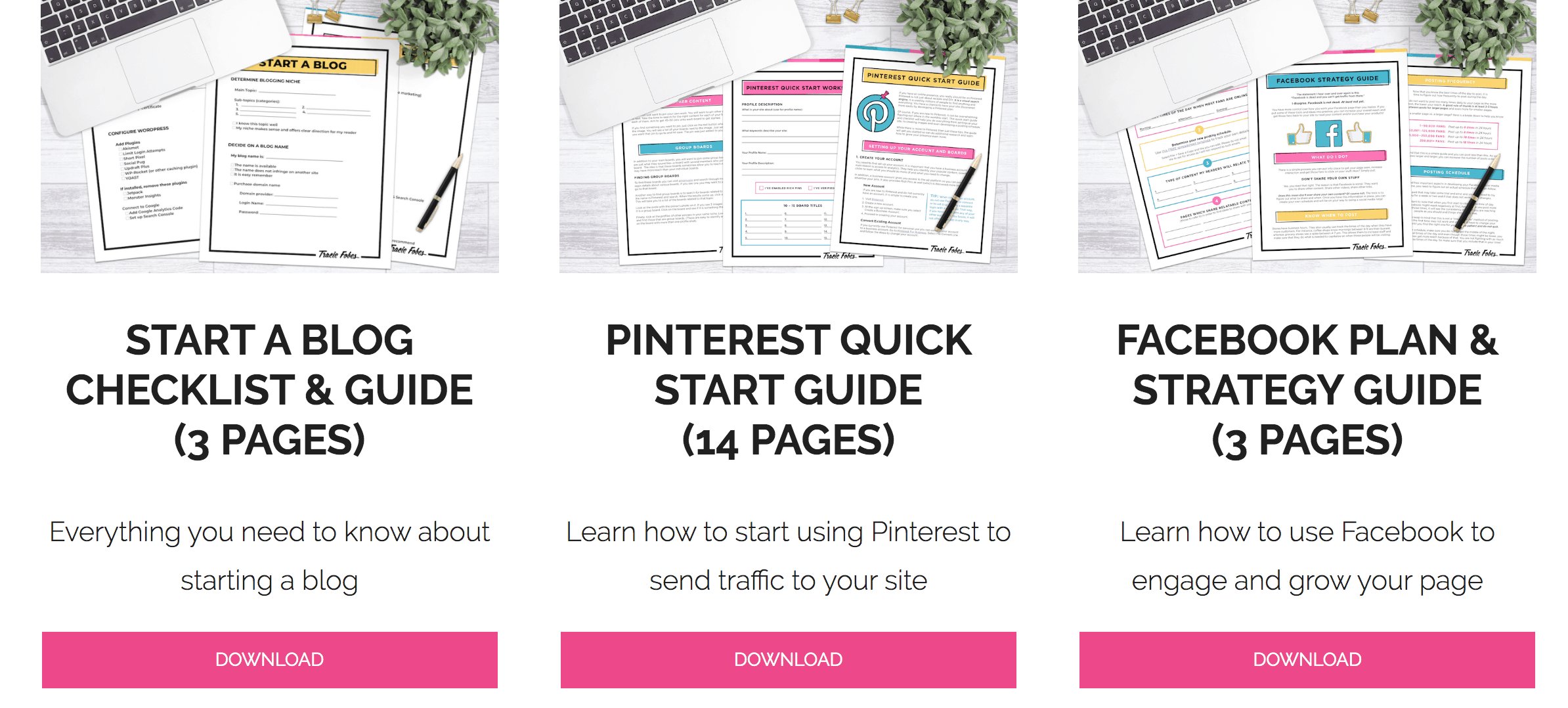 You can see here that the reader can download one, two, or all three of the guides listed here—no need for them to sign up to get each one individually. The library is a collection of the downloads they will need – all in one place.
Following GDPR and the Resource Library
Allow me to preface this next section by stating I am not a lawyer, and this is not to be taken as legal advice. If you are unsure as to what you should do, please seek legal counsel.
One thing that hangs up many bloggers is GDPR, General Data Protection Regulation. The EU law went into effect in 2018 that stated users did not need to sign up for your list to deliver a freebie. They needed to get access to it without that. That means they need to be able to download the freebie without needing to subscribe.
How, then, do you use a resource library while being compliant?
You can consider access to yours to be a gift. Advise them that you offer that as a gift for your subscribers if they want to access your vast library. It is a "subscriber offer." That way, they can decide if they want the library or not. It is not a single form. It is all of the forms.
Once they confirm, they get access to everything. You can review this post from Thrive Themes to see it explained in more detail.
Struggling to know what to offer to your list? Get more than 25 lead magnet ideas!
The secret to growing your list is to offer your readers what they need. Grab my free download and stop stressing about what to create.
Creating a resource library can make accessing your download forms quick and easy for your readers and makes it simple to maintain and update.