As a blogger, you want to get traffic to your site and make money.  One of the simplest ways to do this is through your e-mail newsletter.  But, getting those people to want to sign up can pose a challenge.  The simplest way to get people to sign up for something is to give them something for free.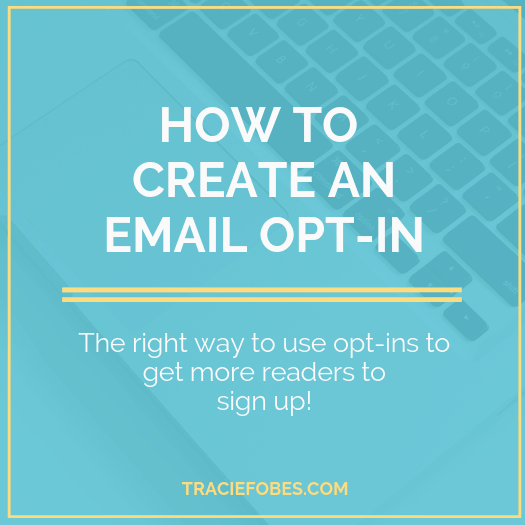 Think about the blogs that you follow.  Go back and look at their site and their e-mail newsletter sign-up boxes.  How many of them offer something free if you sign up?  Chances are, most of them do this.  They do it for one reason.  It works.
An opt-in may seem like a great idea, but how do you create one?
WHY YOU NEED AN EMAIL LIST
If you are new to blogging, you may not even know what an e-mail list is.  Your e-mail list is the readers who sign up to get regular newsletters (via e-mail) from you.  They sign up because they are interested in your site and want to continue to learn more about what you have to say.
The #1 reason you need an e-mail list is that you are in control of getting your content out to the people who want to see it.  You know you can't rely upon Facebook or Pinterest as the algorithms are always changing.  Sure, you post there, but not everyone will see your site.
Several years back, Facebook showed every post made on every page in your newsfeed.  As a marketer, it was such a simple way to get traffic as everyone would see what you were doing.  Then, they made changes, and it all disappeared – overnight.
Traffic tanked, and it left bloggers struggling to find a way to make up that lost traffic.  The same can be said for Pinterest.  Many algorithm changes have had an adverse effect on traffic to blogs and websites.
Social media is the one marketing tool over which you have no control.  However, when it comes to your e-mail list, you own it.  You control what you say, when it shared, and even who will see it.
Not only do you have more control, but the people on your list are interested in the content on your site.  They are often more engaged and willing to click to read your posts and more importantly, buy the products you recommend!  Your e-mail list is a simple tool to help increase income.
If you have not already done so, you will need to sign up with an e-mail provider.  There are a few platforms I have recommended, including ConvertKit, MailerLite, MailChimp, and ActiveCampaign.
If you are new to creating a list, I would advise starting with MailerLite. It is free up to 1,000 subscribers so that it can help with your budget.  I use ConvertKit for both of my sites, but the fee starts at $25 per month.
The first thing to do is get signed up with your email provider.  Each of them offers tutorials and help to get you started.  They will share how to place the link on your site, create up forms and boxes and link that to your blog posts.
HOW TO GET READERS TO SIGN UP FOR YOUR EMAIL LIST
The simple way to get readers to sign up is to first, have content that they want to read.  Therefore, it is crucial that you be 100% authentic and original.  Be yourself.   However, that is not the only thing you need to do.
As the title of this post explains, you need an e-mail opt-in.
WHAT IS AN OPT-IN?
An opt-in is a free item that you offer to entice people to sign up for your list. It can be a printable image, e-book, infographic, checklist, template, cheat sheet…..almost anything you want to offer.  It must be in a digital format so that it can be e-mailed directly to your subscribers (via your e-mail provider).
HOW DO YOU DECIDE WHAT TO USE FOR YOUR OPT-IN?
The easiest idea is to find the content on your site and look at it.  Perhaps you have a post series that you could turn into an opt-in.  Or, maybe you have a post that you could write in more detail that may make a better printable checklist.
You might have ten recipes that relate to one another that you could put into a book.  It could even be a new idea about something you want to market to your readers.
Whatever you decide, make sure that it relates to your site.  For example, I'd never put a printable about essential oils on this site as it is about blogging and social media.  I don't blog about that so my readers would not be interested in it.  It would confuse and alienate those who signed up thinking that I would have newsletters talking about oils.  Imagine the shock when they get an email about creating an opt-in! They'd all unsubscribe. I'd lose credibility.
Find something that you feel would be helpful to your readers.
HOW TO MAKE AN OPT-IN
Once you know what your opt-in will be, it is time to create it.  There are some simple ways that you can do this — all of which are FREE!
SITES TO USE TO MAKE A PRINTABLE OPT-IN
If you are using something such as Photoshop, then you may already know how to use that to make a printable form or infographic. If you don't have this software, there is no need to buy it. There are different things you can use, that you may already have access to, that will not cost you a dime, or a small annual fee.
USE GOOGLE DRIVE 
You can create a document in Google.  Once it is in the format you like, download it as a pdf.   Add to the link or file to your autoresponder.
CREAT OPT-INS USING WORD
If you have MS Word, you can also create your opt-in form here.  It can also be saved in a pdf format as well, so you can add it to your e-mail autoresponder.
USE CANVA FOR INFOGRAPHICS AND PRINTABLE FORMS
If you want graphics on your opt-in, Canva is a great resource.  They even offer different templates that you can use (infographic templates are incredible).
Most elements are free, but there are some that cost $1.  If you do pay for it and you can edit your document for up to 24 hours after you first download it before you need to pay for the element again).  Make sure you export this as a pdf as well.
No matter which site you use, make sure any printable (book, printable or infographic) save it as a pdf.  That is the proper download format to use.
HOW DO I GET A SCREENSHOT OF MY PRINTABLE TO ADD TO MY SIGN UP FORM?
Once you have the printable done, you will want to grab a screenshot so that you can add it to the sign-up boxes. Using the image can increase conversions and give the readers more reason to sign up — as they can see what it is they will receive.
No matter how you made the printable, it should be in a pdf format.  But, you can't add a pdf as an image to your form.  That means you need to take a create a thumbnail of your printable so you can add it to your form.  There are a couple of ways to do this.
CREATE A JPG OF THE PDF
One way to get a printable is to convert, or save, the printable in a jpg format.  That takes it from the printable to an image, which can be manipulated and added where needed (such as forms and other places in your blog posts).
If you use Canva to make your printable, save a copy of your form and download it as jpg rather than a pdf, and you'll have what you need.
For those who do not use Canva, you will need to convert the file.  Mac users can easily do this with the Preview App. Open the pdf and under file click on Export and when the window comes up, change the format to jpg and hit save.
Whether you use a Mac or PC, you can also use an online converter to change your PDF to a jpg format.  One such site is PDF to Image. Follow the steps to get your form in the right format.
Keep in mind that the image is still full size, so you will need to reduce that size further if you wish to upload it to your form (see the next step).
HOW DO YOU GET THE OPT-IN SENT WHEN SOMEONE SIGNS UP?
Once you have your e-mail provider and the opt-in, it is time to set up an autoresponder through your email provider. The autoresponder is the e-mail that is triggered, sending an email out, once someone signs up for your newsletter.  You need to set one up as you sure don't want to email every single person manually!
Each e-mail service has an autoresponder.  They may refer to it by a different name.  For example, on ActiveCampaign and ConvertKit, it is called Automation.  I'll walk through how to do this on each platform, so you will know how to do this yourself.
CREATE CONVERTKIT AUTORESPONDER
Click on Forms in the top menu.

Then, click on New Form right beneath the graph.
Next, decide if you want a large landing page where people will go to sign up, or if you want a form. I use the forms so that I can quickly embed that into each of my posts.  For the sake of this lesson, we will use forms.
Now you are ready to make the sign-up box!  Select the form style you want to have on your site.  There are three options:
Inline – the box you will create to embed into a post.
Modal – one that will display after a certain point as the reader is on your site.
Slide In – the form that slides in at the bottom of your site.
I recommend using the inline so you can get the code to embed where you see fit in your content.  Once you make the form for your post, you can then try your hand at one of the other two types of sign-ups.
Then, select the type of sign up form you want. You can opt to have a clean, full or minimal.  I recommend full as you can put a screenshot of the printable on the form.  That can help encourage more sign-ups if they can see what it is they will receive.   A preview can make all the difference.

Now comes the fun part!  You can customize the font, colors, and wording!! The menu to make these changes runs vertically along the side of the screen.  Click on each section and made the necessary edits.
To start, you can click on each section of the form.  For instance, if you click on the button, you will notice the button edits menu slides in.  Edit each section as needed so that the form says what you need. You can also upload the thumbnail image of your printable by clicking on the image on the form.
Once your form looks the way you want, review the remaining settings and set up the confirmation email so that once they agree to be on your list, they get their printable.
Gear Icon – Type in what you want to display once someone signs up for the form!  You can edit their message and type your own.  You can also redirect them back to a specific page on your website.
Envelope Icon – This is where you will include the link for the printable form.  Since you are attaching a printable, you will want to make sure to check the incentive email box.  You can click on the box to edit the email contents to make it more personal.  You can include wording such as thanks for signing up!  Just one more step to get your free printable.  Click the icon below and confirm your subscription and you'll get your download.
Under After Confirm Redirect to, click on download and here is where you will attach your file.  Now, when someone hits the blue confirm button in the email, they will instantly download the file.
Pencil Icon – You will customize the colors and style of the form here.  Make sure it is not too bright and that the colors blend with your site.
Double Gears – These are the advanced settings.  If someone has already signed up, you may or may not want to show the form to them again.  You can edit that here.
The last step is to edit the file name (in the grey box).  Call it something you will recognize.  Hit save and you've got your form!
You are ready to add it to your site!  Click on embed from the grey box and you will see the coding options.  Copy the code and go to your site and add it where you want the form to appear (make sure you use the HTML setting and not visual when placing the link).
There you go!  The simple way to create an opt-in using ConvertKit.
SETTING UP A MAILERLITE AUTORESPONDER
Another popular email provider that many use is Mailerlite. You can easily set up an autoresponder to deliver your freebie through them as well.  Before you jump in and try to make your first automation, there are a few other things you need to do.
Once you have the printable (which should be saved in the form of a pdf as mentioned above), upload that to your media library on your site.  Just click on Media > Add New and upload it directly to your site.
Next, log into Mailerlit so you can create a group for your opt-in.  That way, Mailerlite knows the people who get the form that they are signing up for (you will do this for each opt-in you make so you ensure the right form is sent to the right people).
From the main menu select Subscribers.

When in Subscribers, select Groups — and then Create New Group

Then click on Create New Group
Give the Group a Name — such as the name of the opt-in you are going to create.  That will help you easily identify it.
Now, you are ready to make a form.  This is what you will put on your site so that readers have a box where they can enter their information to get your amazing printable.
From the main menu, select Forms.
Determine if you want to make the form a pop up, a landing page or an embedded form.  An embedded form is the one you will select if you want to put a sign-up box anywhere in your blog post (and that is what we are using for this lesson).  Click the gold Embedded Form button you see that top of the page.

Give the form a name.  Make sure it is something you will recognize.  A good idea is to use the name of the opt-in so you can easily identify the form in your list.
Select the group that will be connected to this opt-in – which should be the one you just created.

Edit the form to make it look the way you want.   Change the color, text, and design.  Once you like the way it looks, select next.  You can hover on the boxes on the form so you can edit the content in each.
Once it looks the way you want to click on next.  You can then make sure it is a double opt-in, add them to a list, etc.  Once you are satisfied with those settings, you can get the code to embed the form directly into your post.
Now, you are ready to set up the autoresponder.  From the main menu, select Automation and then Create New Work Flow.

Give the workflow a name and then, from the dropdown, decide what will trigger this to start. You will select the group that you created for this opt-in.
Click the "+" button beneath the workflow to add a step to the automation.  You will then select email from the available options.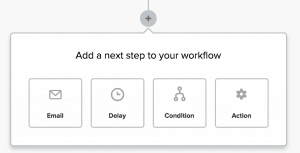 From the side menu, you will fill out all of the sections including the subject line for your email, your name, email address and then click to edit the email contents.  You can just type the email with the rich editor or use one of the drag and drop templates to create your email.  For the purposes of simplification, we are just using the rich editor.
To link to the printable, go back to your site to find the pdf you uploaded.  Navigate to Media > Library.  The pdf should be at the top of the list (or you can search for it).  When you see it, click to open and then, under the save box, you will see the URL for the link.  Copy this entire link.
Go into the email and click the LINK button at the top of the form.  You will link to THIS pdf.  That way, it will be in the email for them so they can click and download it.
This is what the email will look like.  You can see that the link for the printable is embedded right here.
Congratulations!  You just set up your first autorseponder!

CREATE AN ACTIVE CAMPAIGN AUTORESPONDER
It is also easy to create an opt-in on ActiveCampaign. Before you start, make sure you create a list for the opt-in (as you will use it in the next step — go to Lists, Add a new list and fill in the boxes).  Then, click on Automations from the blue menu bar.

Then, click on New Automation.

In the search box, type opt-in.  There will be one recipe that pops up.  Select it.
You will see some additional boxes come up to help guide you through the process. Follow the steps and fill out the sections as needed.  You will then see a flow chart, like this: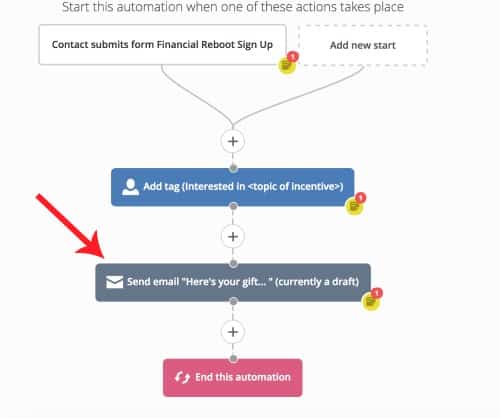 Click on "Here's Your Free Gift" so you can edit it. You will want to create an email.  Click on this.  You will then be able to create your email.  Just make sure that somewhere in the email you include the link to your pdf (which you will want to have hosted on your site, in your media files).
Follow the rest of the steps to start your automated sequence.
ADD THE SIGN UP TO YOUR SITE
Once you have created the opt-in and the automation to send it, you have to advertise it on your site.  There are some simple ways to do this.
ConvertKit.  If you use ConvertKit, you can either copy the code (see above) or use the plugin.  If you use the plugin, you will see this option on the dashboard and can select the form from the drop-down.  Keep in mind that this places the form only at the bottom of the post.  If you want it anywhere else, you will need to embed the code.
Your e-mail provider.  Look at the options available through your e-mail provider.  Some may offer opt-in forms, but most do not.  The majority of them provide a simple link that you place on your site, which is not a true opt-in form.  Make sure that what your readers see tells them what the opt-in will provide to them.
ThriveLeads. This is another plug-in as well.  This one allows you to add your opt-in form on a post, as a pop-up or even as a welcome bar (at the top of your site).  What is great about this service is that you can test two forms against one another and it will automatically keep the one that has the highest conversion.
For instance, if you are not sure if a slide in at the bottom of your page works better than a hello bar at the very top, you can have those two compete against one another for some time.  At the end of the testing period, ThriveLeads will determine which one was more successful and keep that one live on your site – but disable the one that does not do as well.
Also, you can create opt-in boxes and place code anywhere in your posts you would like for the form to appear. You are not limited to placement at the bottom of your post (such as with ConvertKit). This is a paid theme, but the investment pays for itself very quickly.
HOW CAN YOU USE INCENTIVES AND STILL BE GDPR COMPLIANT?
In 2018, there was a new law enacted in Europe called GDPR. It stands for General Data Protection Regulation. It ensures that readers understand how information is collected and how it will be used.  One of the topics was email lists. Readers have to decide to sign up for your list and must know that they will be added to it.  You can't force them to sign up for a freebie.
However, there is a way around this.
Your freebies are exclusive subscriber offers.  As a thank you for signing up, you will give them your printable.  I love the way that Thrive explains this on their site.  It is an easy read and is written in a way that is very clear.
As long as you are clear in the wording on your sign-up form, you will comply.
It takes a little time to create your opt-in and the mailing sequence, but once it is done, you'll start to see those email opt-ins start to increase!