This post may contain affiliate links. That means if you click and buy, I may receive a small commission (at zero cost to you). Please see my full disclosure policy for details.
You want to blog – yeah! Once you have determined what you want to talk about, you need to come up with a name. You may be tapping your finger against the table, saying over and over again, "what do I call my blog?"
Your blog name needs to be memorable. It needs to be easy to spell. And, oh yeah, you need to make sure it is available.
But above all else, it needs to be something that you can live with for years to come.
Naming your blog is challenging. You've got several questions:
Should I use my name?
Does it need to include the keyword I want to rank for?
How should I spell it?
Let's go through the process of how to know what to call your blog. We'll start with the questions to ask yourself and then the process of finding the perfect name.  The last thing we'll do is make sure you can use it and help you claim it as your own!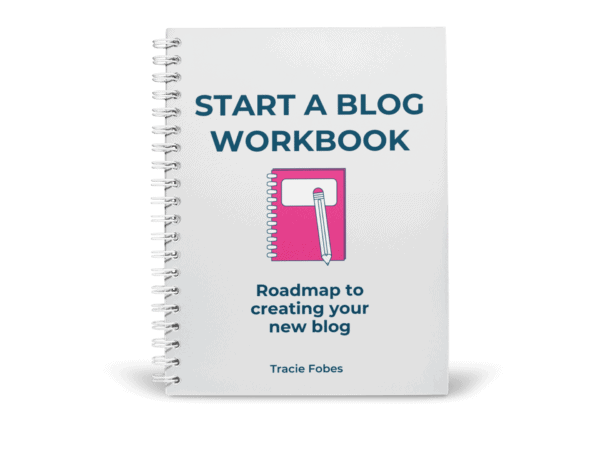 Starting a blog… made simple!
Sign up for my email list and I'll send you a copy of my Start a Blog Workbook for free! Just my way of helping you start your brand new journey.
What makes for a good blog name?
The right blog name is short, memorable, and original. If possible, it should include the keyword as to what your blog is about. Make sure it also relates to your niche.
The main keyword describes your blog. For example, The Flooring Girl is a site about – you guessed – it flooring.
You want your name to be unique so it stands out in a sea of blogs and websites. If it is boring or too similar to others, it will be forgotten.
When coming up with a name, the idea needs to tie into the content you will blog about and not confuse the reader. They need to get a feel for what your blog will be about before you get there.
Should I name my blog after myself?
If you are running a personal blog, it may make sense to name it after yourself. Many entrepreneurs, coaches, and people who offer online education (for any field) will use their names.
My site is TracieFobes.com. I offer coaching services and teach people how to create and run a profitable blog. It makes sense as I am what the site is about.
Coming up with a Creative Blog Name
You will want to follow a process when deciding what to call your blog. In general, the steps include:
The names that describe your niche
Words or phrases that describe the tone or feel of your blog
Define your reader
Read blogs for catchphrase inspiration
Exclude ideas
Finalize your name
Get the free Start Your Blog Workbook. The planner guides you through the step-by-step process of creating the perfect blog name, plus so much more.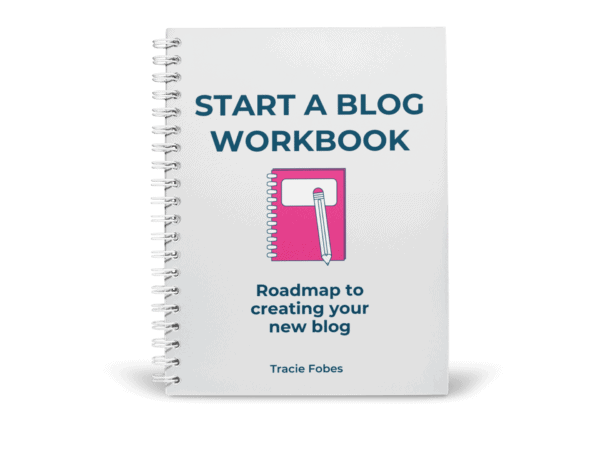 Starting a blog… made simple!
Sign up for my email list and I'll send you a copy of my Start a Blog Workbook for free! Just my way of helping you start your brand new journey.
Step 1 – What will you blog about?
The first thing you need to look at when deciding what to call your blog is the topic. The simplest way to do this is to start broad and then narrow down.
For example, if you will run a cooking blog, that would be your main topic. Then, you can consider other ideas that go beneath this, such as affordable meals, quick dinners, kitchen gadgets, cooking methods, etc.
Write all of these ideas down — don't exclude anything at all! You need to make sure you consider every idea that comes to your mind to determine your blogging niche.
Step 2 – What is the blog tone?
Will your blog be humorous or serious? That, too, will help you decide the type of words or phrases you want to include. For instance, if your site is about parenting funnily, the phrase chaos or craziness might make sense.
Grab that list and create a new column called tone. Start to write down the feeling you want to give to others when they read your blog. Again – don't leave anything off the list! Write down anything and everything that comes to your mind.
Step 3 – Who is your target reader?
You might want to reach moms or maybe men who love to work out.   But then, think about your reader:
What problems do they have?
What do they need to learn from you?
Are you entertaining or educational?
How will you connect with them?
You need to know who you want to reach, as the name of your blog should resonate and connect with them.
Step 4 – Put your thesaurus to work
Once you have a few names in mind, try to change them up a bit by using a thesaurus. That will help you find interesting ways to say the same thing without using the "boring" words everyone else does.
Let's look at the word crazy, for example. Other words that you could use are nutty, insane, and kooky. Giving standard words a unique spin can help you create the perfect blog name.
Step 5 – Read blogs
Before you go further, read other blogs. Find those that will blog on similar topics or niches that align with your ideas. The posts may contain words or phrases that jump out at you. Make sure you add these to your list.
Step 6 – Exclude ideas
The next thing you want to do is look at the list of ideas. You may know there is something you don't want to include. For example, when I was deciding what to call my site, I knew I wanted it to be about blogging and social media — but I did not want to blog in my title. That meant I crossed off any blogging subjects from my list.
Step 7 – Finalize your blog name
The final step is to decide what name you will use! Look through the list of ideas and concepts you have created.
Pull together different words and phrases that work together that will best describe you and your blog. You want to make sure you get this right the first time, as it can be a challenge to change later on.
Consider using a blog name generator
If you have tried time and again but still can't come up with a name that works, try using a blog name generator.
What is a name generator?
It is just as it implies. It is a tool to help you create a unique name for your blog. You type in a keyword or phrase, and it returns ideas that may work for you.
&nbps;
Which blog name generator is best?
There are a few generator tools you can use to help you come up with the perfect idea.
Nameboy
Nameboy has been around for a long time, making it a popular option. Type in your keyword, and you will instantly get several ideas. If the URL says WHO IS, that means you can't buy it. Otherwise, you can. Here are the results for the keyword pancakes.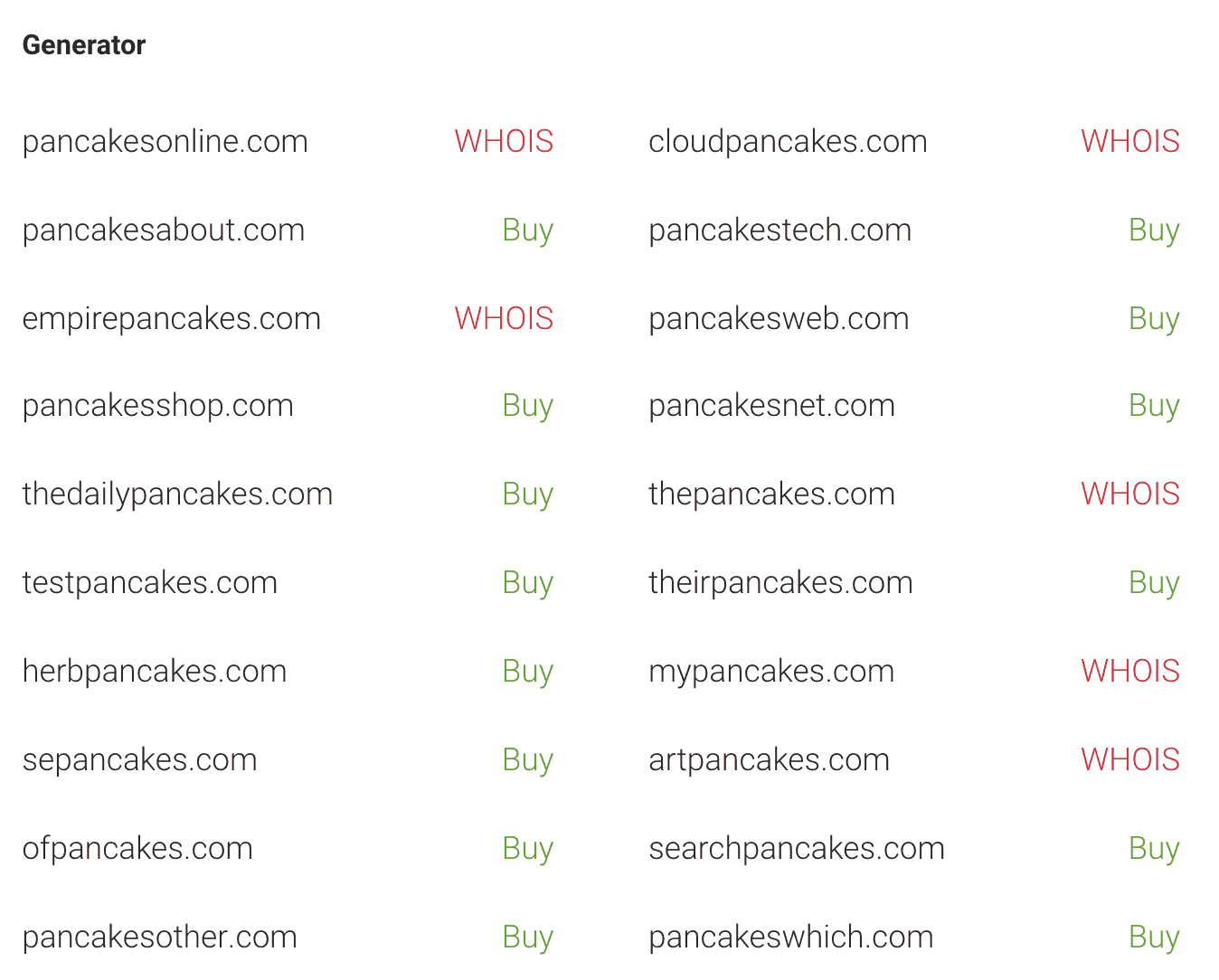 DomainWheel
Another tool you may want to use is DomainWheel. Type in the keyword, and you'll get several great names to consider. You can also disable the domain extensions so that it only looks for the .com version.
Mistakes to avoid when selecting your domain name
You may know what you want to call your site, but before you rush out and buy the domain, make sure you don't make any of these mistakes.
Don't make a cutesy spelling
You may be tempted to change a word that usually starts with C and change it to a K, such as Koffee, Koupon, or Krafting. These lead to user confusion when searching for your name.
Don't include offensive words or spellings
It should go without saying, but most people will not want to follow a name that contains an offensive word. And, you could be doing so unintentionally.
For example, you may want to call your site Works of Art. It sounds good and is easy to remember. But what happens when you type that into the browser window.
That site becomes worksofart. Yeah, it doesn't look so good, does it?

Avoid special characters and numbers
You may be considering using hyphens or numbers in your domain name. You may be tempted to do so to break up words, but don't. It makes the name much more difficult to remember and hard to type into the browser window.
Think about telling someone your domain. It would be easier to say my awesome site than to say my hyphen awesome hyphen site.
A long name that is confusing to remember and type will be forgettable.
Don't use a name similar or that someone else uses
The number one mistake new bloggers make when trying to come up with a name is using the version of someone else's name. The first site I had was Penny Pinchin Mom. One new blogger tried to create the website Penny Pinching Mommy.
She could not use it. And you want to avoid doing the same thing.
First, I owned the trademark, and no one else was allowed to use it. Secondly, it is just in poor taste to use a very close name to someone else.
Don't use the wrong extension
You may be tempted to buy the .net or .org version of a name. Using the .com is the most easily remembered version. Not only that, but if someone else has the same name with the .net attached to it, you are using their name (a big no-no).
When it comes to .org, that is the non-profit designation. Unless you plan on running a blog for a non-profit, don't use this version.
The .com is the most easily remembered version of the name that you can create. You'll be glad you use this in the years to come.
Don't be too specific
I learned this lesson all too well. If you want to blog about several topics, make sure your blog name is not so specific that it will not make sense to your readers.
I used to be Kansas City Penny Pinchin' Mama when I started. Readers from other parts of the country would not visit because they thought I was hyper-local. When I rebranded and changed to Penny Pinchin' Mom, the traffic and income immediately took off.
As you get further in your journey, you will want to make money. Your site name can help you make money – or miss out. If you are too niched, advertisers may not want to spend money on your site. If your name does not make sense, a sponsor may not be able to find you.
Don't choose an irrelevant name
Choosing a name that does not match your blog focus is not helpful. You want to make sure the name gives the right vibe to your potential readers.
For example, if your blog name was Embracing the Crazy and you blogged about travel, does that make sense? It doesn't. However, if your blog were about balancing motherhood and work, it would.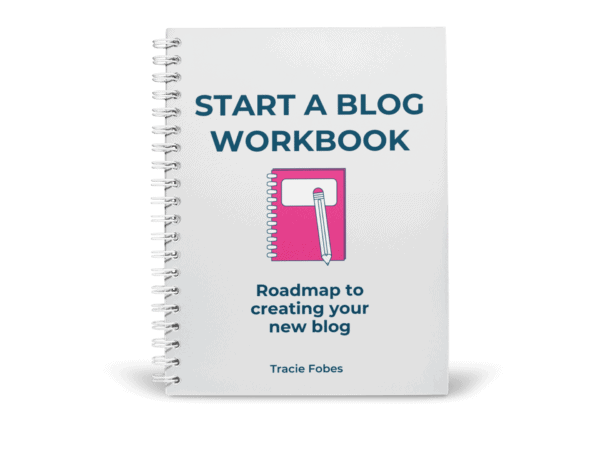 Starting a blog… made simple!
Sign up for my email list and I'll send you a copy of my Start a Blog Workbook for free! Just my way of helping you start your brand new journey.
Why you may not be able to use the name you want
Now that you have an idea, you need to make sure you can use it. After all, you don't want to get yourself into a potential legal mess (which can and has happened). Not only that, but the name you want might not even be available.
Once you know what you will call your site, there are a couple of more steps to take before you are ready to get started.
Make sure another site is not using it
I touched on this above, but I want to dig in a little deeper here. You do not (and should not) ever use a name that is too similar to someone else's.
For instance, I was in a group, and someone wanted to call her site Mama Coffee and Chaos. Upon research, there was another site called Coffee and Chaos. Adding just one word to make it appear different is not enough. It was a form of someone else's name, and that is in poor taste.
Do a quick search online to see if the name you want – or something close to it – comes up. If it does, go back and come up with something different.
Check for a trademark
Many bloggers have trademarked their names. If you find that they have, you cannot use the name (or any version of the name).
If you do, it is infringement. You can be forced to change your name and all social channels. And, if the trademark holder opts for it, you could even be sued for damages. You don't want that.
Even if the name you want appears to be available, you need to go one step further and make sure it is not being used by someone else. That means you need to do a trademark search.
Visit the US Trademark Database and run a search to see if the name you want to use is owned by someone else.
Here is a tip when searching: break up their blog name into single words to look that way. Otherwise, any mark that has any of the words will be searched.
When you search for penny pinchin mom, anything with penny, pinchin, or mom pulls into the results. Narrowing it down can help you more easily track down the trademark.
If you find the name, look at what is covered. If they are a different topic, you can still use it without any problem, as there is no brand confusion.
For example, my husband wanted to run the site StumpjumperDesigns. He searched and found that the name Stumpjumper was trademarked. However, it was for bikes and parts. His website is woodworking. Since they are different topics, he was able to use it without any problem.
If you are unsure, reach out to an attorney to ask. I am not one, and this is not to be construed as legal advice. It is up to you to know for sure if you can legally use a name or not.
Check to see if it is available
The last step in determining if you can use a domain name or not is to find out if it is available for purchase.
Many times, people purchase different domains and park them. That means there is no site attached to it, but they own the name and will only let it go if you pay a premium. If you find that this is the case, it might be worth investing in the domain to buy it. Only you know the budget.
If you find that the .com is not available but another extension is, do not purchase it. Domains are better served as the .com versions rather than .net or .co (and do not use .org unless you are a non-profit organization).
But, whatever you do, do NOT go to GoDaddy or other domain sites to search. They will see you doing that and will raise the price. Squatters also see you searching and can purchase the name from beneath you – and want you to pay more to buy it.
To see if a domain is available, type it into your browser! If it says it is for sale, you can go and buy it – but not through just any site. Check the section below for the best place to buy a domain.
Ensure Google did not flag it
People buy and use blog names all of the time. Unfortunately, some of the most unique and best names get purchased by spammers.
They end up sharing spam, getting penalties, flagged by Google, or are sometimes are part of a private linking network. That means Google will not allow that domain to gain any ranking. Period.
You will want to read this guide to checking expired domains for spam. Don't skip this step, as you do not want to end up selecting a name that causes more harm than good!
How to get the domain for your blog
Once you know the domain name is one you want to use, it is time to buy it. But, you don't want to get it through the same place you get your hosting; it needs to be different.
Why shouldn't my domain and hosting be through the same provider?
When you have all of your eggs in one basket, you can end up in trouble. A stumble and you fall, and they are all broken. The same is true with your site.
When you have one company own both the domain and hosting, they are in control. However, if you have different companies involved, you never have to worry about losing control over your site.
Not only that, but if a hacker ever made it into your account, they would have control over your entire site. Having them through different providers also offers greater security.
Where is the best place to buy a domain?
You may plan to head over to GoDaddy to get a domain name. I don't recommend using them.
Instead, try a service such as NameCheap as you can find that they are often a better price (and the customer service is excellent)!
How do I buy a domain?
First, go to Namecheap.com. Enter the domain name you want to purchase and click to add it to your cart, and head to checkout. Skip all the add-ons – as you do not need them.
I recommend Namecheap as they offer free privacy protection. Other domain companies charge an additional fee for this service.
You need privacy protection as it keeps your personal details (including your email address and phone) from being visible. That can prevent unwanted spam and other emails.
Should I trademark my blog name?
Once you have your name, the next question may be around the trademark. Should you invest in this protection right now?
The truth is – I can't tell you yes or no, as I am not an attorney. This is a legal topic, and you need to seek the advice of a professional.
What I can say is that I would not do it until you know, without a doubt, that blogging is for you. The truth is many bloggers quit within the first 6 – 12 months of starting, and you don't want to pay all that money for nothing.
But, if you are proceeding and your blog will be your business, you absolutely should trademark it. Keep in mind that you should hire a qualified attorney and never use online sites such as LegalZoom to file.
The reason is that you do not know what you are doing. ;-). You do not want to file for something worthless. And, the truth is, many who follow this practice are not sure how or what to file, and they miss the mark and create an improper filing.
It is not cheap, but if you wish to take this leap in moving your business forward, you want to hire the right person for the job.