How to Find the Perfect Blog Niche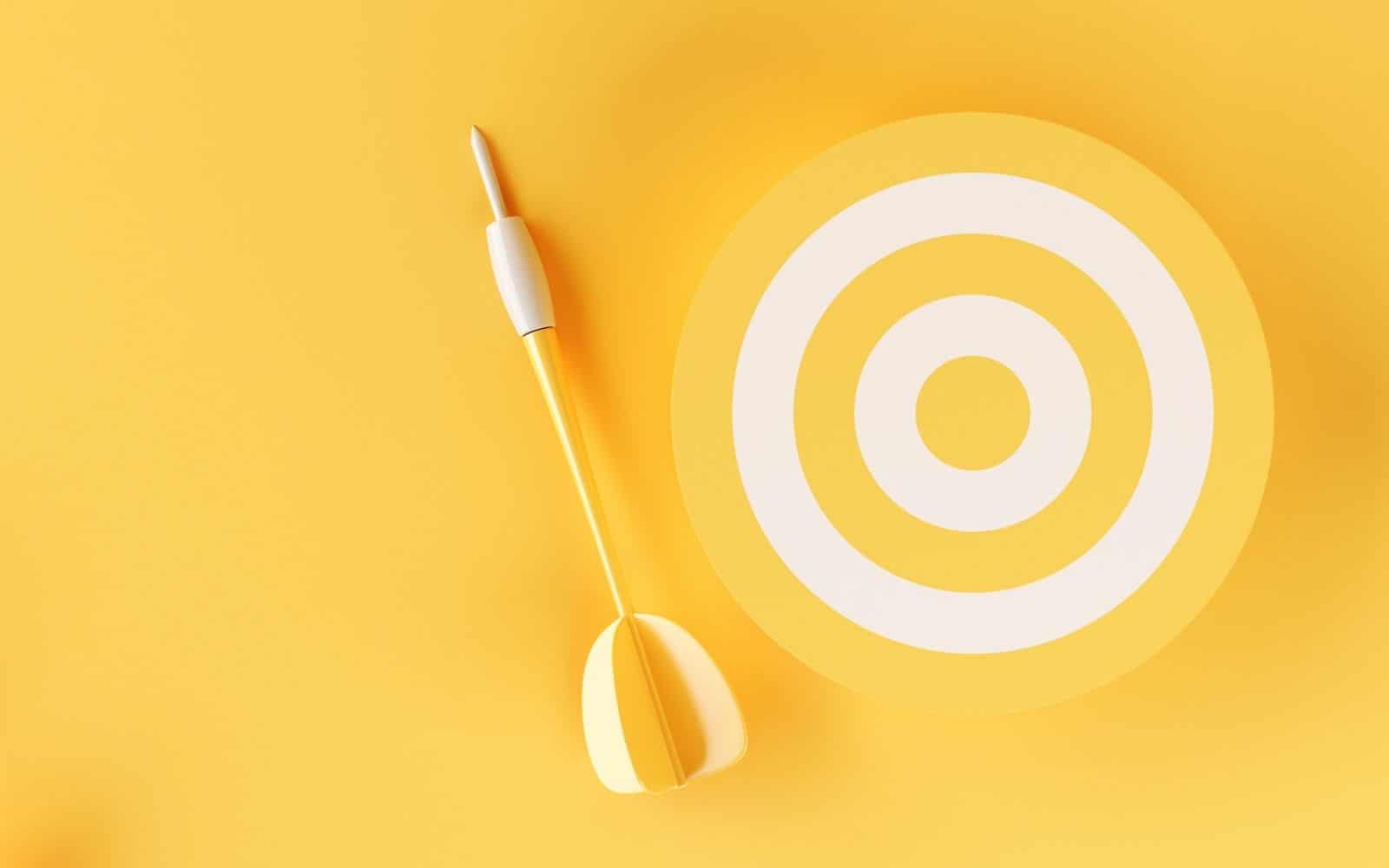 This post may contain affiliate links. That means if you click and buy, I may receive a small commission (at zero cost to you). Please see my full disclosure policy for details.
You want to start a blog! Yeah!! But you can't begin writing about anything you want. The truth is that your blogging niche can be the difference between success and failure.
When you first consider blogging, you may have a lot of things you want to talk about and figure that you will just do cover them all. That way, you can help more people, right?
Wrong.
If your blogging niche is too broad or the topics do not go together, it does not help as much as hinder your ability for growth. Too many topics can be confusing both to visitors and Google.
Yes, some blogs with a broader range of topics can do well, but most don't. One of the most common mistakes bloggers make is trying to talk about too many things. In their minds, it makes sense – but in reality, it does not.
The problem with most start a blog posts is that they don't talk enough about how to choose the right blog niche. They may tell you "decide what you want to blog about," and that is it. These posts do new bloggers a disservice as they forget the most crucial part of your blog.
Your niche.
I'm here to help you narrow down your niche and understand why it is so important.
Let's start at the beginning.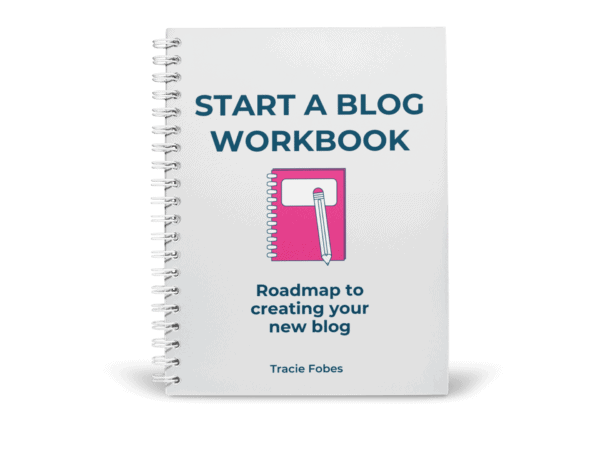 Starting a blog… made simple!
Sign up for my email list and I'll send you a copy of my Start a Blog Workbook for free! Just my way of helping you start your brand new journey.
What is a Blog Niche?
A niche is a topic or topics you will talk about on your blog. Your niche can be broad or have a very narrow focus. For example:
Wide niche: Fashion
Narrow niche: Accessories
Wide niche: Travel
Narrow niche: US Travel
Wide niche: Parenting
Narrow niche: Tweens & Teens
While you can select a broad niche, the truth is that the more narrow your focus, the better. Why? Because it is more helpful for your reader.
If you talk about teens and tweens, it is specific for a defined group of parents. Those are the only people who will be interested in what you write about. After all, the mom of a toddler does not need to know how to parent a teen when they break curfew.
The parents of the teen or tween will swoon over your content. They will be loyal and hang on every word you have to say and every product you recommend. They will be the people who love your content as it matters to them.
But, you want to walk the line between too wide or too narrow carefully. If it is too tight, you can have such a limited audience that you restrict your traffic and income.
It is essential to find a balance between wide and narrow.
Is it OK if I want to be a lifestyle blogger?
You may have heard the term "lifestyle blogger." Many times this is code for "a lot of topics that have nothing to do with one another."
I am not saying you can't make it work. Some have done quite well with it. But honestly, you do not want to be one of these bloggers.
You need a clearly defined niche. Period.
When your blog topics are unrelated or too broad, they help no one. It can be confusing not only to the reader but also for your subscribers and even Google.
The mistakes to avoid when selecting what to blog about
Unfortunately, many bloggers are set up for failure, as they did not choose the right blog topic. When you don't have the right niche, you will quit long before the magic happens.
Mistake #1: Selecting a niche only because it may be profitable
The most significant mistake bloggers make is blogging about a topic simply because they see dollar signs.
I see this time and again. Bloggers start a blog on making money from home or personal finance as they think that is the only way to make money.
But, four months in and they are not only not making money, but they also want to quit.
Why? Because they started a blog with the wrong end in mind.
While you want to make money blogging, you need to make sure the niche you select makes sense for you and is not chosen simply because you think it will be the most profitable.
Mistake #2: Not having the right passion
Another common mistake is selecting the wrong passion for your niche — or the pseudo-passion.
A pseudo-passion is what you think you love, but not really. You select it because you aren't sure what your passion is!
You won't find your passion by doing searches or reading other blogs. You may not have any idea about where your passion lies. And that is OK!
It may take some time and soul-searching to figure it out. Don't rush the blogging process and start in the wrong niche.
Mistake #3: Including unrelated topics
You love fashion and want to talk about trends, getting looks for less, and how to put an outfit together. But you also like to cook. That means you also want to share your favorite Keto-friendly recipes as well.
Ask yourself this – how do fashion and recipes go together?
They don't.
Readers see this too. If they come to your site due to an incredible pin on fashion, they want fashion information. When they see recipes on your menu, they are more tempted to leave as they aren't sure if you can help them.
However, if they see four different categories all about fashion and even beauty – they are more willing to click around. There is a purpose there as you are showing them that you can solve all of their questions surrounding what they love, too – fashion.
Readers need to know you have their interests at heart and here to help them.
Read More: How to Niche Down your Blog
Mistake #4: Not helping Google understand your site
You want your content to rank on Google. And you want that ranking to be on the top of page one, right? I wish that for you too!
Google uses Artificial Intelligence (AI) and bots to crawl your site. That means a human is not looking at it, trying to figure out how your content connects and helps the user. It relies 100% on technology.
When Google reviews your site, it is trying to find the content you have to figure out what you are an expert on and how your content can help. You may be lucky and get a random post to rank here and there, but that does not mean you are the expert on that topic.
The fact is that too many unrelated topics confuse Google. It has no idea what you are doing to help the reader, so it is not sure it wants your articles to rank. When you are too broad and not an expert on a specific topic, it truly affects your ability to rank.
Mistake #5: Confusing subscribers
You will collect addresses so you can use email marketing to drive traffic and make money. That is smart.
But, what happens if someone visits your site for an article on technology and you send them an email on travel? I'll tell you what will happen. They will unsubscribe.
When you have too many topics on your site, it creates more work when sending newsletters. You need to make sure you segment the list and only send the right type of email to the right person. You must also ensure you send multiple newsletters that target that specific niche.
Email is a smart tool to use, but you also need to make that you are not alienating people by sending them emails on topics they don't care about.
Mistake #6: Thinking there are too many others writing about the same niche
I can't tell you how many of my coaching clients have said to me they did not think they should have a blog on the same topic as another person – because it has already been done. *SIGH*
Did Pepsi think that about Coca-Cola? Nope! They started and found a way to make their product a little different. They are now both mega-companies.
The same thing is true with blogs. Just because someone else writes on the same topic does not mean you can't do it too!
You are the only you. The way you write and connect with your readers is not the same as the other person. Billions of people are looking for answers, and you may be the right person that they find connects and understands them.
When you are yourself, you will find the greatest success – even in a competitive niche.
How to determine your blogging niche
Now comes the fun part – selecting your blogging niche! You understand the importance of the topic, narrowing down, and what not to do. Let's get to the nitty-gritty of this post and help you figure out your blogging niche!
Ask yourself some questions
When it comes to deciding on a blogging topic, it is essential that it is something you are comfortable talking about and something you know and love. For example, if you hate to cook, then it would not make sense to run a recipe blog, would it? Of course not.
When it comes to deciding on a topic, the first thing you want to do is ask yourself some questions. That will get the creative juices flowing and can help you with coming up with the perfect blogging topic.
The questions to ask yourself include:
What are my hobbies?
What can I talk about easily every day?
What am I most passionate about?
Where is my expertise?
What do I want to teach people about?
What topic do I feel people should know about?
Write down the answers to these questions to get started. You might see a niche slowly begin to emerge. You might even find yourself more confused than ever.
Don't worry; we'll get that niche narrowed down for you.
Do a Brain Dump
Look over the answers to the questions you wrote down above. You should have some topics starting to emerge. But don't make a decision yet. I want you to grab a piece of paper and a pencil. Then, set a timer for five minutes.
Once the time begins, write down every single topic that comes to your mind. Don't leave ANYTHING off the list – even if you know for sure, you don't want to blog about it.
Just start writing.
Once the timer goes off, you'll have a long list of blogging ideas that you can now use to start to narrow down your blogging topic.
Narrow the list down to the top five
Take a look at your brain dump list. Review the list carefully to find the five topics you think you would most love to talk about. It still does not matter at this time if they relate to one another or not.
The idea is to know what it is you want to discuss on your blog. After all, if you don't love the topic, it will never work.
Determine your niche
You've got your top five ideas, and now you are going to decide on the niche you want. The one thing you must do when determining the blogging niche you want to follow is YOU MUST HAVE PASSION.
When you are beginning, you will not make money. You are going to put in a lot of long hours and hard work. So, if you don't truly love the topic, you'll want to quit.
Review that list carefully and decide which topic you could talk about all of the time – even if you never made a dime. Make sure it is not too broad and that there is a clear focus.
Once you know that, you've decided on your niche!
How do you find a profitable niche for your blog?
You will start with your brainstorm and what it is you want to share. But, is it going to be profitable? Before you jump in and start writing, make sure your niche will make you money.
Make sure there is interest
You may love to talk about underwater basket weaving, but are people searching for that? If not, then it is a niche that will not make you money. Nobody cares.
Start by using something like Google Trends. It tells you what people are searching for on Google.
Type your niche idea and hit search. For example, let's say you want to write about playing the guitar. You will see there is a lot of interest around this topic.
As impressive as that looks, you will want to narrow down a bit. Playing the guitar will have far too much competition.
Narrow your niche
You may know that playing the guitar is what you want to write about. But, that is also pretty wide. Maybe you should consider narrowing down to playing the acoustic guitar instead.
The more you can narrow the focus, the better. You will find the perfect reader who wants your content.
You will also help Google better understand what your site is about, can rapidly grow a profitable email list, and will struggle less to create content that your readers crave.
Read more: How to Narrow your Blog Niche
Check for income opportunities
Once you know what you want to talk about, you need to make sure there are products or services that you can promote through affiliate marketing. When you place the right links in your content, that will make you money.
There are two ways to do this. First, run a Google search to see if products are being listed or advertised on the first page of Google. If they are paying to advertise, then you know there is interest in paying for products to promote.
You will also want to check Amazon. Search for products that work for your niche. If you find books or other products that tie into what you will write about, you know you have products you can promote!
What is the lifestyle niche?
Let's make one thing clear — lifestyle is not a niche.
It is a collection of topics that may or may not go together. That is not going to work.
Why?
When you talk about too many unrelated topics, you help no one. The person who comes to you for travel does not care about beauty and vice versa. You will struggle to grow a list that connects to your reader.
Even more critical is Google. You want to be the expert so you can rank. You want to make SEO work for you.
When you talk about too many topics, Google is confused. It has no idea what Google does not know what you are about. You need to make sure it is easily understood so that your site can rank well in search.
If you are leaning towards lifestyle, think again.
Best Blog Niche Ideas That Make Money
You may still need a bit more help determining your niche. I've put together a list of the most profitable blogging niches — just to get you started. Don't select these exact topics, but instead, find a way to niche it down a bit more narrow focus in a way that works for you.
Personal Finance Blogs
– Budgeting
– Saving money
– Getting out of debt
– Investing
– Credit Cards
– Retirement

Food & Baking Blogs
– Keto
– Gluten-free
– Desserts
– Easy meals
– Kid-friendly
– Budget-friendly
– Quick

DIY & Crafts
– Upcycle
– Woodworking
– Kids crafts
– Farmhouse style
Personal Care
– Health
– Fitness
– Personal Development
– Counseling
– Self-Care
Business
– Social Media
– Blogging
– Entrepreneurship
– Work from Home
Parenting
– Kids
– Teens
– Tweens
– Babies
Beauty / Fashion
– Makeup
– Clothing
– Accessories
– Trends
Travel
– Hacks
– Saving money
– Destinations
Pets
– Dogs
– Cats
– Exotic Animals
As you can see, the list goes on and on. One of these general categories may inspire you to come up with something all your own.  Your blogging niche is the most essential part of your blog.  Don't rush the process.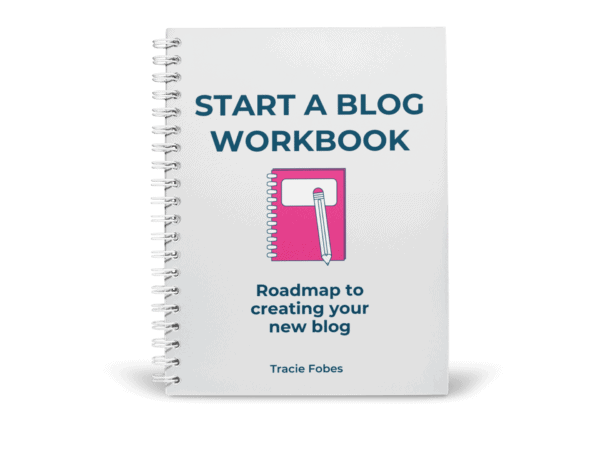 Starting a blog… made simple!
Sign up for my email list and I'll send you a copy of my Start a Blog Workbook for free! Just my way of helping you start your brand new journey.