How to Write & Make Money with Sponsored Posts
This post may contain affiliate links. That means if you click and buy, I may receive a small commission (at zero cost to you). Please see my full disclosure policy for details.
You blog to make money. Right? You may currently have ads and use affiliate marketing, but those are not the only way to make money.
Sponsored posts are the smart way to make money on your blog. In short, you get paid to write about products or services on your site.
It sounds simple enough. Right?
But where to find companies, brands, or partners who are willing to pay you? And, more important, what is involved, and how much do you charge for a sponsored post?
We'll cover it all here for you. By the time you are done, you'll be ready to start pitching!!
Before we get into the nitty-gritty in this post, you'll want to sign up for the free affiliate marketing course. I started doing sponsored posts in 2009 and share what I've learned over the years – to save you from making missteps along the way.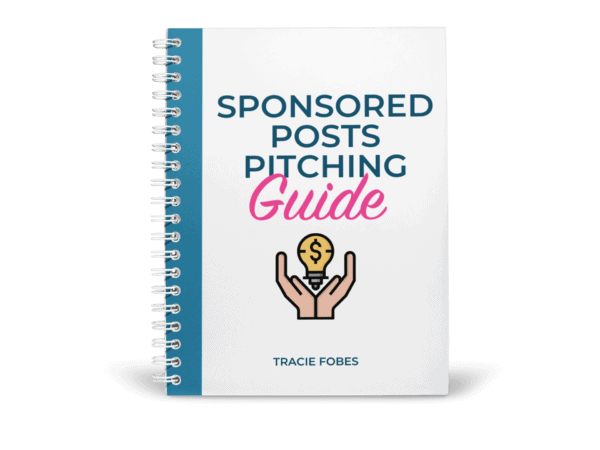 Turn Your Blog Posts Into Profits
Download my FREE pitching guide to ensure you put your best foot forward with every offer you make.
What are sponsored posts?
The simple answer is a way for brands to partner with bloggers and influencers to promote their products and services.
The goal of the sponsored blog post is to educate, inform, or promote brand awareness.
While most of the time, they consist of a single article, they can include multiple posts, social shares, email marketing, videos, stories, and more. Your sponsor will have options so they can achieve their goal through your site and social media accounts.
Brands use bloggers, influencers, and podcasters to get the word out about their brand. Even if you think you don't have enough followers or pageviews, you can do sponsored posts.
Your readers trust you to share what they need to know to improve their lives.
Why not get paid to do it?
Why should I do sponsored posts?
I'll be blunt. They guarantee you make money.
You may be using affiliate marketing or ads to generate an income on your site. While they can be effective, there is one problem.
Traffic.
Algorithms change all the time. We see this on Pinterest, Google, and other social media platforms.
If people can't find your site, you are not going to make money. When you write a sponsored post, you know you will get paid no matter what changes the algorithms throw your way.
How to get sponsored blog posts
Now that you know you want to explore this a bit more, where do you start?
Use a Network
The simplest way to get started is by working with a sponsored posts network. These firms connect brands and influencers. No more searching for work – it comes to you!!
Some of those you can try include:
You create an account and attach your social media channels and blog as requested. Complete your profile thoroughly so brands know as much as possible about you, which can result in better offers.
Once a sponsor wants to work with you, they will reach out through the network's system. Then, follow the instructions to accept, decline, or negotiate the offer and then write the content.
Contact companies directly
You may also want to reach out directly to companies to see if they want to advertise on your site. Making a direct connection can result in a higher payout than using a network.
But how do you know who you should contact? Which companies will be most willing to partner with you?
Look around your house for the products or services you currently use that are a fit for your site. You've got a company right there! You already believe in it as you use it yourself.
Let's say you are a fashion blogger, and you want to find someone to promote on Instagram. What brands are in your closet? That is who you contact! You are already a fan, so it may be a natural fit to see if they want to pay you to share their newest spring product.
Reach out to the partner by tweeting them on Twitter. You can also shoot them a quick cold pitch email. It needs to let them know why they should partner with you. No fees. No overselling here. Just short and sweet.
Hi there! My name is __________ and I run the blog _____________. I share ___________________.
"Talk about how you know the product or the brand."
Since our readers overlap and I already know and want to share your product with them, I'd love to partner to create a sponsored post on my site.
Please let me know if you are interested. Thanks and have a great day!
Remember, this is your first impression — so make it count!
Watch your inbox
After blogging or being on social media for a while, you will get sponsored post offers in your inbox.
While some are legitimate, most will be those that are not a fit. After all, you should never do a sponsored post unless it is a company you can promote with 100% confidence.
Sponsored posts are more than money; they are also about your reputation. So choose wisely.
How much should you charge for a sponsored post?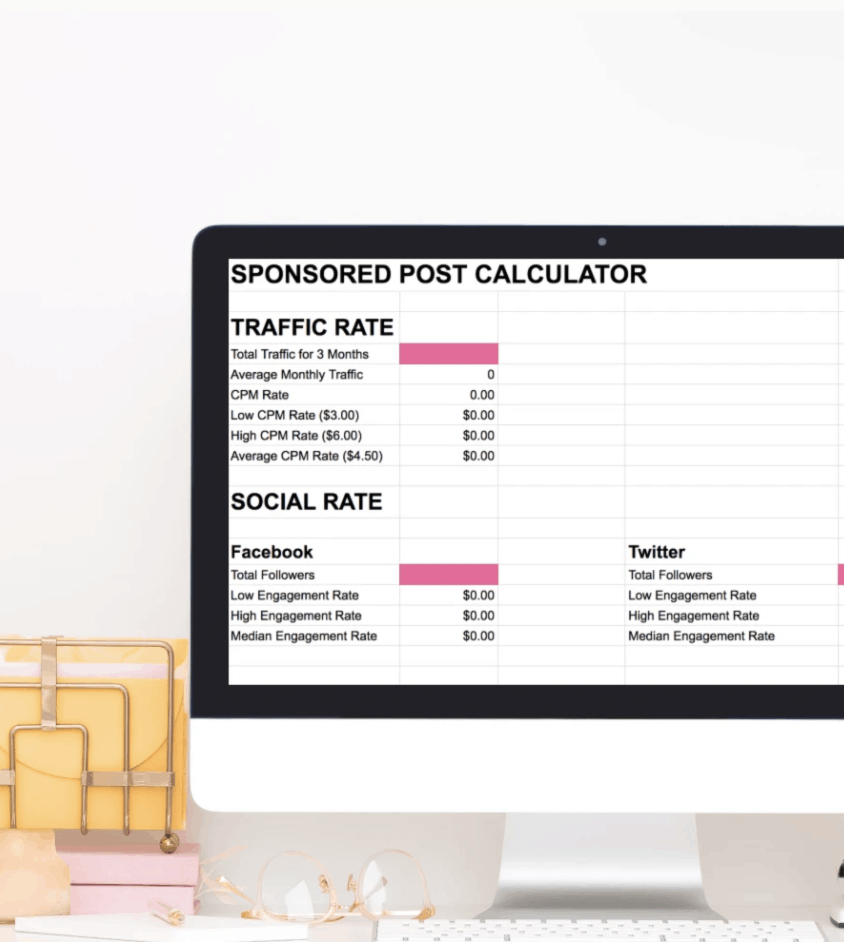 There is not a one-size-fits-all answer. The amount you make will vary from blogger to blogger. However, you need to be paid what you are worth.
No blogger should ever take less than $250 for a sponsored post.
Even if you are new? Yes. Especially if you are new.
A sponsored post takes time. You have to research, write, edit, and promote. You should be paid what you are worth and are worth far more than a free product or $50.
As time goes on and you have growth and influence, you can (and should) charge more. You will need to consider several factors. Things like:
Traffic
Engagement
Social Media Presence
Newsletter open rates
Videos
Each of these has a value. In turn, you will use those figures to determine your sponsorship value — or what to charge for your sponsored article.
To ensure you always get paid what you are worth, use a sponsored posts calculator to get an accurate rate.
How much can I charge for a sponsored Instagram post?
More and more brands are looking to partner with influencers by sharing content only on social media, namely Instagram. The amount you can charge varies based on the number of followers you have on your site and your engagement.
In short – brands want engaged fans – not just high numbers.
If you have a highly engaged following, you can charge $50, $100, and more for one post! It is important to use the right tool to calculate your sponsored post rate, so you get paid what you are worth.
Disclosures required
There are legal things issues you need to know about when it comes to sponsored work. You own your site, but you must comply legally and use the proper tags to keep Google happy.
Mandatory FTC disclosure statement
Many bloggers do not realize that if you do a sponsored post, there are FTC requirements. You absolutely must disclose this in your article.
Your statement must appear at the top of the article – before the content. That means you can't slap it at the bottom of your post. Readers must know that the content they are about to read is paid placement before they read.
For example, most networks will require a disclosure to be placed at the very beginning. It is often something like:
This is a sponsored post on behalf of ABC company. All opinions are my own.
I have also seen it done where it is naturally incorporated into the first paragraph in the article. For example:
It is time to get busy with your holiday baking! I've partnered with ABC company to share a new and simple fudge recipe your family is going to absolutely love!
If the sponsored content is on social media, you need to use the #ad on all posts and properly tag as required (Instagram and Facebook).
All links in sponsored posts must include the proper rel code for Google
When you place a link that you are paid to put on your site, you must send signals to Google that it is a paid link. The reason is they do not want people buying links sites to boost their ranking. However, they understand that partnerships such as sponsorships are vital. They use it as a hint to let them know that the content was paid to decide how to handle the link (source).
It is simple to add to your code. Open the blog post and find the link (click on the HTML view for your blog post). Then, add the wording to the link. It needs to look something like this:
BEFORE THE SPONSORED LINK
<ahref = "link to ABC company's product target="_blank" rel="noopener">text for product</a>
AFTER THE SPONSORED LINK
<ahref = "link to ABC company's product target="_blank" rel="noopener sponsored">text for product</a>
*Note that if you use something other than WordPress, your link may appear slightly different from this, but you must also include the sponsored code.
Before you jump in and do your first sponsored post, make sure you fully understand how to use no-follow or sponsored so you do not get a manual action from Google, which can hurt your rankings.
The biggest mistakes bloggers make
After having done sponsored posts for more than a decade and helping countless bloggers learn what to do, I've seen my fair share of mistakes. Here are some you need to avoid making.
Failing to have a media kit
A media kit is a resume. It outlines your target audience, your current stats, and what you have to offer to the brand.
You need one.
You can find various templates and styles online. Take the time to make one and have it ready to send to a brand that wants to work with you.
Forgetting to update your stats
Your site will grow over time. That means more traffic and social media engagement. As a result of that, you can charge more too!
Make sure you keep your stats up to date on your media kit, in your sponsored posts calculator, and on any sponsored post platforms you utilize.
Being too scared to do it
What is the worst thing that will happen if you pitch a brand? They would say no, right? That's not the end of the world.
But imagine if they say yes!
The same is true with negotiating rates. Brands are going to pay you the least amount they can. Don't take the offer. Counter at a higher rate! You will often find you can get paid more than where they started.
Failing to invest in learning
As I said, I've been at this for a long, long time and have learned what to do (and not to do) when it comes to brands.
You want to master sponsored posts and make as much as possible, right? That is where investing in your education makes sense.
Sponsored Success is the course to do just that! You will learn the detailed tricks I've used to land sponsorships with companies such as Staples, Academy Sports, Sam's Cub, Zyrtec, Dollar General, Lending Tree…and more!
I dish it all! No secret. No holding back.
If sponsored posts are part of your monetization strategy, you need to get started.
Stop getting paid pennies on your blog and take control of your income growth. Sign up for Sponsored Sucess!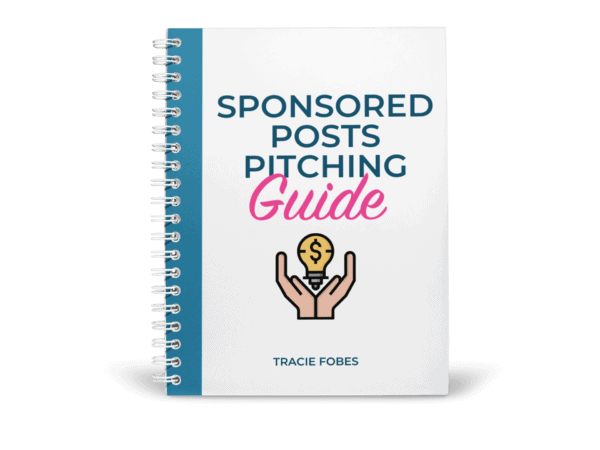 Turn Your Blog Posts Into Profits
Download my FREE pitching guide to ensure you put your best foot forward with every offer you make.
Sponsored posts are a great way to make money for your site and provide valuable content and information to your readers.