You want to make money blogging. After all, that is one (of many) reasons you started a blog.
You've set up your site the right way, you are using ads and affiliate marketing.  But, you still are not making as much as you would like. Have you thought about pitching sponsored posts?
When you implement sponsored posts into your blog you get content ideas that people PAY you to write! It just makes sense.
However, if you have not ever done a paid post before it can be a bit daunting.  First off, what is one, and what in the world do you charge?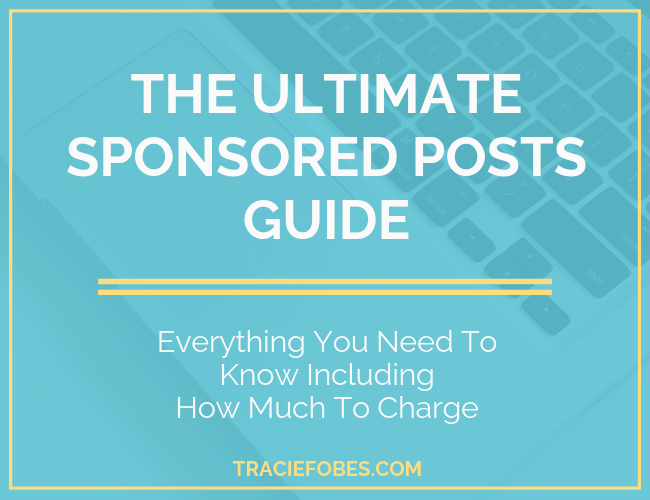 The number one question I get asked time and again is "what should I charge for a sponsored post?" How do you know how much?  What more should I know?
Before we jump into what to charge, let's talk a bit more about these posts.
What is a sponsored post?
A sponsored blog post is when a company wants to use your platform to advertise.  While most of the time they want you to write a blog post about their company. However, it could be a social share, mention in your email newsletter or a sponsored podcast episode.  They want to use your voice to talk about their product/service.
You will usually write the content, but there are times when the post is provided to you to be shared.  The post may be a review of a product or just a regular post where you just create content you would otherwise normally share and include additional links to the sponsor's site.
These are a popular way to advertise because if done the right way, the article does not read like an ad, but is instead, a way to help the user.  A sponsored post is a balance of a regular blog post as well as an advertisement.  But, the post is better than a standard ad because it comes from you.  They work with you as an influencer.
Sponsors love to use bloggers and podcasters to get the word out about their brand as it is more affordable.  Not only that, but you have a loyal following and your readers trust you.  So, if you discuss a product or service, then they will be more likely to use it too.
Why should a blogger do sponsored blog posts?
Simply put, they are a great way for bloggers to make money. Since they take time and effort, you can charge more for a sponsored post than you could for an ad placed in your sidebar.  Sponsors want to work with you because you are an influencer and have a connection to their target audience.
If you are blogging to make money, you may think the best way to do so is by getting traffic to your website.  That is how you can make an income.  But, relying upon traffic to make money can be stressful.
Many bloggers will also supplement by using affiliate marketing in their articles.  While this can be a nice way to make money, if you aren't getting traffic then no one is there to click and buy.
A sponsored post is a simple way to generate new content for your site and get paid for it.
Where can you find companies to pay for sponsored posts?
There are two ways to get sponsored posts.  You can work with a network or you can reach out on your own.
Sponsored Post Networks
When you are new to sponsored posts, the simplest way to get started is by working within a network.  These connect bloggers to potential sponsors.  It is easy because you don't have to look for the sponsor as they come looking for you.
Some of those you can try include:
You create an account and attach your social media channels and blog as requested. Be sure you accurately complete your entire profile so that the sponsors know as much as possible about you, which can result in better offers.
Once a sponsor wants to work with you, they will reach out through the network's system.  Then, follow the instructions to accept, decline or negotiate the offer and then proceed with writing the content.
Soliciting sponsored blog posts
While networks are good, you don't get to work with the companies you always would like to.  If you happen to use a product or service and want to write about it, a sponsored post is the perfect way to do so.  You can reach out directly to the brand and see if they would like to work with you or not.
Many people have success Tweeting the brand on Twitter about a possible partnership.  You may also find a link for marketing on their website so you can contact them that way as well.  The last way to find the partner is to research to see if you can find which PR firm they work with, as many will only do sponsored posts through a third party.
What do you say in a sponsored post email?
If you find someone with whom you want to work, you will need to email them.  But, figuring out what to write can be a bit overwhelming.  You can keep it short and sweet.  There is no need to give too much information upfront.  Start out by telling them about you, your site, your readership and how you want to work with them.
Hi there!  My name is __________ and I run the blog _____________.   I share ___________________.
"Talk about how you know the product or the brand"
Since our readers overlap and I already know and want to share your product with them, I'd love to partner to create a sponsored post on my site.
Please let me know if you are interested.  Thanks and have a great day!
Your email does not need to be very lengthy.  You don't need to send your media kit.  You don't even need to (and should not) talk about pricing.  Just see if there is any interest and then you can share stats and other details with them as you work through the process.
What is a Media Kit – and why do you need one?
If you are going to work directly with brands, you will need a media kit.  Your kit shares a bit about your site, your stats, links and why a brand would want to work with you.  It does not need to be fancy, but it should look professional, so it conveys the right message.
You can use a platform such as Canva to create one easily.  Or, if you own Photoshop or similar software, you can make one there as well. No matter what you use to make your kit, make sure includes the following:
Your Name
Contact details (I do not recommend putting your phone number on your kit)
Website Name and URL
Social Stats for Facebook, email list, Pinterest, Instagram, Twitter (or whichever networks you use the most)
Monthly pageviews (use Google Analytics to find this)
Who your audience is
Why you are a good partner and/or what it is you have to offer
Your media kit should never, ever include rates.  That is something you discuss after they see they want to work with you.  And, since you may need to adjust them from time to time, your kit does not lock you into an amount that is less than you should receive.
Check out these awesome media kit templates you can use for your site.
How much should you charge for a sponsored blog post?
This is where it gets a bit more complicated.  Sponsored posts rates are not black and white.  Your rate needs to take several factors into consideration:
Traffic
Engagement
Social Media Presence
Newsletter open rates
Podcast downloads
Each of these is given a cost. You will, in turn, use those figures to determine your sponsorship value — or what you should charge for your sponsored article.
For instance, let's look at traffic and how to figure a fair rate on this measuring point.  To start, look at your Google Analytics.  Review your overall page views on the site over the past 3 months.  You should always cover three months to cover traffic fluctuations for a more realistic traffic number.
Divide that total by 3, which gives you an average for your monthly traffic.
EXAMPLE:
Traffic for 3 month period – 195,250
195,250/3 = 65,084
Your average monthly traffic is 65,084
Once you know your monthly traffic, divide the total by 1,000. This provides you with a CPM number. a CPM is the cost per 1,000 impressions.   It is a term advertising networks use to determine how much to pay you, based upon the impressions those ads will get on your site. In order to give you post value, you will use this same calculation.
EXAMPLE:
Monthly traffic – 65,048
65,048 / 1,000 = 65 (rounded)
Now that you have your CPM number, you will need to charge a rate. You actually want to figure a range, so that you have a high and low number. This allows you more room to negotiate as may be needed.
The range to calculate is $3.00- $6.00 per 1,000 impressions.
EXAMPLE:
65 * 3.00 = $195.00
65 * 4.50 = $292.50
65 * 6.00 = $390.00
Now, this is not the final amount you will charge.  This is your base rate. You will also include other factors such as social media reach, time to write the post and engagement.
You can also consider adding additional services that you will provide, above and beyond the post.  These will increase the final rate that you will pitch to the potential sponsor.
The one caveat I want to mention is the least amount to charge. If, after totaling all figures, your total rate to charge is less than $250, you should throw the calculations out the window.  You should never charge less than $250 for a sponsored post.
Additional things to consider for your sponsored post rate
One thing I love to do to make more with my sponsors is to add on additional options.  I may offer to advertise on Facebook or even do an e-mail newsletter blast where I talk only about them.  There may be additional tweets or even a Twitter party.  The ideas are endless – but you should charge for them.
The simple way I always do this is to provide tiered rates.  In fact, I use a standard rate sheet and email that to anyone who may want a sponsored post.  It saves me time from having to do the calculations every time I get an email.
Once every two months, I review my rates. It only takes me a few minutes, but I make sure that I do not need to charge more for my posts.  Once I have the base rates determined, I then add in more money for the add-ons.
ADD-ONS:
– Facebook Advertising
– Pinterest Advertising
– Newsletter e-mail
– Additional Social Media Posts
– Twitter Party
– Vide0
– Facebook Live Event
Now, when it comes to pricing the add-ons, I ensure I still make money.  So, if I offer to spend $150 on advertising, I will charge at least $200 more for that service.  It covers my time to create the ad.  Make sure that your add-ons will provide value to your sponsor, but will not force you to give more than you can to the campaign.
Then, you can create your rate sheet. I just use Canva to make one, because it is easy to use and you can edit as needed.  I offer three packages:
BRONZE: Sponsored post and shares to social media accounts.
SILVER: All in Bronze tier + Facebook Ad + two Twitter mentions.
GOLD:  All in Silver tier + individual e-mail newsletter.
The interesting thing I find is that more often than not, my sponsors want to pay for the silver package.  I sell a few bronze or gold, but the majority of my sponsors are willing to pay a bit more for the advertising and additional social media shares.
You can create any types of tiers you want, based upon what you know you can provide to them.  Never offer any options with which you are not comfortable.
There is, of course so much more to sponsored posts, but this will get you started figuring out how much to charge for your next sponsored post.  Your site has value and sponsors know that.  Make sure you charge accordingly.
Use a Sponsored Blog Post Calculator
It can be overwhelming when you try to figure out how much you should charge for the blog post, the custom newsletter and the video you need you to create.  Rather than leave it to chance, use a sponsored post calculator.
You only need to enter a few numbers into the spreadsheet and it goes to work, sharing a low, average and high rate to charge your sponsor for the work they want for you to complete.
A simple one-time investment in a calculator can pay for itself time again and again.
Measuring the Sponsored Post ROI
One thing that many people tend to forget about when it comes to sponsored posts is the return on investment (ROI).  This is what the sponsor is going to get for their investment.
Most sponsored are interested in three things:
Clicks – how many people clicked on the link in the sponsored post?
Pageviews – how many sets of eyes landed on the content over a specified period of time?
Audience interest – how well did they engage with the content through comments or social shares?
It is important that the sponsor provide you with a good landing page that you link to in your article. You can ask the sponsor to provide a tracking link so they can keep track of clicks, or you can make on on bit.ly.
The legal side of sponsored posts
Yep.  There are legal things you need to know about blogging too.  You own your site, but there are still things you need to do comply with the laws and even one you must use to keep Google happy.
Mandatory FTC disclosure on sponsored posts
Many bloggers do not realize that if you do a sponsored post that there are FTC requirements that go along with that.  You absolutely must disclose in the article that it is a sponsored post.  You can do this either at the very top, before they even read, or naturally in the initial paragraph of your post.  You can't place it at the end as readers must know that you were paid for placement before they read.
For example, most networks will require a disclosure to be placed at the very beginning.  It is often something like:
This is a sponsored post on behalf of ABC company.  All opinions are my own.
I have also seen it done where it is naturally incorporated into the first paragraph in the article.  For example:
It is time to get busy with your holiday baking! I've partnered with ABC company to share a new and simple fudge recipe your family is going to absolutely love!
All links in a sponsored post must include the sponsored link code
When you place a link that you are paid to put on your site, you must send signals to Google that it is a paid link.  The reason is that Google does not want people buying links sites to boost their own ranking, however, they understand that partnerships such as sponsorships are very important.  They use it as a hint to let them know that the content was paid so they can decide how to handle the link (source).
It is very simple to add to your code.  Simply open the blog post and find the link (click on the HTML view for your blog post).  Then, add the wording to the link. It needs to look something like this:
BEFORE THE SPONSORED LINK
<ahref = "link to ABC company's product target="_blank" rel="noopener">text for product</a>
AFTER THE SPONSORED LINK
<ahref = "link to ABC company's product target="_blank" rel="noopener sponsored">text for product</a>
*Note that if you use something other than WordPress, your link may appear slightly different than this, but you still must include the sponsored code.
Before you jump in and do your first sponsored post, make sure you fully understand how to use no-follow or sponsored so you do not get a manual action from Google, which can hurt your rankings.
Where can I learn more about sponsored posts?
If you want to really learn everything you can about Sponsored Posts (beyond what I have here), I have an affordable course called – Sponsored Success!
Learn more about Sponsored Success and get signed up today
so you can start making the money you are worth!!
Sponsored posts are a great way to make money for your site and provide valuable content and information to your readers.