Blog Niche Ideas That Drive Traffic & Make Money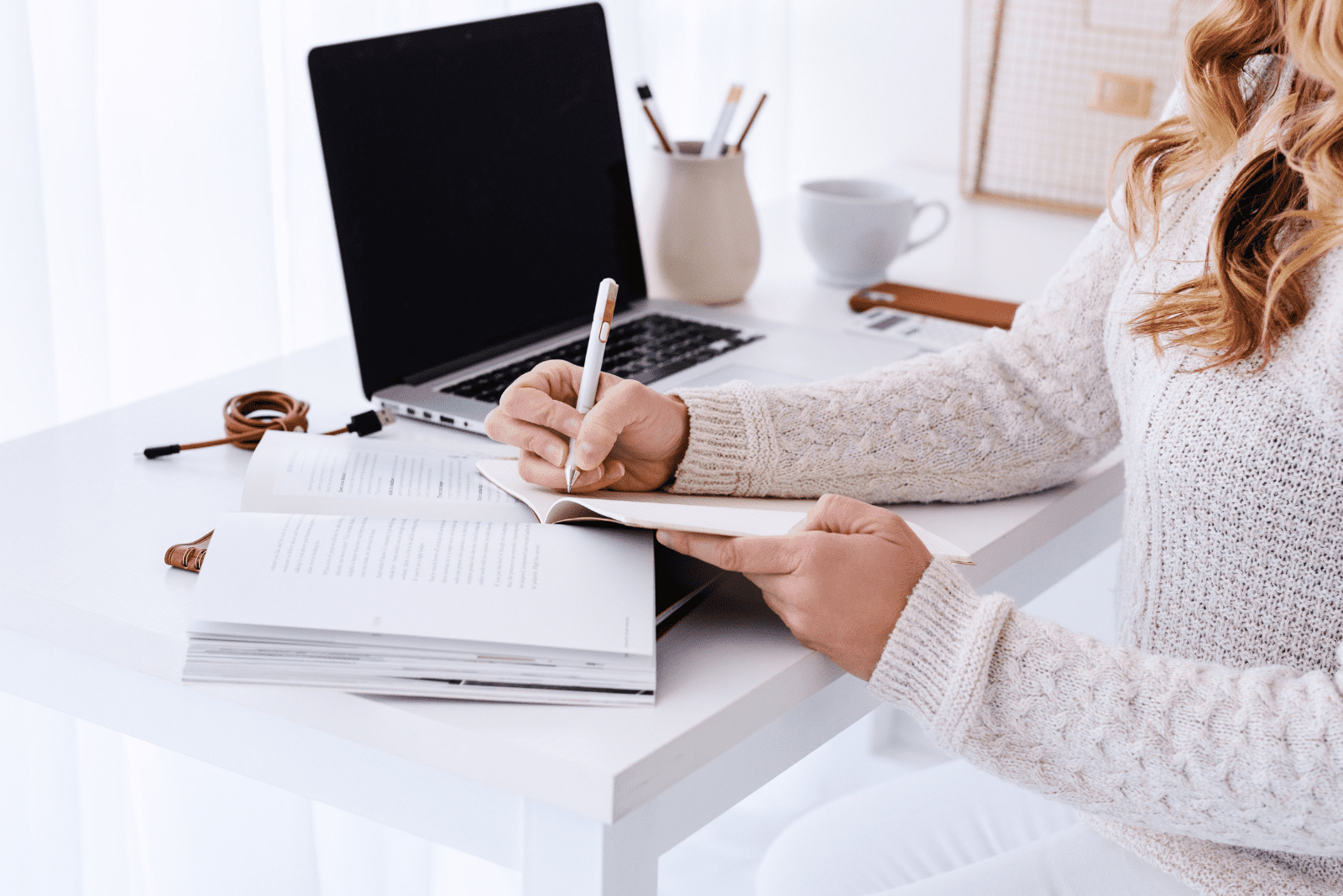 This post may contain affiliate links. That means if you click and buy, I may receive a small commission (at zero cost to you). Please see my full disclosure policy for details.
You've got the itch to start a blog. Yeah! But, you also want to ensure it is a blog that can drive traffic and make money.
Your first thought is that you have to blog about blogging or add blog tips to see the money roll in. That's how it works, right?
Nope!
Many popular blog niches can not only drive traffic to your site but will also end up making you money. You don't need to mention the word blog anywhere on your site to increase your income.
100 Email Subject Lines For Any Niche!
Stop the stress of coming up with creative subject lines. Grab my free download of more than 100 ideas you can use.
When I owned Penny Pinchin Mom, I had no blogging-related content. But yet, that site consistently earned five figures.
It is possible if your goal is to make a full-time income from your blog. But, make sure you choose the right niche to help you achieve your goals.
Of course, if you haven't yet started your site, check out my free course on How to Start a Blog.
What Profitable Blogs All Have in Common
Sure, we'd love to start a blog today and generate thousands in income three months from now.
That's not the way it works. Not even close.
But that doesn't mean you can't set yourself up for success and run a blog that generates income. It is possible.
How in the world do these bloggers do this? How are they making it happen?
There are things successful blogs all have in common.
They write what they know
You may be tempted to jump in and start an investment blog, as that is where the money is. But how can you run a site if you don't know about investing?
Sure, you could fake it. But your readers will figure it out. And, they won't trust you.
Instead, focus on what you know about, and don't try to choose a blogging topic only because you see the potential for dollar signs.
They love their topic
The reality is that it will take months (sometimes years) before you see your blog reach your income goals. That means a lot of writing and promoting while earning no money.
That means you need to love your topic. If you don't do that, you'll want to quit long before you earn a penny.
Focus on the content you love, and your passion will carry you through until the money starts rolling in.
They connect with their readers
You might be sitting there thinking there is no way you could compete with other blogs in your same niche. It's impossible. It's all been done.
But the truth is, you are the only you. Your experience is what people are looking for.
You can't (and honestly don't want) to be like every other blog. Embrace what makes you different and write about that.
They know the clever ways to make money
You may want to write a book or create a course on your chosen topic. Or, you might be holding back from starting because you have no desire to create a product.
The reality is that most profitable blogs earn money through affiliate marketing. Once they get enough traffic to their sites, they don't think twice about putting ads on their blog.
Affiliate Marketing allows you to connect the product to solve a reader's problem – which makes money. You will get the click that leads to your income when you do that.
Once your traffic is up, your ad network provider will serve ads that work with your content and are helpful to your reader. That makes it easy to make money with minimal effort.
They niche down
Your blog idea might be to write about anything that comes to mind. That's fine — if you plan to do this as a hobby.
If your goal is to make money, you must niche down your content. That doesn't mean you can only talk about one single topic. Not at all!
Your niche is more about helping your visitor. For example, if you are a frugal blogger, you can write about budgeting, money-saving meals, or even affordable family vacations.
A profitable blogger takes the time to identify their avatar and then develops the niched content around their needs.
They don't go off their topic
It is tempting to write a random article here and there that has nothing to do with your niche. After all, it's not hurting anyone, is it?
The truth is that if your readers are on your site to get cake recipes, they are not interested in your other topics. That means they will not sign up for your list, buy your products or click on any shared links.
We often see this with blogging content. New bloggers will add a menu item called "blogging" to their site that has nothing to do about blogging. They do so because they think they need that to make money.
That's not how it works.
Successful bloggers never create content that has nothing to do with their niche. They know they must focus on their ideal reader and what that person is there to learn from them.
100 Email Subject Lines For Any Niche!
Stop the stress of coming up with creative subject lines. Grab my free download of more than 100 ideas you can use.
Best Money-Making Blog Niche Ideas
Recipes & Food
The first thing people think about when it comes to recipe or food blogs is that the niche is heavily oversaturated. And, it is….to a point.
What you need to do is find a way to put a spin on the recipes or create something unique. One person who does this is the Minimalist Baker. All the recipes are plant-based that take few ingredients or even less than 30 minutes to create.
Perhaps you are on a low-sodium diet, and everything you cook has this in mind. Some people also need these recipes and would love to find your site.
You could visit recipes and share details about what they offer. Perhaps you want to recreate those recipes or even some related to where you live (think southern cooking, for example).
One easy way to make money on this type of blog is to partner with brands for sponsored work. You would create a recipe showcasing their product — and they will pay you to do so!
Personal Finance
Just because there are thousands of people already doing this does not mean you can't find success.
I used to own this type of blog (Penny Pinchin Mom). It was about helping people learn how to get out of debt and live on what they had left from their budget. It worked as it was designed to support specific people in that same situation.
You do not have to talk about debt or frugal living, though. Personal Finance includes investing, saving, building wealth, credit hacking and usage, tax tips — the list goes on and on.
Don't try to talk about all things personal finance. Carve out your unique space to help readers find what they need for their situation.
DIY
There are so many avenues to go with a DIY niche. DIY does not mean fancy crafts. It includes several topics.
For example, you may be a crocheter and create patterns to sell on your site. You might be a woodworker who knows how to make unique furniture for a home.
Edie Eckman has done an excellent job creating her crochet site and has found success selling books on the topic.
Whatever avenue you pursue, there is money to be made. It could happen through sponsored work (where a brand has you use their product in your project). You can sell patterns and templates, start a membership group, or promote the products you use (affiliate marketing).
Home Decor
Whether buying a new home or updating the one they live in, people always look for home designs and trends. It is an extremely popular niche that has high earning potential.
Harper House was created by a mom and proves that you can make money while still being a parent. She makes money through her Etsy shop, store, and recommended products.
A home decor blog could show you how to create high-end looks on a budget; it could be devoted to a contemporary look or show the recent trends and how to make them work in your home.
Travel
Travel blogs have gained a lot of popularity over the past several years. And as a result, they are an excellent income source.
These bloggers make money through sponsored work, ad networks, and affiliate marketing. Some have developed products or worked with dropshippers to sell custom products to their audience.
The Planet D is a travel blog that is well laid out (and a favorite amongst other travel bloggers). They earn through ad placement and links.
If you love to travel, narrow your location as you can't talk about ALL things travel. You might even be able to combine two niches. For example, you could talk about living and traveling on a budget.
Parenting
Another niche that is highly saturated is parenting. However, it is another one that has terrific income potential.
Just as with the others, you need to carve out your topic. You may want to talk about parenting newborns. It could be you are in the teen years and want to help parents with that.
A blog you can check out is Alpha Mom. She never passes judgment and supports all moms – because no one is perfect.
You'll find income opportunities through affiliate marketing, sponsored work, and ad networks. And, of course, there are countless digital products (books, workbooks, printables, guides) that you can create and sell.
Religion
It sounds crazy that a blog about Christianity or any other religion can be profitable. However – it can!
People often look to connect with others on a deeper level. They seek out others whose faith aligns with theirs and who can guide them along their journey.
One example is Equipping Godly Women. Brittany Ann has developed her site, books, and podcast focused on helping women live the life they want.
These blogs are popular as people connect with the author. They follow them for the words they say and how they can find the understanding or direction they need in their lives.
Does that mean other blog niches can't be profitable?
No. Not at all!! You can find the income method that works best for any niche. That being said, if you try to dive into those that require medical backgrounds or expertise (think self-help, illness, disease), you may struggle to make money and rank.
Why?
Because Google likes to show that type of content from professionals, it can be very tough to rank if you aren't certified or hold a degree in the topic. It can be challenging even if you are a professional.
Think about the niche you want and how you can narrow that down a bit more to help your ideal reader. That is where the profit and success will come from for you.
100 Email Subject Lines For Any Niche!
Stop the stress of coming up with creative subject lines. Grab my free download of more than 100 ideas you can use.